Dirs: Will Speck, Josh Gordon. US. 2016. 105mins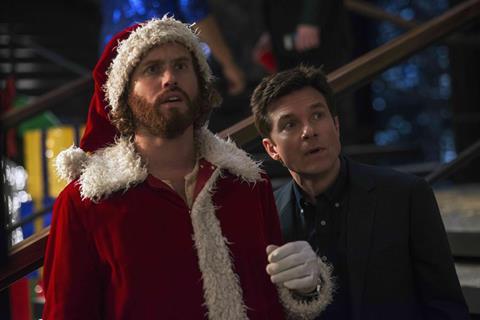 As the on-the-nose title suggests, there's plenty of binge drinking and bodypart photocopying in Office Christmas Party. Yet for all its attempts at inventive excess – and at slightly more sophisticated humour - this scattershot gross-out comedy ends up producing chuckles rather than real laughs, even with Jennifer Aniston and Jason Bateman re-teaming on screen and some significant British writing talent providing the gags.
Backstories are never developed enough to give the film the kind of heart that can distinguish the best gross-out comedies.
The title and cast will probably snag some undemanding seasonal audiences when the DreamWorks production opens this week – two weeks after the similarly targeted Bad Santa 2 - in the UK (through Entertainment One), the US (through Paramount) and most other major markets. But like several of this year's R-rated Hollywood comedies, Office Christmas Party might prove to have wobbly legs in the long run, especially in the international marketplace.
The office in question is the Chicago branch of a computer company run by Scrooge-like CEO Carol Vanstone (Aniston, previously paired with Bateman in The Switch and Horrible Bosses). When Carol reveals plans to fire half the branch's staff days before Christmas, her branch president brother Clay (TJ Miller, from Deadpool and TV's Silicon Valley) enlists the help of chief technical officer Josh (Bateman) and systems engineer Tracey (X-Men: Apocalypse's Olivia Munn) to throw an epic Christmas party – or, as one PC character puts it, "a non-denominational holiday mixer."
As well as being a chance to let off steam, the party becomes the venue for Clay, Josh and Tracey to make a last-ditch attempt to secure a contract from a high profile client (Courtney B Vance) and save everyone's jobs.
Hangover writers Jon Lucas and Scott Moore get credit for the unlikely story and the script comes from Dan Mazer (Sacha Baron Cohen's writing and producing partner), British writer-performer Laura Solon and Justin Malen.
Directors Will Speck and Josh Gordon (The Switch and Blades of Glory) let the story unfold at a leisurely pace before the party itself kicks off about half way through the running time. They come up with some fun variations on the usual festive mayhem – though there's oddly scant sloppy sex at this event, the 3D copier puts a new twist on one old party trick – but the debauchery doesn't get close to the inspired heights visited in The Hangover and other more enthusiastically raucous movies.
Besides the quest to save the office and its employees' jobs, other story threads follow the sibling rivalry between Carol and Clay, the on-off romance between Tracey and the recently divorced Josh and the bromance between Josh and Clay. However those stories are never developed enough to give the film the kind of heart that sometimes distinguishes the best gross-out comedies.
Instead of developing an emotional core, Office Christmas Party busies itself with a slew of peripheral characters, among them a cubicle drone who turns into a wild DJ; a girlfriend-less nerd; an eccentric Uber driver; and an angry customer service guy (played by Hot Tub Time Machine's Rob Corddry).
Most of the side characters are disposable, though the stuffy head of human resources (played by Saturday Night Live's Kate McKinnon) who gradually turns into a party animal makes for a few funny moments.
Production companies: DreamWorks Pictures, Reliance Entertainment, Bluegrass Films, Entertainment 360
North American distribution: Paramount Pictures
Intl sales: Mister Smith Entertainment
Producers: Scott Stuber, Guymon Casady, Daniel Rappaport
Executive producers: Beau Bauman, Richard Vane, Matthew Hirsch
Screenplay: Justin Malen and Laura Solon and Dan Mazer
Cinematography: Jeff Cutter
Production designer: Andrew Laws
Editors: Jeff Groth, Evan Henke
Music: Theodore Shapiro
Website: www.officechristmasparty.com/
Main cast: Jason Bateman, Olivia Munn, TJ Miller, Jennifer Aniston, Jillian Bell, Vanessa Bayer, Courtney B Vance, Rob Corddry, Sam Richardson, Jamie Chung, Randall Park, Kate McKinnon