Dir: Hong Won-chan. South Korea. 2015. 111mins.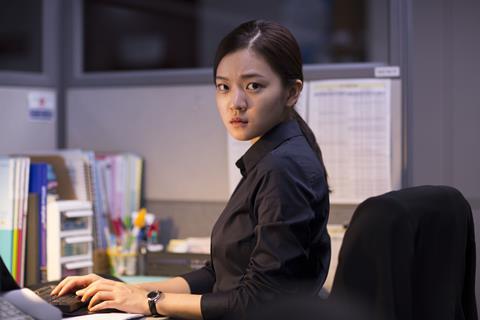 Taking office politics to the extreme, Hong Won-chan's feature debut turns into a bloodbath after a worker brutally slaughters his family and returns to his place of work but isn't seen leaving the building. Some of the underlying critique is engaging though it soon becomes clear the film is more about the thrills than it is about the message.
There isn't a shortage of supporting roles, but with with so many characters in the mix, it makes it more difficult for the leads, especially, to break through.
Premiering as a midnight screening at Cannes, Office has found an ideal launching pad, given its genre elements - which should entice festival programmers at the least. The fact that Hong Won-chan also worked as scriptwriter on Na Hong-jin's The Chaser and The Yellow Sea will help pique further interest in this feature.
Office, however, feels quite different - it's largely an interior piece, set of course in an office, and so there's no hint of the relentless exterior set-piece work synonymous with the films of Na Hong-jin.
Office sets out by following Byung-guk (Bae Seong-woo), an office worker, as he returns home to his family. For no apparent reason he then suddenly murders his wife, mother and son and soon disappears until he's later seen on CCTV by the police entering - but not leaving - the office block where he works.
Meanwhile the police have begun questioning his colleagues as they try to determine Byung-guk's motives. Although they can't fathom why he would commit such a heinous crime, something isn't quite right. The detective leading the case (Park Sung-woong) discovers that intern Mirae (Ko Ah-sung) was close to Byung-guk, and so tries to dig deeper.
Once the police figure out he's still in the building and the body count increases, Office shifts into a different gear and edges closer to a full-fledged horror pic.
The social commentary is at times interesting and addresses some of the same issues tackled in the independent film 10 Minutes, which also followed an intern who struggles to secure a permanent position. But Office is a far gorier and more commercial affair, relying on genre conventions to push the narrative forward.
Hong competently exploits the limitations of space to deliver the necessary thrills within the confines of the office, making it potentially appealing for fans of such cinema. But with less focus on the story itself in the film's latter stages, the narrative suffers from a weak conclusion.
Ko Ah-sung (Snowpiercer, The Host) is a suitable fit as the rather mysterious office intern as she takes on more sizable roles. Park Sung-woong (New World, The Shameless) who often plays villains, including a serial killer in The Deal, is bland but convincing as the detective. Given that Bae Seong-woo's character is out of view for much of the film, he plays a somewhat minor role, despite being at the centre of the narrative.
There isn't a shortage of supporting roles; from the results-driven department director played by Kim Eui-sung (Hill of Freedom) to the other colleagues including the independent but self-centered Hong Ji-sun (Ryu Hyun-kyung, who will soon appear in Im Sang-soo's forthcoming Intimate Enemies). No-one puts a foot wrong but with so many characters in the mix, it makes it more difficult for the leads, especially, to break through.
With a Korean release planned for August, Office should benefit from the sweltering heat which normally attracts local viewers to horror films each year, even though such films are not as successful as they once were domestically. That being said, given its mix of social critique and horror elements, it will hope to repeat the success of Hide and Seek, which was a surprise hit in 2013.
Written and produced by Choi Yun-jin (her second film working such dual roles after Steel Cold Winter in 2013), Office shows elements of promise, but one wonders whether Hong could make an even stronger impression by writing as well as directing his own work next time.
Production Company: Film Blossom
Contact: 9ers Entertainment, angela@niners.co.kr
Producer: Choi Yun-jin
Screenplay: Choi Yun-jin, Hong Won-chan
Cinematography: Park Yong-soo
Production Design: Shin Yu-jin
Editing: Kim Sun-min
Music: Chong Jee-hoon, Ahn So-young
Main Cast: Ko Ah-sung, Park Sung-woong, Bae Seong-woo, Kim Eui-sung, Ryu Hyun-kyung