Antonio Banderas and Penelope Cruz unite with Oscar Martinez for this bitingly funny film world send-up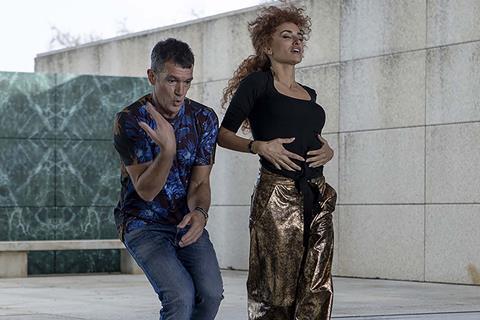 Dir. Gastón Duprat, Mariano Cohn. Spain/Argentina. 2021. 114 mins.
It's just possible that Penélope Cruz and Antonio Banderas know a thing or two about working with wilful, highly-strung directors – in which case, they exact a gleeful revenge in Spanish-Argentinian comedy Official Competition. Conversely, it's likely that writer-directors Gastón Duprat and Mariano Cohn have encountered the odd unmanageable actorly ego, so their film makes a brisk equal-opportunities exercise in ridiculing movie-world pretensions. Essentially a frothy bagatelle, and sometimes overworking the slightest of jokes, nevertheless this lively, sleekly executed farce from the Argentinian makers of black comedy The Distinguished Citizen offers comic and visual pleasures alike, plus crisp acting from its lead trio – completed by Oscar Martínez, who won Venice's Volpi Cup for Best Actor for the latter film in 2016. This classy palate-cleanser in Venice's 2021 selection has distinct upmarket commercial prospects and will be an irresistible choice for fests, not least because of its knowing title.
Richly witty, packed with psychological hairpin bends, and fairly consistently strong
Set in Spain, it begins with Humberto Suárez, the venerable head of a pharmaceutical corporation (José Luis Gomez), celebrating his 80th birthday, but still feeling he needs to do something to immortalise his name. He decides to produce a film, but it must be only the best – so options a Nobel laureate's novel without even reading it, hiring a famously difficult Palme d'Or-winning director of art movies, Lola Cuévas, to direct. She's played by Penelope Cruz, in an array of avant-mode outfits, an explosion of red curls, and hip horn-rimmed glasses.
Lola decides to cast two diametrically opposed actors to play the rivalrous brothers of her movie. One is an ageing playboy, womaniser and spoiled international box-office idol, Félix Rivero (Banderas, gamely making fun of his image, down to a neat in-joke about Félix being a token Latino in Hollywood). The other is Iván Torres (Martínez), a prestigious and massively respected (not least by himself) stage actor prone to puffing himself up when signalling his famous humility. The two of them are, to put it mildly, monumental pains in the arse, who rub each other up the wrong way with from the start – which is clearly Lola's manipulative design. But she's no easy collaborator, either – as the two actors find during the h first read-through when she picks obsessively about the nuances of line readings from the very first words – which are simply "Good evening."
The trio's rehearsals, which constitute most of the film, are clearly going to be a long, painful ordeal – and indeed, get stranger as they go along, as Lola starts introducing her special methods, more akin to conceptual art than to dramatic practice. One sequence shows her bringing in an unusual and very obtrusive prop to raise the two men's anxiety levels – prompting a fabulous sight gag that pays off in an even better visual punchline. Another has the actors amplified by a whole forest of mikes – they and their leads resembling a modern art installation – in order to practice kissing the female lead (Irene Escolar). The result is comically deafening, then even funnier when Lola steps in to show how it's done.
The script – by the directors and their regular collaborator, Duprat's brother Andres Duprat - is richly witty, packed with psychological hairpin bends, and fairly consistently strong, although there are stretches in the film where a single joke or a single register is sustained just that bit too long. But Official Competition never bores, even when it doesn't quite seem to be going anywhere. There's always something magnificent to look at in Arnau Valls Colomer's elegantly styled photography and Alain Bainée's production design, with the vast modernist spaces of the Suárez Foundation HQ, the rehearsal venue, forming a massive, alluringly malleable frame for the psychological battle of attrition à trois. For what is essentially a talky and somewhat theatrical film, there are some terrific visual touches: like the sustained close-up of a metal grinder mincing up a laptop, which will give conniptions to any critic reviewing the film.
Cruz and Banderas give top value, although it's only the latter who really steps out of familiar territory here, sending up his star image but also playing a bit of a clueless nebbish. International audiences will be less familiar with Martínez, who makes a fabulous impression puncturing his character's grandeur and tendency to hide behind the shield of high-art purity – all the funnier for the magisterial poker face that he wears throughout.
Production company: The Mediapro Studio
International sales: Protagonist Pictures, info@protagonistpictures.com
Producer: Jaume Roures
Screenplay: Andrés Duprat, Gastón Duprat, Mariano Cohn
Cinematography: Arnau Valls Colomer
Editing: Alberto Del Campo
Production design: Alain Bainée
Main cast: Penélope Cruz, Antonio Banderas, Oscar Martínez, José Luis Gómez