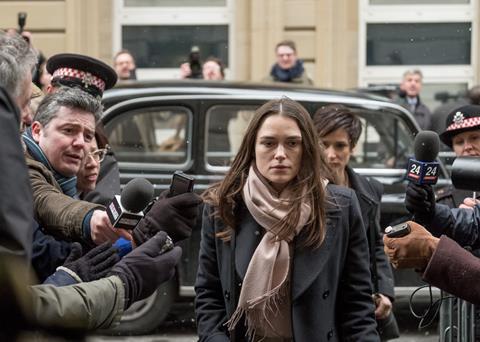 Dir: Gavin Hood. US/UK. 2018. 112mins
A whistleblower risks everything in order to do what she thinks is right — even if it ultimately doesn't make any difference — in Official Secrets, a sturdy, entertaining political thriller that pushes all the right buttons and triggers all the right outraged reactions. Keira Knightley is persuasive as Katharine Gun, a British GCHQ employee who in 2003 leaked a sensitive document in the hopes of preventing her country from invading Iraq — a decision that did nothing to stop that war but found her facing imprisonment. Director Gavin Hood gives the proceedings a rousing electricity, and he's aided by a cast which leans into the story's urgency and continued relevance.
This Sundance premiere will inspire comparisons to Spotlight and The Post — not to mention The Report, which also debuted in Park City. Official Secrets has a star-studded cast that also includes Matt Smith, Matthew Goode and Ralph Fiennes, and the film's moral indignation should find a receptive audience among those who opposed the Iraq War.
There's still plenty of excitement in watching smart, principled men and women working together to defeat corruption
As the film begins, it's 2003 and the UK and US are preparing to invade Iraq, their plans waiting on a UN resolution authorising the removal of Saddam Hussein. But as that process slows to a halt, GCHQ translator Katharine Gun (Knightley) receives an email that contains a joint UK-US proposal to find blackmail material on individuals in countries that are part of the UN who have yet to vote. Gun is furious at this discovery — she's opposed to this war because she knows that Iraq has no links to Al-Qaeda, which executed the 9/11 attacks — and she decides to let the world know about this top-secret operation.
Gun's decision to leak the document — which attracts the attention of Observer journalists Martin Bright (Smith) and Peter Beaumont (Goode) — is not one she takes lightly. Married to a Muslim immigrant, Yasar (Adam Bakri), who could be deported because of her actions, Gun nonetheless confesses to the crime to save her co-workers from being investigated. But not only does her whistleblowing fail to halt the momentum towards war with Iraq, she could face seriously jail time unless Ben Emmerson (Fiennes), a crusading solicitor, can save her.
Unlike his last film, 2015's Eye In The Sky, Hood smoothly mixes thrills with political commentary in Official Secrets. And certainly, audiences have seen this kind of journalistic drama before. (Films such as Vice and Doug Liman's Fair Game have also explored how the West orchestrated its ill-fated invasion of Iraq using specious evidence of WMD.) But Official Secrets' pleasing familiarity doesn't diminish the story's suspense. There's still plenty of excitement in watching smart, principled men and women working together to defeat corruption, and Hood and editor Megan Gill keep the film moving along at a breezy clip.
Knightley shows real steel as Gun, giving the character a righteous fury as she refuses to sit by while her government conspires to blackmail other countries in order to justify this encroaching war. The Oscar-nominated actress lets us observe Gun's torn loyalties: on the one hand, she wants to protect her vulnerable husband, but she also must listen to her conscience, which tells her that this invasion is morally wrong. Knightley has a few high-emotion moments, but for the most part her rage is pitched at a slow burn, which makes it more resonant.
Official Secrets spends much of its first half focusing on the reporters' investigation into this leak, and Smith and Goode make an enjoyable onscreen combo. (Less appealing is Rhys Ifans' over-the-top performance as cursing, indignant journalist Ed Vulliamy.) But once Gun confesses to the leak, the movie segues into becoming a legal drama, which allows Fiennes to showboat elegantly as Emmerson, whose brilliant mind and serene confidence give Official Secrets a little jolt.
No doubt Hood also wants us to think about the devastating consequences of the Iraq invasion, ending the film with damning statistics about all the fatalities suffered in that conflict. Audiences predisposed to see Katharine Gun as a hero and a patriot — someone who felt she was responsible to the British people, not their government — will be easily sucked into Official Secrets' stirring drama. It's bittersweet that Gun's brave choice ended up being futile, but this movie makes a forceful enough argument that doing something is always better than doing nothing.
Production companies: Classified Films, Clear Pictures Entertainment
US sales: CAA, filmsales@caa.com; and United Talent, mcgrathj@unitedtalent.com
International sales: Sierra/Affinity, sales@sierra-affinity.com
Producers: Ged Doherty, Elizabeth Fowler, Melissa Shiyu Zuo
Screenplay: Sara Bernstein, Gregory Bernstein, Gavin Hood, based on the book The Spy Who Tried To Stop A War: Katharine Gun And The Secret Plot To Sanction The Iraq Invasion by Marcia and Thomas Mitchell
Production design: Simon Rogers
Editing: Megan Gill
Cinematography: Florian Hoffmeister
Music: Paul Hepker and Mark Kilian
Main cast: Keira Knightley, Matt Smith, Matthew Goode, Rhys Ifans, Adam Bakri, Ralph Fiennes