An ageing man is forced to change his ways in Zhou Ziyang's impressive debut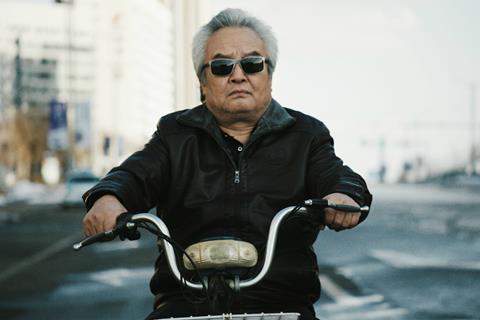 Dir/scr. Zhou Ziyang. China. 2017. 100 mins.
You can't teach an old man new tricks in the Zhou Ziyang-written and directed, Wang Xiaoshuai-produced Old Beast; an exceptionally performed depiction of Inner Mongolia's destructive economic ebbs and flows trickling down to a personal level. With an air of lived-in defiance and just the right amount of creeping sorrow, veteran Tu Men plays a bankrupt elderly father unrepentant about his selfish choices, but slowly aware of the impact he's having on his family and his dismal future. Not that he's in a position to change even if he wanted to, with his fortunes tied to the ups and downs of the local fiscal climate.
Tu Men proves instrumental in presenting a protagonist who acts despicably but constantly defies simple categorisation and quick condemnation
Offering quite the scathing statement on the way that seeming progress can help at one moment and hinder the next, Zhou's film — which drawn on his upbringing in Ordos — comes with documentary-like cinematography from fellow first-timer Matthias Delvaux. It's with an incisive eye that Zhou brandishes his hometown's bleak combination of ramshackle old and empty new abodes as shorthand for a boom-or-bust cycle with lasting repercussions. Audiences elsewhere should empathise as the film traverses the festival circuit, premiering at Xining's FIRST International Film Festival, featuring in the Asian Future strand in Tokyo and certain to secure further international berths.
Wearing his long-cultivated arrogance with the same ease as his trusty leather jacket, Tu Men's Lao Yang is clearly accustomed to getting by via any means possible, doing whatever he feels like and thinking little about the ramifications. When he's not gambling and ambling around town, he's the type of man who'll give his mistress gifts while leaving his ailing wife in a deteriorating condition, and promise a struggling herdsman pal that he'll mind his camel only to sell the animal and spend the cash.
That would be more than enough to anger the sensible, hardworking adult children he's hardly close to, but when their mother requires hospitalisation during one of his regular absences — as well as 30,000 yuan for an urgent operation — they're determined that things will change. Yang remains true to form, stealing the surgery fees to buy a dairy cow to replace the camel, so his kids endeavour to force him to sign a contract promising that he'll alter his behavior. He's surprisingly amenable, until they make the mistake of tying him up and locking him in a cellar; Yang calls the police, has his sons charged and takes them to court.
In a film that doesn't shy away from depicting harsh truths, Zhou lets the drama unravel without any overt histrionics; never playing the situation for easy tears or cathartic laughs. With the narrative littered with siblings bickering about financial standing, uncaring nurses, bureaucrats unwilling to lend even a sliver of assistance, and children seeing the idea of caring for the ageing as a burden rather than a duty, this grim portrait of the increasing tumult of Chinese life earns a grim, engrossing approach.
With Yang's flaws also laid bare in a resolute manner, as befitting the character's many complexities, Tu Men proves instrumental in presenting a protagonist who acts despicably but constantly defies simple categorisation and quick condemnation. Indeed, the A Simple Goodbye star's portrayal is so expertly attuned to Yang's intricacies — the glimmer of warmth that sparkles when he interacts with his grandson, the haughty posturing in public, the squared shoulders when facing off against his offspring and the ultimate mournful realisation of the dreary predicament he's in — that it's little wonder he has garnered a lead actor nomination at Taiwan's Golden Horse Awards, one of the feature's four well-deserved nods.
Production company: Dongchun Films Co., Ltd
Contact: Edko Films, chiujulian@edkofilm.com.hk
Producers: Wang Xiaoshuai, Liu Xuan
Cinematographer: Matthias Delvaux
Editor: Li Xinzhu
Production designer: He Shuang
Composer: Song Yuzhe
Main Cast: Tu Men, Wang Chaobei, Yidanna, Wang Zizi