An intriguing look at Myanmar's rocky road from military rule to attempted democracy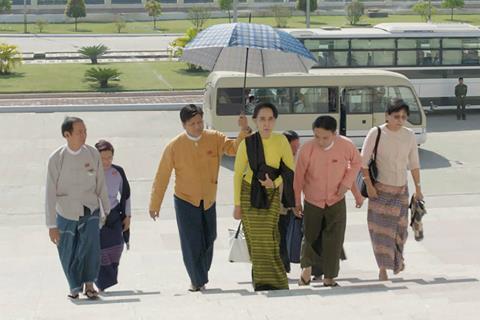 Dir: Karen Stokkendal Poulsen. Denmark, France. 2019. 98mins
Myanmar's rocky road from military rule to democracy is paved with good intentions, personal ambition and crushing setbacks. Karen Stokkendal Poulsen's absorbing documentary essay On The Inside Of A Military Dictatorship brings clarity to a complex situation, but works best as a methodical, fair-minded history lesson rather than something with alluring new insights to offer. Politically engaged audiences should connect with the film but may be disappointed by the lack of any fresh sizzle and its generally sympathetic attitude towards Myanmar State Counsellor Aung San Suu Kyi.
The cut and thrust of the slow journey towards democracy is a political thriller that unfolds like a chess game
Poulsen is certainly not uncritical of Aung San Suu Kyi. Her complicity in the ethnic cleansing of Myanmar's Muslim Rohingya population is described as "the Achilles heel of her life-long project for peace and democracy". It has left her international reputation irredeemably tarnished, but Poulsen tends to take the longer view of history. Shocking recent events are viewed as one more incident in a long and winding struggle rather than a catastrophic, defining moment.
Divided into 10 chapters, On The Inside argues that nothing about Myanmar can be understood without placing the military dictatorship at the heart of the story. Poulsen begs the leading question of whether democracy has any hope of taking root in a country that has no tradition of it. The fact that the military were able to embed their powers within the constitution speaks volumes.
The cut and thrust of the slow journey towards democracy is a political thriller that unfolds like a chess game. Sacrifices are made along the way, unexpected moves by wily opponents change the game and there is a clear understanding of what is at stake from both the military leaders and the the opposition National League For Democracy (NLD) Party. The military are pragmatic, making all the right moves to render the country acceptable to foreign investment and the ending of international sanctions. Others are motivated by a desire for meaningful political change.
Poulsen has gained access to Aung San Suu Kyi, her jovial NLD colleague Win Htein and an impressive number of the military leaders who swapped their green combat uniforms for the white robes of political office. Interviewed in domestic settings, amidst chintzy sofas, they mostly have the air of benign Bond villains, although the testimonies of former President Thein Sein and Cabinet Speaker Shwe Mann are one of the less familiar and compelling elements of the film.
Poulsen maintains a calm, methodical approach, layering chapter and verse evidence as we are lead through the years of Aung San Suu Kyi's house arrest, her release, the democratic elections of 2015 and beyond. It is only in Chapter Nine, 'The Tragedy', that her recent fall from grace is finally confronted. Poulsen argues that it reflects the fundamental weakness of her position and a constitution that gives her no power over the military. It seems that failing to challenge them is a price she is willing to pay for continuing to be on the inside pursuing the possibility of lasting change. It is a generous assessment of a position that seems untenable to many outside observers.
On The Inside may feel as if it spends too long diligently covering the basics of recent Myanmar history and puts too little effort into holding people in power to account. It still holds interest as an aid to understanding a complicated situation and what has been won and lost over the past three decades.
Production companies: Company: Bullitt Film, Little Big Story, Arte France
International sales: First Hand Films gitte.hansen@firsthandfilms.com
Producers: Vibeke Vogel
Cinematography: Sturla Brandth Grøvlen, Troels Rasmus Jensen, Talib Rasmussen
Editor: Giles Gardner
Music: Uno Helmersson