Dir/scr. Zrinko Ogresta. Croatia / Serbia 2016, 85 min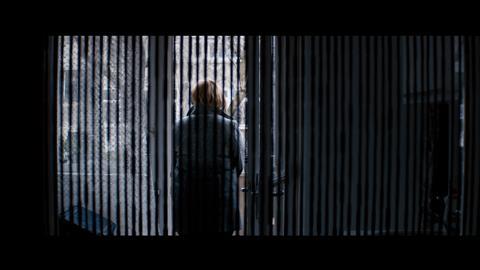 The perils of the past keep echoing through the cinema of the present, and On the Other Side is the latest film to contemplate the contemporary consequences of historical conflict. In Croatian filmmaker Zrinko Ogresta's seventh feature, a Bosnian war survivor reluctantly reconnects with the man who forced her to fear for her safety, flee her home, and forge a new life. That he happens to be her husband significantly complicates matters.
Ogresta doesn't just make her characters confront their multifaceted situation, but, almost by stealth, makes the viewers face the many sides to every story as well.
At face value, the newest addition to Ogresta's resume — joining the likes of European Film Award nominee Fragments and Karlovy Vary special jury prize winner Tu — recalls another recent effort involving a wife wronged in war-torn times, Christian Petzold's Phoenix. On the Other Side also shares that film's struggle with forgiveness and search for normality, understanding how long-held affection can resurface even after acts of violence or betrayal. After premiering in Berlin's Panorama section, this Croatian-Serbian production may similarly mirror its German predecessor's warm international reception, particularly on the festival circuit.
The parallels continue, with both features dedicating their bulk to the psychological impact of their protagonists' ordeals; however On the Other Side doesn't simply transport familiar elements to a new setting. Instead, it takes yet another communal component — the minutiae of everyday routines, especially in providing slivers of solace during trying periods — and burrows into it more deeply. As co-written with playwright Mate Matišić, Ogresta's film is one of precision and repetition, and not only in a narrative that follows the threads of connected conversations. Order reigns visually as well, as seen in recurring, setting-specific shots that highlight the movie's focus on control in the face of looming chaos.
Flitting between her humble apartment, her roving nursing duties, and the commute between the two, Vesna (Ksenija Marinković) certainly does all that she can to adhere to a regular schedule. Assisting her son Vladimir (Robert Budak) and his wife Nives (Tena Jeić Gajski) by babysitting her young grandson may help break up the monotony of her days, as does helping her soon-to-be-married daughter Jadranka (Tihana Lazović) secure post-university work, but a pattern remains — until a phone call disrupts her carefully constructed existence.
The voice on the end of the line bears the name of Žarko (Lazar Ristovski), and beckons an unwelcome blast from the past. And yet, though Vesna is initially hesitant to talk to the war criminal she remains married to but hasn't seen for more than two decades, she starts to feel sympathetic towards him as they keep conversing. Her children disapprove; Vladimir rages about the stigma it could brand his own son with, while Jadranka's job search is jeopardised by the family name and heritage.
Tension emanates from the film's many clashes: of a husband and wife reunited under less than happy circumstances, of their offspring fretting about the past's influence on their future, and of the deeds of a previous life resurfacing into a challenging present. Indeed, On the Other Side makes for anxious viewing. However, in enlisting acclaimed theatre performers Marinković and Ristovski, Ogresta ensures that the stress that seeps through the feature does so with a subtle touch. Their astute, inward-looking portrayals bubble with pressure, yet also seethe with empathy. That's a delicate balance, but a pivotal one in an effort concerned with the interplay of extraordinary backgrounds and ordinary people.
Of course, with Ogresta ever the meticulous and restrained director, they're not the only part of the feature designed to linger. Or lurk, as cinematographer Branko Linta's camera does, and editor's Tomislav Pavlic's sense of pacing, too. Shooting from afar, peering through windows, curtains and doorframes, and containing each scene within uninterrupted long takes imbues the film with a wholly disquieting mood. There's never any doubt that that's by design; On the Other Side doesn't just make its characters confront their multifaceted situation, but, almost by stealth, makes its viewers face the many sides to every story as well.
Production companies: Interfilm, Zillion Film.
International sales: Ceramon, sebastien@cercamon.biz
Producer: Ivan Maloča
Screenplay: Mate Matišić, Zrinko Ogresta
Cinematography: Branko Linta
Editor: Tomislav Pavlic
Production design: Tanja Lacko
Music: Mate Matišić, Šimun Matišić
Main cast: Ksenija Marinković, Lazar Ristovski, Tihana Lazović, Robert Budak, Toni Šestan, Vinko Kraljević, Alen Liverić, Marija Tadić, Ivan Brkić, Tena Jeić Gajski.