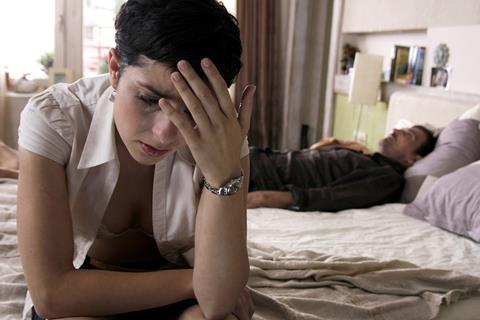 Dir/scr. Jasmila Žbanic. Bosnia and Herzegovina/Austria/ Germany/Croatia, 2009. 100 mins.
Sarajevo-born director Jasmila Žbanic, winner of the Golden Bear four years ago with her striking debut Esma's Secret (Grbavica), consolidates her reputation as a scrutiniser of Balkan political themes from a female perspective in On the Path, an involving drama about a young woman whose boyfriend embraces fundamentalist Islam.
On the Path offers a concise dramatic examination of the conflict between traditionalist Islam and secular modernity
Lucid visual and narrative execution and a winning, charismatic lead by Zrinka Cvitešic raise it from being a schematic social issues drama. Žbanic's rising stock and Cvitešic's very marketable appeal should combine with current-affairs newsworthiness to make On the Path a talking point at festivals as well as a modest but solid pull for art-house buyers.
Set in Sarajevo, the film is told from the perspective of Luna (Civtesic), a young flight attendant who lives with boyfriend Amar (Lucev), an air traffic controller. Bosnians from Muslim backgrounds but leading a totally secular life, the couple enjoy a tender, strongly sexual relationship.
After Amar's drinking problem gets him suspended from work, he has a chance encounter with old army friend, devout Muslim Bahrija (Bravo). Bahrjia offers Amar a job teaching computer studies to children at a fundamentalist lakeside camp. Visiting Amar, Luna is disturbed by what she finds there, especially by the rigorous male-female segregation. And when he returns home, she finds that Amar has embraced Islam in hardcore fashion, refusing to have sex with her while they remain unmarried.
After an Eid celebration during which Amar berates her family for being insufficiently observant, Luna – who has started a course of IV treatment - is forced to question their future together.
Telling the story from a secular woman's perspective, Žbanic undertakes an inquiry into the customs and social structures of Islam, and into the way that fundamentalism might flourish in a society still scarred by the bitter social divisions of recent war. Žbanic concisely evokes the worldly, sensual Luna's shock at Amar's austere new attitudes. But she also sympathetically conveys the spiritual appeal of Islamic music, text and community: in the mosque and camp scenes, we understand why song and prayer might be so soothing to Amar's turbulent soul.
This solidly non-sensational drama is as much about Luna's attitudes and preconceptions as about Islam itself. Even if, in the end, Žbanic doesn't take us anywhere really surprising, her film is certainly a serious investigative undertaking. Intensely researched, and partly filmed in real mosques, On the Path offers a concise dramatic examination of the conflict between traditionalist Islam and secular modernity, especially as they relate to the different experiences of women such as Luna and Bahrjia's veil-wearing wife Nadja (Karanovic).
The film is driven by strong acting, notably from Lucev as a bon viveur taking a dramatic left turn, and by Cvitešic; whose self-aware, self-determined Luna is a strong, intelligent and sexy characterisation. Christine A. Maier's crisp cinematography adds to the overall lucidity.
To sign up for Screen's weekly Reviews Newsletter with all the week's new releases, international openings and full festival reviews delivered free to your mailbox every Friday, please click HERE
Production companies
Deblokada
coop99 filmproduktion
Pola Pandora Filmproduktion
Živa Production
International sales
The Match Factory
+49 221 539709-0
Producers
Damir Ibrahimovic
Bruno Wagner
Barbara Albert
Karl Baumgartner
Raimond Goebel
Leon Lucev
Cinematography
Christine A. Maier
Editor
Niki Mossböck
Production design
Lada Maglajlic
Amir Vuk
Music
Brano Jakubovic
Main cast;
Zrinka Cvitešic
Leon Lucev
Ermin Bravo
Mirjana Karanovic
Marija Köhn