Powerful portrait of music producer Drew Dixon and her fight to bring her abuser to justice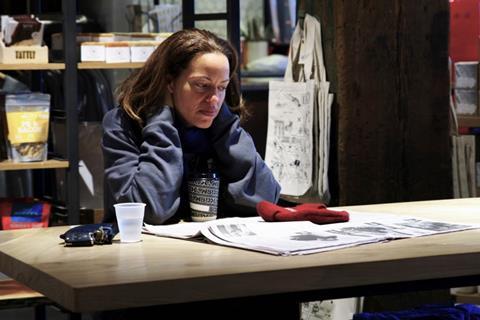 Dirs. Kirby Dick, Amy Siering. US. 2020. 95 mins.
On The Record adds some significant heat to the tinderbox that is race in the fight that is #metoo. Revelatory, moving, and honest, it is essentially the story of one brave woman's decision to publicly accuse the rap mogul Russell Simmons of harassment and rape. But it's also a painful, parsed education on the subject of black women and abuse.
Dick and Siering are experienced and empathatic film-makers who frame On The Record as reportage
The Oscar-nominated documentarists Kirby Dick and Amy Siering's charged work levels accusations which are similar in nature to others in the entertainment industry. It's the racial context that sears. EP's Oprah Winfrey's sudden decision to put it back in commercial play and out of her deal with Apple TV+ a week before its Sundance debut isn't easily understood in the wider context of current documentary film-making, although the complexities of the music landscape documented here may be another factor in the mix.
The film opens confrontationally with talk of black women in the US not being so readily believed as their white sisters when they report rape and abuse, but this – though undoubtedly true – is somewhat misleading as to what comes next. In fact, On The Record turns out to be a powerful testament as to why black women rarely even get that far, detailing the societal pressures which keep them silent in a way that's distressing to watch. When former Def Jam Records rising star Drew Dixon does go public, she is believed – but that's no longer the point of this documentary, which should be widely appreciated when it is inevitably purchased by another streaming platform.
The controversial issue of historical abuse, the avalanche of accusations made against powerful men who vehemently deny all wrong-doing, will dog On The Record much as they followed Finding Neverland or any of the TV documentaries made about Harvey Weinstein. Those who object to the unproven allegations, and see the accused as victims, will be unhappy; the many more who believe the accumulated layers of evidence and the distressed testimonies of the abused will find another layer of complexity here. What is it to be a member of a historically oppressed and attacked race, to know that black men are incarcerated in vastly disproportionate numbers in America, and to then point the finger at one of them, who also happens to be a source of black pride and a founding father of hip hop culture? Does it make you a race traitor?
Then, there's the inbuilt misogyny of the genre with its "bitches and hos", coupled with the obvious fact that Simmons' accusers – now numbering 20 – tend to be lighter-skinned, with long, straight, blonde-streaked hair. This documentary packs some heat indeed, most of it generated by the testimony of Dixon (although she is joined at the end by other co-accusers). She's certainly an individual to admire, both as a young woman, when her star was in the ascendency as head of A&R at Def Jam, and now as a thoughtful, strong and eloquent survivor. She's the daughter of politicians; her mother was the Mayor of Washington DC, where she was born and from whence she started her career.
Extremely talented, Dixon rose quickly through the ranks as a young woman. Even after Simmons' alleged rape saw her leave Def Jam, she was hired in the same position by Clive Davis at Arista where she worked successfully for a number of years. When he was replaced by a black man, LA Reid, hostilities resumed, building to the point where Reid dressed Dixon down publicly for wasting his time by auditioning Kanye and John Legent, both her finds, and both of whom he refused to sign. Admittedly, this element of the film is the weakest and could do with some bolstering, even if its inclusion is understandable. Dixon was eventually beaten out of the industry, never to return.
The documentary takes testimony from talking heads, including #metoo founder Tarana Burke, and they, along with photographic evidence and video clips, give structure to Dixon's recollections. Rarely has the effect of Anita Hill's testimony been so clearly contextualised for a generation of black women, adding further noise to the whispering of the slave past and the shocking concept that a black woman can't be raped. Ultimately, Dixon gives testimony to The New York Times, and is believed. Now Russell Simmons lives in Bali, denying all culpability, while LA Reid has stepped down. There are no prosecutions pending, and Oprah has droped the film. Dixon's struggles goes on.
Dick and Siering are experienced and empathatic film-makers with experience in the subject matter (The Invisible War, The Hunting Ground) who frame On The Record as reportage, almost from a war – Dixon, and her co-accusers, are certainly traumatised survivors who use the film as a vehicle from which to educate the viewer. On The Record takes the #metoo movement a step further and wider. In time, the controversy surrounding Oprah will fade away, but the testimony will certainly live on and, once seen, is unlikely to be easily forgotten.
Production companies: Jane Doe Films
International sales: UTA
Producers: Amy Ziering, Kirby Dick, Jamie Rogers, Amy Herdy
Editor: Sara Newens
Cinematography: Ava Berkofsky, Thaddeus Wadleigh
Music: Terence Blanchard
Featuring: Drew Dixon, Sil Lai Abrams, Sherri Hines, Jenny Lumet