Dir. Michael Winterbottom. UK, 2016, 120 mins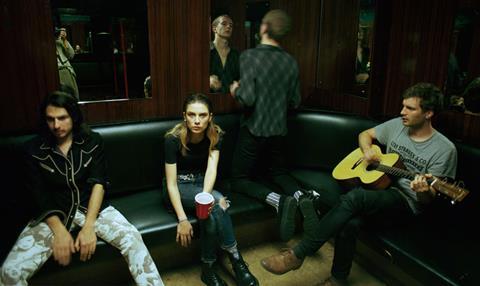 Among the many stop-offs in a prolific career, British director Michael Winterbottom's output has included road movies, pop films, new angles on old genres and experimental fact/fiction mergers. These routes meet to largely rousing effect in his latest trip, where fly-on-the-bus snapshots of touring life for North London indie-rockers Wolf Alice combine with the warmly played fictional tale of a tour-bus fling. The links between strands can seem sketchy, but an engaging, eye-opening blend of sweaty mosh-pits, backstage bonding and between-gigs drift makes for a distinctly on-the-hoof portrait of a once-only moment in a fast-rising band's upwards curve.
Winterbottom scores most points with his boisterous, bawdy and beery portrait of an indie band forging ahead the old-school way, with due props to beloved venues, a hard-working road crew and Wolf Alice's own hard-gigging appeal
If well targeted at the band's and director's audiences, this Don't Look Back-inspired pic could be a modest but sound investment for Lorton Entertainment, the UK financier-distributor whose recent projects include Oasis documentary Supersonic. While Winterbottom's name could generate intrigue, Wolf Alice's fast-expanding fanbase may well boost numbers.
Those fans flooded out for the band's March 2016 UK tour, as documented here. Sold-out signs speckle mid-sized venues from Belfast to London, where the four-piece emerges as a natural magnet for teenage fans and older, nostalgic indie-heads. Fronted in regulation indie-wear DMs and torn tights by Ellie Rowsell, the band emerges as a bright spot in today's often drab guitar-rock market, Wolf Alice's mix of sweet bubblegum melodies and scorching grunge riffs capped off to perfection by the singer's dreamy coo, feral roar and natural charisma.
A director who proved he knows his alt-rock onions with 9 Songs and 24 Hour Party People, Winterbottom gets close to his well-chosen headline act live. Crowd's-eye views are bracingly captured by well-travelled DoP James Clarke (The Trip, Great Canal Journeys), who elsewhere strikes judicious notes of romanticised realism. Rain-lashed windows and time-lapsed night-time street-lights contrast with gigging's grittier details, a routine of backstage corridors and unwelcoming concrete, equipment-lugging toil and forced intimacy.
As Wolf Alice livens up off-stage time by DJing and jamming with support acts (Swim Deep, Bloody Knees), punk-chic bassist Theo Ellis proves an enlivening presence. The band seems more reserved on promo duties, with one interview going nowhere when Rowsell dodges a question about a song's origins and pin-up drummer Joel Amey curtails the query amiably. Whether such evasions frustrate or not, the romantic ideal of the tight-knit indie gang seems well-maintained.
Perhaps cognisant of this, Winterbottom adopts an observational rather than interrogative approach. Rowsell chats about her mum and about maintaining friendships away from home. Yet back-stories are not explored and touring troubles are presented as matter-of-fact hiccups, not high dramas. When an infected elbow forces Ellis to miss the London shows, the incident is brushed past without much comment.
More intimate material emerges from a fictional plot about an affair between a management rep (Leah Harvey) and a young-but-grizzled tour-hand (James McArdle, seen in Star Wars: The Force Awakens), though this strand proves less meaty than the main material. Resembling Winterbottom's The Trip with cheaper nosh, scenes of the pair sharing ice-cream unfold with an easy charm; later, the bedroom scenes approach 9 Songs territory. Winterbottom regular Shirley Henderson cameos to add intrigue. But their story isn't sufficiently developed or integrated enough into the main narrative to satisfy, beyond faint parallels between connections forged in transit and Wolf Alice's fleeting liaisons with student union-sized venues.
Winterbottom scores most points with his boisterous, bawdy and beery portrait of an indie band forging ahead the old-school way, with due props to beloved venues, a hard-working road crew and Wolf Alice's own hard-gigging appeal. The excellent soundtrack justifies the climactic impression of bigger things ahead. Whether Wolf Alice is onstage or breaking out gorgeous acoustic versions of Fluffy for Radio Norfolk (no Alan Partridge cameo, alas), this picture mounts a richly watchable showcase of a group navigating its way between touring's testing downtime and full-pelt forward momentum, holding each other steady as they go.
Production companies: Lorton Entertainment, Revolution Films
International sales: Independent Film Company, sarahl@independentfilmcompany.com
Producers: Melissa Parmenter, Anthony Wilcox
Executive Producers: Julian Bird, Abi Gadsby, Declan Reddington
Cinematography: James Clarke
Editors: Marc Richardson
Music: Wolf Alice, Bloody Knees, Swim Deep
Featuring: Wolf Alice, Leah Harvey, James McArdle