Can a romance between Josh O'Connor and Laia Costa survive gruelling rounds of IVF?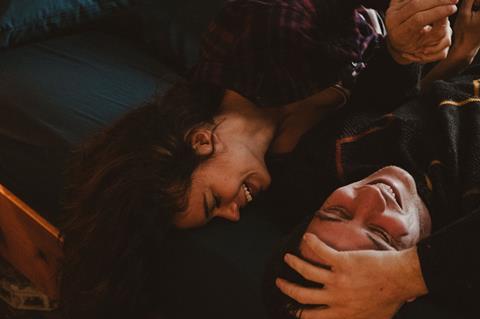 Dir. Harry Wootliff. UK. 2018. 119 mins.
Love's young dream runs aground on the rocks of human biology and workaday reality in Only You, a promising and emotionally mature romantic drama from British writer-director Harry Wootliff. Starring two young leads who have scored significantly in recent art-house hits – Laia Costa in German heist drama Victoria and Josh O'Connor in Francis Lee's God's Own Country – Wootliff's Glasgow-set debut is in a recognisably British psychological realist vein, closest perhaps to the work of Andrew Haigh, whose Weekend and 45 Years also emerged from production company The Bureau.
The fact that there's very little allusion to Elena's Spanish identity suggests that the role hasn't entirely been shaped to accommodate Catalan actress Laia Costa.
Wootliff – following her shorts Nits and Trip, and assorted TV writing work - shows acute emotional insight and a confident way with actors, even if her narrative skills don't yet have the focus to sustain two hours. But skilful marketing by UK distributors Curzon Artificial should give Only You some upmarket prestige, and the leads' prominence could help boost the film's presence at festivals and niche slots.
Set over two years, the film begins in Glasgow one New Year's Eve, where office worker Elena (Costa) is carousing with friends but not really feeling at home. Trying to get a taxi home, she meets English PhD student (in marine biology) Jake (O'Connor) and, sparks flaring between them, they spend the night together at her flat. Jake - who also moonlights as a DJ – soon moves in with Elena, and they enjoy a passionate romance, barely interrupted by a momentary hiccup when Elena finally confesses that, at 35, she's nine years older than him.
Her age only becomes a significant issue once the couple has decided to try for a baby – and eventually opt for the stressful course of undertaking IVF treatment. But the tensions of the process start taking their toll on the relationship and, while Elena and Jake are clearly made for each other, it's by no means certain that they're made to last.
Apart from the couple's meeting, and their fraught adventures in the field of conception, there's very little narrative here, Wootliff concentrating on the interplay between the couple and a handful of characters around them – with Mike Leigh regular Peter Wight foremost as Josh's affably supportive widowed dad. Otherwise, the central duo's profile outside their relationship is sketchy at best – and it feels a little odd that Jake's passing his Ph.D. viva is treated as if it just another day's incident.
While Jake is shown to have had a relationship with a young woman in studenty digs, Elena's wider existence never quite comes into focus – she doesn't really look at home amid the dowdy (and very British-looking) furnishings of a flat that comes complete with her dad's LP collection, and Costa's breezy, somewhat bohemian character makes it seem odd that Elena would spend time with such a smugly middle-class social circle. The fact that there's very little allusion to Elena's Spanish identity – beyond some Iberian content on the soundtrack – suggests that the role hasn't entirely been shaped to accommodate Catalan actress Costa.
Even so, she's a terrific choice for the role, crackling with a sensual energy that sparks beautifully with O'Connor: the duo show intelligence and alertness and share a vital chemistry both in their love scenes and in the tense face-offs that increasingly take place once the IVF theme comes to the forefront. That the couple never discusses adoption as an answer to their impasse seems odd, and the drama is awkwardly loaded with moments in which Elena finds herself inopportunely surrounded by children and babies wherever she goes. These quibbles aside, her and Jake's story has a vivid ring of emotional authenticity, smartly played up by Shabier Kirchner's alert, mobile camera and an offbeat score including British folk and Spanish choral music – plus two well-placed uses of Elvis Costello's urgent and ambivalent 1986 number 'I Want You'.
Production company: The Bureau, Crybaby, Synchronicity Films
International sales: The Bureau Sales, sales@lebureaufilms.com
Producers: Tristan Goligher, Matthieu de Braconier, Rachel Dargavel, Claire Mundell
Screenplay: Harry Wootliff
Story: Harry Wootliff, Matthieu de Braconier
Cinematography: Shabier Kirchner
Editor: Tim Fulford
Production design: Andy Drummond
Music: Emilie Levienaise-Farrouch
Main cast: Laia Costa, Josh O'Connor, Lisa McGrillis, Stuart Martin, Peter Wight