A road trip from Pixar which fails to advance the company's artistic fortunes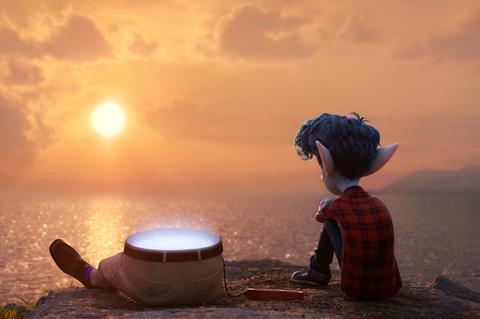 Dir: Dan Scanlon. US. 2019. 103mins.
Onward is set in a fantasy world of elves and dragons which used to make room for magic — a depressingly on-the-nose metaphor for the latest Pixar outing, which lacks much of the wonder of the company's past films. Burdened with a drab quest narrative and populated by sweet but unmemorable characters, the studio's 22nd feature still delivers glorious animation and the occasional tear-jerking sequence. But whether it's the pedestrian design of this mythical realm or the simplistic story of squabbling brothers in search of their long-lost father, Onward never feels like much of an advancement.
Unlike most Pixar films, which have a rich sense of place, Onward fails to capitalise on its fantasy setting
Disney unveils Onward on March 6 in the US and the UK, following on from a glitzy premiere at the Berlinale and testing a new date on the release calendar for a Pixar film. (The animation studio's movies usually arrive during summer or Thanksgiving.) Pixar's three most recent non-sequels/prequels have been Coco ($807 million worldwide), The Good Dinosaur ($332 million) and Inside Out ($858 million), which suggests the range of theatrical prospects for Onward. Featuring a starry voice cast including Tom Holland, Chris Pratt, Julia Louis-Dreyfus and Octavia Spencer, Onward should have a smooth commercial sailing without much competition in the marketplace until it does battle with another Disney offering, the live-action Mulan.
Holland provides the voice of Ian, an awkward teenage elf who lives with his widowed mother Laurel (Louis-Dreyfus) and dopey older brother Barley (Pratt). Ian's father died when he was very small — Barley himself only has about three memories of him — and he has always longed for some kind of relationship with a man he only knows from stories. Then, one day, Ian and Barley are given a gift that he left behind: an enchanted staff with a crystal that might be able to bring their father back to life.
Ian tries to perform the spell — the film's suburban setting was once a land of endless magic that has been replaced by smartphones and automobiles — but only succeeds in destroying the crystal and conjuring up his dad's feet and legs, which are alive. Barley insists they can find a substitute crystal by following an ancient map, but they only have 24 hours before their father disappears completely.
Director and co-writer Dan Scanlon (Monsters University) drew inspiration his own family's loss, and there are moments in Onward where the primal power of sibling rivalry and father-son relationships resonates. But the actual plot consists of a familiar road-trip adventure with mismatched characters, wacky exploits and obligatory chase scenes.
Unlike most Pixar films, which have a rich sense of place, Onward fails to capitalise on its fantasy setting. Imagining a world very similar to ours, except it has manticores and centaurs, Scanlon seems to be lamenting modern life, in which we benefit from a wealth of innovations — the internet, technology — but have lost our capacity for awe. That's potentially poignant, but the film reduces the sentiment to cliché. And although the movie's conception of its everyday make-believe realm is a cheerfully nerdy combination of Dungeons & Dragons mysticism and 1970s stoner-rock iconography, those modest charms aren't enough to overcome what's familiar about the storytelling.
Onward's key running joke is that Ian and Barley are (literally) dragging their father's legs with them on this journey. With uncomfortable parallels to the unfunny '80s comedy Weekend At Bernie's, the film hopes that the mere sight of the legs bumping into things will be hilarious. Instead, the gag undercuts what's meant to be bittersweet about the scenario: these brothers have wanted so badly to reconnect with their dad, but this is as close as they were able to get. Onward's emotional crux ends up becoming a cheap comedic prop.
The unspoken tension between the brothers — Ian isn't as outgoing as the gregarious Barley, who is self-conscious that everybody thinks he's a screw-up — isn't acutely explored, and neither Holland nor Pratt can bring much spark to their underdeveloped characters. That becomes increasingly a liability as Onward heads towards a resolution that requires Ian and Barley to revaluate their relationship and what their dearly departed father has meant to them.
As for the supporting cast, Louis-Dreyfus is mostly stranded on the margins, while Spencer tries to bring some humour to her role as a once-mighty manticore who has been tamed by contemporary life, stuck working at a medieval-themed restaurant. Like much of Onward, it's a mildly clever idea that doesn't really go anywhere.
Production company: Pixar
Worldwide distribution: Disney
Producer: Kori Rae
Screenplay: Dan Scanlon, Jason Headley, Keith Bunin, original story by Dan Scanlon, Keith Bunin, Jason Headley
Production design: Noah Klocek
Editing: Catherine Apple
Cinematography: Sharon Calahan, Adam Habib
Music: Mychael Danna and Jeff Danna
Main voice cast: Tom Holland, Chris Pratt, Julia Louis-Dreyfus, Octavia Spencer, Mel Rodriguez, Lena Waithe, Ali Wong, Grey Griffin, Tracey Ullman, Wilmer Valderrama