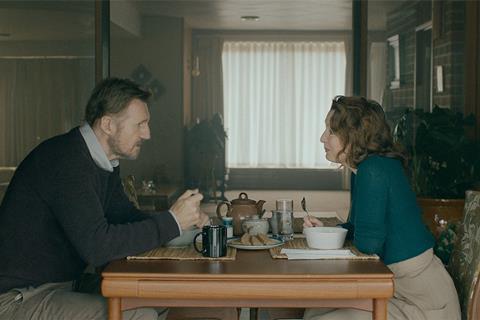 Dirs. Lisa Barros D'Sa, Glenn Leyburn. UK. 2019. 92 mins
An achingly intimate portrait of a marriage weathering a storm, the third feature from directing team Lisa Barros D'Sa and Glenn Leyburn (Good Vibrations) is anything but ordinary. Leslie Manville and Liam Neeson star as Joan and Tom, a long-married couple whose easy equilibrium is disturbed when she is diagnosed with breast cancer. The matter-of-fact candour of the film extends to the no-frills direction; what shines is the combination of Owen McCafferty's stingingly honest screenplay and the two lovely, emotionally textured central performances.
Should leave audiences at further festivals and arthouse theatres sobbing into their popcorn
This is the first screenplay by renowned playwright McCafferty, although one of his plays, Mickybo And Me, was previously adapted into a film. It's a highly personal work – McCafferty drew on the experiences that he and his wife shared during her treatment for breast cancer. Not surprisingly, it is a deeply affecting piece which should leave audiences at further festivals and arthouse theatres sobbing into their popcorn.
The film uses gentle rhythms and repetition – an evening walk along the waterfront is a recurring motif – to evoke a relationship which is easy and companionable. To say that Joan and Tom have settled into habits is misleading, suggesting that habit is what keeps them together. In fact, it's clear from the first affectionately bickering conversation, a debate over whose job it is to take down the Christmas decorations, that they still love one another. As we get to know more about the couple, it becomes clear that perhaps these banal routines have another purpose – an attempt to impose order on a life which can be savagely unpredictable. Joan and Tom have already survived one life shattering tragedy together, the death of their daughter.
When Joan gets the cancer diagnosis, her first thought is of her daughter. ("I am glad Debbie isn't here to go through this," she murmurs, as if even voicing it out loud is a betrayal.) Later, she sends Tom alone to Debbie's grave, but forbids him from telling their daughter that she's sick. Tom breaks his word and unburdens himself over the bunch of flowers he has laid against headstone. "My job is to carry on as normal." He looks lost, with no idea which direction normal is any more. It's an understated but wrenchingly powerful scene.
The quality of the writing is evident throughout, but it's particularly potent when Joan and Tom find themselves at odds. The arguments, petty flair-ups with no real point, are a safety valve for sadness.
Even a marriage as solid as theirs finds itself strained by Joan's cancer. It is she - not they - who is going through the ordeal of rounds of chemotherapy, Joan is at pains to point out. She is the one who has to confront mortality. She finds comfort in conversations with Peter (David Wilmot), the former teacher of her daughter who is himself dealing with a terminal diagnosis.
This is not showy film-making, the directors don't distract from the central truth of the story. One effective embellishment is a rippling score which gives a sense of time suspended, a kind of musical limbo which captures the arrested state in which Joan and Tom find themselves, even as normal life rolls on, oblivious.
Production company: Out of Orbit, Canderblinks Films
International Sales: Bankside Films films@bankside-films.com
Producers: Brian J. Falconer, David Holmes, Piers Tempest
Screenplay: Owen McCafferty
Production Design: Nigel David Pollock
Editing: Nick Emerson
Cinematography: Piers McGrail
Music: David Holmes, Brian Irvine
Main cast: Lesley Manville, Liam Neeson, David Wilmot, Amit Shah