Dir/scr David Leon. UK, 2015. 93mins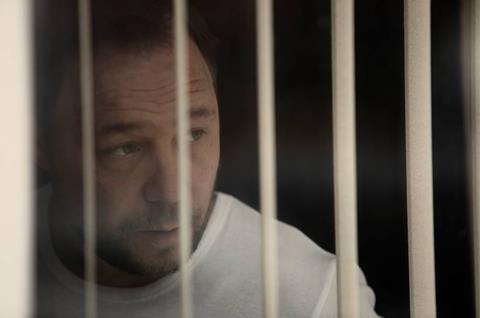 One man's life-long struggle agains the demands of his Jewish faith eventually sets him on the path to atonement in Orthodox. This earnest first feature from actor turned writer/director David Leon (a Screen Star Of Tomorrow in 2012) significantly expands upon his short of the same name, retaining most of the cast and crew from the original production. Flirting with an ambitious range of influences from glum kitchen sink social realism to brooding film noir, Orthodox never quite achieves a consistent tone. The Jewish orthodox community presents a relatively fresh setting for a British film but the hero's travails are all too predictable as he is beaten, betrayed and humiliated by life.
Stephen Graham is the glue that keeps all the disparate elements and influences together
Stephen Graham gives a typically committed performance in the central role and his impeccable television credentials in everything from Boardwalk Empire to the recent This Is England 90 might be enough to attract an audience to Orthodox. The commercial fate of recent British features from Catch Me Daddy to The Goob and Just Jim underline the enormous challenge facing Orthodox in trying to connect with a theatrical audience, however.
Graham's Benjamin cuts an old-fashioned figure as a man who will not countenance the possibility of his wife working and who believes "it is my job to provide for my family". Devoted to his wife Alice (Rebecca Callard) and his two sons, Benjamin runs a failing kosher butcher and earns extra cash as an illegal fighter for his shady friend Shannon (a typically sly Michael Smiley). Boxing is the one thing in life that Benjamin does well but flashbacks reveal it is the reason for his estrangement from his outraged father and his faith.
Bullied as a child, he fought back despite warnings that this "is not the way of a yiddisher boy". When Shannon offers Benjamin a way to make easy money, he faces a stark choice that sends him hurtling towards a personal hell.
Writer/director David Leon takes an unusual approach to the story in Orthodox with events and years galloping by in a flash but then some very significant plot points are delivered in throwaway flashbacks or casual conversations. It is disconcerting and prevents a full emotional engagement in Benjamin's story. Leon also displays a fondness for soulful, slow-motion interludes and frequent images of racing greyhounds as a metaphor for the way Benjamin is trapped, blinkered and forced to compete against the odds.
The initial promise of some kind of kosher Rocky eventually settles more towards a variation on The Godfather with Shannon's murky criminal activities revealed to be sanctioned by rabbi Goldberg (Christopher Fairbank) who retains a ruthless paternalistic grip on the spiritual and commercial activities within the orthodox community. Goldberg's casual disregard of any ethical or moral questions makes him hard to swallow as a character.
Shot in and around Newcastle, Orthodox does offer a persuasively gloomy vision of urban decay in an England that feels both old and modern. The exploitation of anonymous foreign workers by Shannon feels entirely topical but Benjamin's struggle against the forces of evil and his own conscience seems to belong to the shadowy world of post-War film noir or golden age 1950s television dramas like Requiem For A Heavyweight.
Stephen Graham is the glue that keeps all the disparate elements and influences together. He is just about believable as a street fighter but is much more convincing as an ordinary, trusting family man forever at the mercy of a world that seems determined to respond to his love and devotion with yet another kick in the teeth.
Production Company: Zeitgeist Films
Contact: Email: enquiries@zeitgeistlondon.co.uk
Producer: Daisy Allsop
Executive producers Stephen Graham, Gareth Wiley
Cinematography: Si Bell
Editor: Kelvin Hutchins
Production designer: Paul Frost
Music: Simon Robbs
Cast: Stephen Graham, Michael Smiley, Christopher Fairbank, Rebecca Callard