Dir.  Director: David Gordon Green. US. 2015. 107mins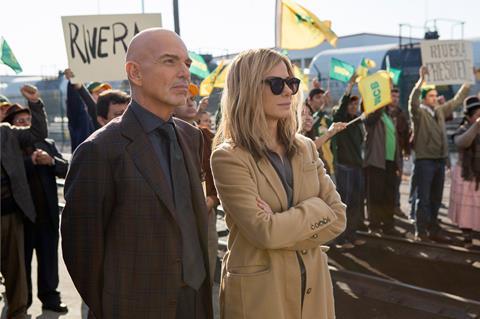 Politics is a dirty business, but Our Brand Is Crisis doesn't stick its hands into the muck sufficiently to be as entertaining or stinging as it could be. Inspired by the 2005 documentary of the same name, which chronicled the too-good-to-be-true story of American political operatives assisting the campaigns in Bolivia's 2002 presidential election, this movie has slickness, an engaging milieu and an ornery turn from Sandra Bullock. But director David Gordon Green overdoes the film's fashionable cynicism early on and then switches gears abruptly in a final stretch that comes across as false.
Bullock tries to bring some taking-care-of-business ferocity to the role, occasionally revealing the hang-ups and self-doubt that are eating away at Jane beneath her pitbull exterior
After its premiere at the Toronto Film Festival, Our Brand Is Crisis will be released in the US through Warner Bros. on October 30, hoping to parlay Bullock's marquee value into solid box office. The film could be timely in the States as the 2016 presidential campaign is already in full swing, and a supporting cast that includes Billy Bob Thornton and Anthony Mackie will also be attractive to viewers. If awards buzz and good word-of-mouth accrue, Our Brand could be a hit with adults, but the film (despite its inherently juicy political intrigue) may only bring modest grosses.
Turning material covered in Rachel Boynton's documentary into fiction, Our Brand Is Crisis finds retired American political strategist Jane Bodine (Bullock) being coaxed into signing up for one more election — this time in Bolivia, where former president Castillo (Joaquim de Almeida) is a dark-horse candidate to retake his old job. Because Castillo's opponent, the popular favourite, is being coached by Jane's old nemesis Pat Candy (Thornton), she decides she'll stop at nothing to win the election for Castillo, even though she has a recent history of breakdowns, depression and electoral failure.
Our Brand Is Crisis represents new terrain for Green, who initially specialized in intimate indie dramas (George Washington) but in the past decade has flirted with the mainstream through stoner comedies (Pineapple Express, Your Highness). His latest film has the polish of a studio picture, but its political themes and larger dramatic canvas make it the sort of Oscar-season offering he's never engaged in before.
Unfortunately, it's not a great fit, as the filmmaker delivers a comedy-drama that isn't quite a political satire but also isn't especially trenchant in observing how this woman — nicknamed "Calamity Jane" for her personal struggles and career mis-steps — seeks redemption by winning an election that, ironically, means nothing to her.
The original documentary was praised for its horrifying look at how ruthless American-style electioneering was being brought to bear in Bolivia, the strategists treating the country's serious political issues as mere fodder for win-at-all-costs sport. The singular problem with Green's movie is that it doesn't have much of a take on Jane's questionable methods, which involve cynically changing the narrative around the election in order to scare voters into choosing Castillo. We're neither sneakily seduced by her lapsed ethics nor outraged by her callousness about the actual issues affecting Bolivians.
Bullock tries to bring some taking-care-of-business ferocity to the role, occasionally revealing the hang-ups and self-doubt that are eating away at Jane beneath her pitbull exterior. She and Thornton have a sexy rapport as bitter rivals, but ultimately the character isn't unscrupulous enough to be a compelling anti-hero or cautionary tale. As a result, when the result of her campaigning creates consequences she hadn't anticipated, her response seems unearned and a bit mystifying: how is Our Brand's outcome that shocking to a professional strategist who's supposedly seen it all? For a movie about a presidential election, Our Brand feels oddly insignificant, the film failing to live up to its promise — much like the fate of many elected officials.
Director: David Gordon Green
Production companies: Participant Media, RatPac-Dune Entertainment, Smokehouse Pictures
Contact: Warner Bros. Pictures, www.warnerbros.com
Producers: Grant Heslov, George Clooney
Screenplay: Peter Straughan
Cinematography: Tim Orr
Editor: Colin Patton
Production design: Richard A. Wright
Music: David Wingo
Main cast: Sandra Bullock, Billy Bob Thornton, Anthony Mackie, Joaquim de Almeida, Ann Dowd, Scoot McNairy, Zoe Kazan