Dir/scr. Ines Tanovic. Bosnia-Herzegovina, Croatia, Slovenia, 2015. 90 min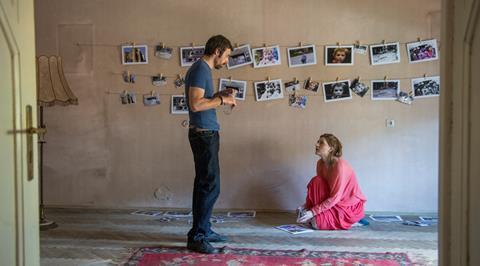 This intimate drama, simple, low-key but amazingly perceptive, offers a slice of middle-class life, Bosnian-style, and is a welcome surprise coming from a part of the world that usually favors far more explosive, overtly dramatic themes with obvious topical and political undertones.
Tanovic is clearly no slouch at directing actors and getting the best out of them
Not that these themes are ignored or absent in Our Everyday Life, but they are cleverly interwoven in the pattern of daily events of the kind that are familiar to audiences the world over. Coming out of the Sarajevo Cinelink programme, and already invited to significant international festivals as Montreal, Goteborg and Raindance, this is not the film to bowl over multiplex audiences but should have a long, solid and fruitful arthouse career, particularly across Central Europe.
Faithful to its title, Inez Tanovic's debut feature, reminiscent in tone and approach to the late French filmmaker Claude Sautet, never raises its voice unless absolutely necessary and even then, very rarely. The film's first sequences may seem a bit confusing with short, apparently unrelated bits of information conveyed before the audiences have had a chance to become acquainted with the characters, but once it settles down to focus on the Susic family and their routines, everything in it rings true down to the smallest details, with local color, inserted throughout, adding to its authenticity.
Muhamed Susic (Emir Hadzihafizbegovic), an executive in his sixties, whose entire life has been devoted to his work, is the head of a company that he had successfully kept going through the numerous crises of the last 40 years but is now being pushed out by new trends that seem to be beyond him. His wife, Marija (Jasna Ornela Bery), is a retired teacher, whose main concern in life is to keep her family together, calming her frustrated husband, always on the case of their two grown-up children who seem to ignore his authority.
Sasha (Uliks Fehmiu), over 40 and living at home with his parents after his wife left him, can't overcome either the memories of the war he has lived through or the pain of a separation he did not want. As for the daughter, Senada (Vedrana Seksan) is living abroad and is never fully seen except for the first and last sequences, her partial presence limited to the frequent Skype conversations she conducts with her family.
The conflicts that arise between these four characters are just as you might expect. Muhamed lashes out at his son for loafing around with nothing to do, Sasha rebels against life in general and his father in particular. Senada is waiting for her boyfriend to come back from a long trip to Asia and Marija tries to spoil her offspring and never despairs that they will make it, despite Muhamed's constant grumbling. All of which is bound to change once Marija is diagnosed with breast cancer and Senada turns out to be pregnant.
If the story works, despite its apparent ordinariness, it is because Tanovic expertly uses scenes, dialogue and set-ups that look as if they have been copied from real life. Not only in the relationships between the members of the family, but also in Muhamed's daily visits to the hairdressing salon of a friend, in Sasha's encounters with his old pals, the remarks about the war that is not yet over and the nostalgia for days gone by. She also deals with the national fear of stagnation and not keeping up with the rest of the world, the concerns of a generation that left during the war and now can't find its right place, the generation gap and the swift economic changes taking place in the countr. These never impede the plot,which ultimately suggests that family, despite all its internal frictions, is the only safe refuge, that bringing children in the world is the only way to beat total chaos and that the only way to resolve conflicts is still to talk them through.
A splendid cast, obviously identifying fully with the characters they play, never lets Tanovic down. Scenes such as Marija painting the walls while skyping ther daughter, or father and son angrily confronting each other next to a bathtub full of red peppers and then making up on a bench while Marija is being operated on, show Tanovic is no slouch at directing actors and getting the best out of them.
All technical credits are aboveboard with Erol Zubcevic's sensitive camera contribution standing out.
Production companies: Dokument, Sarajevo
Producer: Alem Babic
Contact: Dokument, Sarajevo, dokument2@bih.net.ba
Cinematography: Erol Zubcevic
Editing: Redzinald Simek
Production design: Mario Izevic
Music: Halka
Cast: Uliks Fehmiu, Emir Hadzihafizbegovic, Jasna Ornela Bery, Maja Izbetbegovic, Vedrana Seksan, Marko Mandic, Boro Stjepanpovic, Goran Bogdan, Goran Navojec.