Several stories intertwine in this bold debut set in Angola's capital Luanda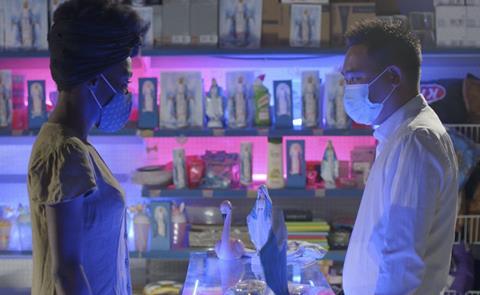 Dir-Scr: Ery Claver. Angola. 2022. 98 mins
The second fiction feature from the Angolan filmmaking collective Geração 80, Ery Claver's Our Lady Of The Chinese Shop shares a similar aesthetic of super-saturated surreal chaos and feverish poetry with the group's first picture, Fradique's buzzy 2020 festival hit Air Conditioner (on which Claver served as co-writer and cinematographer). Set in Luanda, the Angolan capital city, this is a confounding but mesmerising tale of grief and loss, superstition and faith, power and revenge. The story structure is as jostling and disorientating as the city's streets and it doesn't entirely come together as a coherent whole. But while it loses momentum as it unfolds, there is a distinctive beauty and a boldness to the filmmaking which reaffirms Angola as a country to watch when it comes to new voices in African cinema.
Reaffirms Angola as a country to watch when it comes to new voices in African cinema
Claver's feature debut, which shares characters and themes with several of his short films, screens in competition in the Red Sea Film Festival following a festival run that kicked off in Locarno and took in London, Rio de Janeiro, Ghent and Torino. The appetite among festival programmers for new African voices should ensure that Our Lady travels further within the festival circuit. However, it's never entirely clear whether the picture's enigmatic lyricism conceals hidden depths, or whether it simply baffles for the sake of baffling. As such, it will likely prove to be a daunting prospect for prospective distributors.
One thing is for certain: the picture looks terrific. The colour palette is full of throbbing neon tones, coupled with electric blue and a strident, glowing violet. The cluttered streets contrast with interiors which are layered with peeling paint and accumulated secrets. In one such home lives Domingas (Claudia Pucuta), nursing both her grief over her daughter's death and her grudge against her ailing husband Bessa (David Caracol). A steady stream of water pours through the roof of the kitchen, but the leak, insists Domingas' busybody friend, is not something that can be fixed by handymen. "Your house is crying."
Elsewhere, Zoyo (Willi Ribeiro) drifts around the streets looking for his missing dog, Tobiasa. And a Chinese shopkeeper (Liu Xuibing) smokes and surveys his stock, including cheap Virgin Mary statuettes which become best-sellers when customers start to believe that they have miraculous powers. All of this is tied together by a Mandarin-language narration (voiced by Meili Li) which is more evocative than informative.
Divided into loose chapters, the effect is a kind of cacophony of competing stories, which is somewhat tied together by an extended prologue that comes two-thirds of the way through the picture. This is a pivotal extended flashback; a political rally that takes place in a former bullring and involves the ruling elite chowing down on a banquet, while an audience, including Domingas, Bessa and their daughter Mariana, watches on. It is suggested that the event might have something to do with Mariana's subsequent death – certainly, there's a strong implication that Bessa is in some way culpable – but, like much in the film, the truth of the matter is never entirely clear.
Production company: Geração 80
International sales: Sudu Connexion contact@sudu.film
Producer: Jorge Cohen
Cinematography: Eduardo Kropotkine
Production design: Prudênciana Hach
Editing: Zeno Monyak
Music: Ismael Suama
Main cast: Claudia Pucuta, David Caracol, Willi Ribeiro, Meili Li, Liu Xuibing