An unemployed factory worker travels from Slovakia to the Baltics to catch a big fish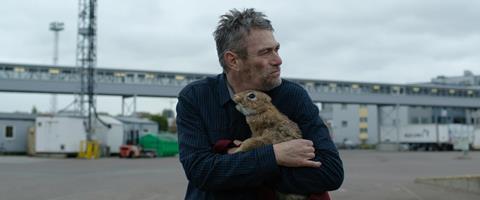 Dir. György Kristóf. Slovak Republic, Hungary, Czech Republic. 2017. 88 mins.
When fifty-something Ágoston (Sándor Terhes) is cut loose from his position in a power plant, he loses a sense of purpose and identity along with the job. His journey from Slovakia to the Baltics is as much about reconnecting with and re-building himself as it is about searching for work. A keen angler, Ágoston's ambition to catch a big fish is both metaphorical and literal.
The film's blurry vignette structure sometimes feels like an evening of bar-room anecdotes that never quite get to the point.
A first feature from György Kristóf, Out combines a striking visual sense with unexpected spikes of weirdness. This amiable, offbeat odyssey (with the emphasis on the 'odd') plods over the kind of terrain which is already well-trodden by films like Bent Hamer's O'Horten and much of Aki Kaurismaki's oeuvre. Festival interest, following the film's premiere in Un Certain Regard, is a given. However, like its shambling, taciturn protagonist, the film might be too aimless to venture far from its familiar territory and given the sheer volume of tales of economic migrancy available to potential distributors it could lose out to other, more emphatic statements on the same theme.
Strong location choices throughout are never bettered by the arresting backdrop of the power station at which Ágoston has toiled for most of his adult life. Soviet era brutalism is bullied into cheerfulness with a bold palette featuring accents of turquoise and fire alarm red. A pleasing shot pans along the wearied faces of the workers as they learn that 40 percent of them will be sacked, and then swivels to gaze up the interior of a giant cooling tower. Dreams and lives are going up in smoke.
At home, Ágoston awkwardly fills the space that his wife was used to having to herself. His attempts to be useful backfire – his wife returns to find her washing machine in bits, adrift in a puddle. "It was bouncing," says Ágoston. "Now it's leaking." says his wife.
A keen fisherman living in landlocked Slovakia, Ágoston is drawn to water. He decides to move to Latvia for a job as a welder in a shipyard. There's a hitch when he arrives. The secretary has no record of the job. He must have been scammed, she tells him. But for a small donation to an animal charity, she arranges a position for him.
Fleeting encounters include a bearded drunk grieving the death of the pet he inadvertently trod on; a woman who carries a stuffed earless rabbit around with her at all times (until it ends up in Ágoston's possession), and a shifty, highly-strung Russian man and his surgically enhanced wife. While Ágoston manages to keep hold of the stuffed rabbit, he gradually loses the rest of his possessions. What remains – and seems more powerful than any human connection – is his desire to catch a really big fish.
Too episodic to offer a fully satisfying character study, the film's blurry vignette structure sometimes feels like an evening of bar-room anecdotes that never quite get to the point. That said, Ágoston, with his shy smile, his appetite for discovery and his stubborn attachment to a moth-eaten taxidermy rabbit, is a likeable travelling companion on this journey to nowhere and everywhere.
Production company: sentimentalfilm, Endorfilm, KMH Film
International sales: Cercamon sebastien@cercamon.biz
Producers: Marek Urban, Ferenc Pusztai, Jiří Konečný
Screenplay: György Kristóf, Eszter Horváth, Gábor Papp
Cinematography: Gergely Pohárnok
Editor: Adam Brothánek
Music: Miroslav Tóth
Production Design: Branislav Mihálik
Main cast: Sándor Terhes, Éva Bandor, Judit Bárdos, Ieva Norvele Kristóf, Guna Zarina, Viktor Nemets, Ieva Aleksandrova-Eklone, Tibor Gáspár