The marmalade-loving bear returns for another adventure in this exemplary sequel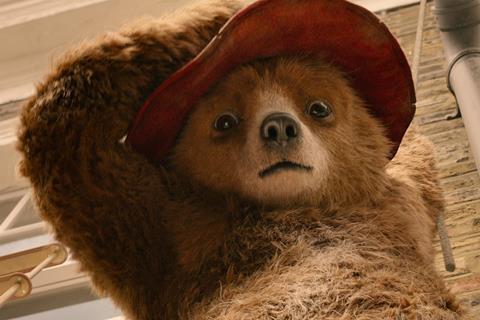 Dir: Paul King. UK. 2017. 103 mins.
Fans who have been awaiting second helpings of London's most notable import from darkest Peru will be delighted to hear that Paddington 2 is as irresistible as the dessert trolley our hero pilots, and as sweet as the marmalade that perpetually clags his fur. An exemplary sequel, the film retains the innocence and beguiling lack of cynicism of the first film, but moves on to explore other motifs. And if thematically it's not quite as timely as the first film – the pro-immigration stance of the original is even more pertinent now in post-Brexit Britain – the film's message of decency, honesty, mutual respect and, above all, good manners feels like a balm for troubled times.
In the colour palette and in the precision of the framing, Paddington 2 has an almost Wes Anderson feel at times
Loaded with charm, the picture promises to at least match the impressive numbers achieved by its predecessor. The film's not-so-secret weapon – he has already featured in an eye-catching marketing campaign – is Hugh Grant, on uproarious form as nefarious luvvie Phoenix Buchanan. Word of mouth, the Grant factor, plus the audience goodwill carried over from the first film should mean that Studiocanal has a hit on its hands.
We are reunited with Paddington (voiced again by Ben Whishaw), now happily ensconced at Windsor Gardens and part of the Brown family. A pirouetting camera dances through a story set-up, the visual choreography and densely detailed production design evoking something of the charm assault of Jean-Pierre Jeunet's Amelie. Paddington, it becomes clear, is the glue which sticks the neighbourhood together.
Dutiful nephew that he is, Paddington is preoccupied with finding the perfect present for his beloved Aunt Lucy. In a dusty box in Mr Gruber's (Jim Broadbent) bric-a-brac emporium, he finds the ideal gift – a handmade pop-up book featuring scenes from London. A gorgeous, Gondry-esque animated sequence sees Paddington explore the pages with his much-missed only relative. But the book is pricey, so the enterprising bear sets out to earn the money to afford it. Paddington's odd jobs – in a barber shop, then as a window cleaner – offer plenty of scope for more of the peerless physical comedy and endlessly inventive set-pieces which made the first film such delirious fun.
The comedy is upped still further with the entrance of gloriously self-involved thesp and new neighbour Phoenix Buchanan. And, as with the first film, Paddington is caught up in a theft; this time, however, he finds himself the fall guy and is sentenced to ten years in Portobello prison.
In the colour palette – as delectable as a tray of macaroons – and in the precision of the framing, the film has an almost Wes Anderson feel at times. Certainly, it's unlikely that a jail ever looked quite this appealing, with its pleasing hues of china blue, mustard yellow, mint green and pink. In prison, Paddington meets, and stares down, Knuckles McGinty (Brendan Gleeson) and a host of other undesirables who band together to help him find justice.
Perhaps the beauty of the first Paddington film – and what made it a particularly cherishable experience for younger audiences – is the fact that it wasn't afraid to take kids out of their comfort zones. King and co-writer Simon Farnaby do so again here, but this time the fears we negotiate are not focused on a scalpel-wielding taxidermist. Instead, they tap into the dread of abandonment, topped off with a breathless moment of sub-aqua peril which manages to be both agonisingly tense and achingly sad at the same time. The upbeat ending, and a hilarious mid-titles coda featuring Buchanan, come as a joyous release.
Production company: Heyday Films, Studiocanal
International Sales: Studiocanal info@studiocanal.com
Producer: David Heyman
Screenplay: Paul King, Simon Farnaby
Cinematographer: Erik Alexander Wilson
Editors: Mark Everson, Jonathan Amos
Production design: Gary Williamson
Music: Dario Marianelli
Main Cast: Ben Whishaw, Hugh Grant, Sally Hawkins, Hugh Bonneville, Brendan Gleeson, Julie Walters, Jim Broadbent, Samuel Joslin, Madeleine Harris, Peter Capaldi, Tom Conti, Joanna Lumley, Imelda Staunton, Michael Gambon, Sanjeev Bhaskar, Eileen Atkins