Dir: Park Chan-ok. South Korea. 2009. 110 mins.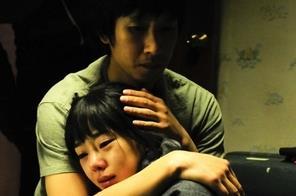 Korea's Park Chan-ok takes a big step forward with her second feature Paju, a richly layered drama about the complicated relationship between a young girl and her brother-in-law. Close to five years in the making, Paju is intimate in scale but forcefully ambitious in its rich imagery and confident handling. The critical buzz surrounding its premiere at Pusan suggests a healthy festival career ahead, although this challenging work could have a hard time finding its feet commercially.
This should help to cement Park's reputation as one of Korea's most talented art-house directors.
The film goes out in South Korea on October 29, when it can expect a better-than-average arthouse release, backed by warm notices, with particular attention to the fine performances by lead actors Lee Sun-kyun and Seo Woo.
Park already impressed with her 2002 debut Jealousy Is My Middle Name, winner of a Tiger Award at Rotterdam. Paju, which adopts a more female perspective, should help to cement her reputation as one of Korea's most talented art-house directors.
The film's plot is told in a sequence of flashbacks, not always in order, reflecting how a series of freak accidents and betrayals from the past still loom large in the main characters' lives.
Joong-shik (Lee) is a young activist wanted by the police in 1996. After inadvertently causing a horrific injury to his lover's infant son, he flees to the city of Paju, a quickly developing satellite town outside Seoul. There he meets and marries a woman named Eunsoo (Shim Yi-young) who lives with her younger sister Eunmo (Seo). Before long, Eunsoo dies in a gas explosion.
In 2003, Eunmo returns to Paju after spending her university tuition on an extended trip to India. There she is reunited with Joong-shik, who heads a group of squatters battling (with rocks and Molotov cocktails) against the demolition of an apartment complex. Her feelings about her brother-in-law, which had always been complicated, grow more so when she begins to suspect him of having killed her sister.
Park's deliberately obscure storytelling technique causes some confusion in the opening reels, and viewers must work hard in order to orient themselves. However as the pieces start falling into place, the characters develop an unusual psychological depth which makes their interactions riveting. Joong-shik's motivations become clearer by the end, but Eunmo retains an enigmatic quality that makes her a fascinating character to watch.
Young actress Seo Woo should receive a major boost to her career from this performance, after winning various local awards last year for her turn as the daughter in Crush & Blush (2008). This also marks the most high-profile role to date for Lee Sun-kyun (Sa-Kwa), who effectively portrays the crushing sense of guilt and responsibility that characterises Joong-shik.
One of Paju's few weaknesses is that the physical staging of both of the film's key accident sequences seems slightly off, lessening their impact. Otherwise, technically the film is good. A series of pitched battles between apartment squatters and hired thugs is especially striking.
Well-known DoP Kim Woo-hyung (A Good Lawyer's Wife) imparts a grainy, unsaturated look to the not-quite-urban, not-rural landscape of Paju. Music by Jang Young-kyu, used sparsely, is also effective.
To sign up for Screen's weekly Reviews Newsletter with all the week's new releases, international openings and full festival reviews delivered free to your mailbox every Friday, please click HERE
Production company
TPS Company
Domestic distributor
MK Pictures
International sales
M-Line Distribution
+ 82 2 796 2426
Producers
Kim Ju-kyung
Jaime Shim
Screenplay
Park Chan-ok
Cinematography
Kim Woo-hyung
Production design
Kim June
Music
Jang Young-kyu
Main cast
Lee Sun-kyun
Seo Woo
Shim Yi-young
Kim Bo-kyung
Lee Kyung-young
Lee Dae-yeon