A group of life-long friends reunite for a weekend of stories and secrets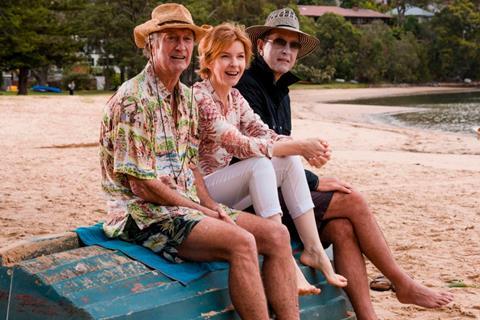 Dir/scr. Rachel Ward. Australia. 2019. 100mins
For much of Palm Beach, the characters' faces speak volumes. Reunited for a weekend-long party, they're not having as good a time as they'd like — and neither is this warm but uneven affair. In her sophomore feature after 2008's Beautiful Kate, writer/director Rachel Ward sends Bryan Brown, Sam Neill, Richard E. Grant and Greta Scacchi to the titular Sydney suburb's sunny shores, unpacks decades of interpersonal tussles, and shows that secrets can blight the most comfortable lives. The results prove lightly amusing and is well-performed by the high-profile cast, but the film's familiar existential reflections and wavering mood leave more than a little wanting.
Palm Beach boasts a few narrative surprises, but is essentially a standard blend of middle-aged woes, broad life-affirming insights and inevitable cathartic revelations
After premiering in Sydney Film Festival's opening-night slot, Palm Beach releases locally in August — and while star power may elicit modest international interest, it's the movie's target market that could help its fortunes. A contemplative Big Chill-esque comedy-drama that's not as twisty as French holiday saga Little White Lies or as overtly comic as Netflix's recent Wine Country, it skews to the increasingly lucrative baby boomer demographic.
With a birthday bringing the film's friends together, age is on everyone's minds. Retiree Frank (Brown) is a year older, Charlotte (Scacchi) has just overcome health troubles, and celebrating with their lifelong pals — plus adult children Ella (Matilda Brown, Bryan and Ward's daughter) and Dan (Charlie Vickers) — is their only immediate plan. To their sprawling beach home they summon Leo (Neill), his spouse Bridget (Jacqueline McKenzie) and stepdaughter Caitlin (Frances Berry); the mischievous Billy (Grant) and actress Eva (Heather Mitchell); and plucky Holly (Claire van der Boom), the daughter of a departed friend who arrives with sheep-farmer squeeze Doug (Aaron Jeffrey) in tow.
Making her feature screenwriting debut with a script co-credited to Ward, playwright Joanna Murray-Smith gives Palm Beach's ragtag crew a labyrinthine history. Leo, Billy and Holly's mother once sought musical stardom as soft-rockers The Pacific Sideburns, Frank was the manager who helped them swing their only hit, and, back together again, the memories flow as freely as the wine that's always in reach. But Leo nurses regrets dating back to the band's raucous heyday that could tear apart the close-knit group. As the days, drinks and leisurely dinners pass, tempers and tensions simmer.
Seesawing between laughs and dramas across multiple subplots, Palm Beach boasts a few narrative surprises, but is essentially a standard blend of middle-aged woes, broad life-affirming insights and inevitable cathartic revelations. Inspired by Brown and Ward's own vacation with three other couples, the film both echoes with truth and seems filtered through an easy formula — a sensation that isn't helped by the obligatory Australian smattering of picturesque landscape shots that could double as tourism ads. (New South Wales' government tourism agency receives a prominent credit.)
Still, Ward and her cast have a feel for the material. Palm Beach works best an ensemble showcase filled with ample talent making the most of their requisite lively and serious moments, as directed by a filmmaker with an attentive and generous eye. The genuine on-screen rapport can't smooth over the movie's patchier developments or sharp tonal swerves, however, and neither can cinematographer Bonnie Elliott's (Undertow) relaxed imagery or the soundtrack's noticeable needle drops. Yet, in both tumultuous weekends away and films about them, small pleasures make a difference.
Production companies: New Town Films, Soapbox Productions
Sales: Seville International, sevilleinternational@filmsseville.com
Australian distributor: Universal
Producers: Bryan Brown, Deborah Balderstone
Screenplay: Joanna Murray-Smith, Rachel Ward
Cinematography: Bonnie Elliott
Editing: Nick Meyers
Music: The Teskey Brothers
Production design: Melinda Doring
Main cast: Bryan Brown, Sam Neill, Richard E. Grant, Greta Scacchi, Aaron Jeffery, Jacqueline McKenzie, Heather Mitchell, Claire van der Boom, Charlie Vickers, Matilda Brown, Frances Berry