Dir. Pavle Vuckovic. Serbia, 2015. 105 min.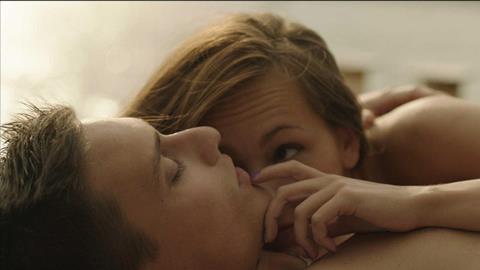 Strictly designed for audiences in their late teens, Pavle Vukcevic's Panama is about a no-strings-attached love affair which turns into an obsessive search for a truth that does not exist. Accompanied by images of Belgrade's changing landscape and crammed with sex scenes and Internet age intrusions, this film may be a faithful image of the younger Serbian generation but it not a particularly discerning one. Youth oriented festivals might show some interest, but otherwise, this ambitious debut delivers less than expected.
Doslo and Stojilikovic are cute, attractive and natural enough, but the script shows little interest in them beyond their on-and-off passionate relations
Jovan (Sloven Doslo), apparently the offspring of a wealthy family, goes back to his architecture studies after gallivanting around Belgrade for some time. Accepted back into the faculty without a problem thanks to a professor who happens to be a friend of the family, he spends most of his time with his pal Milan (Milos Pjevac) a natural-born loafer and inveterate skirt chaser, whose countless one night stands have to end with one blowjob, he claims. Meeting Maja (Jovana Stojiljkovic) in a club, Jovan manages, despite the deafening noise, to tell her he is interested but not prepared to commit to a relationship. She accepts, torrid sex follows, she is great in bed but addicted to the smartphone that never leaves her side, which makes him uncomfortable.
They date regularly, sex gets hotter all the time, but though he reminds her occasionally that she shouldn't take it seriously, he is the one who is finally hooked, can't get her out of his mind and is tormented by her enigmatic Facebook posts. His efforts to find out the truth behind her conduct lead nowhere and several separations he instigates won't cure him of his fixation.
Both Doslo and Stojilikovic are cute, attractive and natural enough though no great actors, but the script shows little interest in them beyond their on-and-off passionate relations, as if the main story is only an excuse to reveal the landscape behind them. That includes the economic boom sweeping the country, ruins being replaced by shining new skyscraper and a whole new generation whose life is run through social media.
There is rarely a shot in the film that does not feature at least one smartphone at work or a TV screen, often displaying Facebook videos replete with anything from escapist shots of exotic tropical beaches to dark, grainy images of drunken girls in nightclubs enjoying the company of unspecified males. Theoretically, with such tools at hand, there is no more mystery left in life, everyone knows everything about everybody all the time. In practice, the film implies, it's not that simple.
But for all this to have more than a theoretical meaning, the characters need to be more substantial and their affair more than just a summer fling. There's no sense of what they are doing outside of the sack, or how Jovan manages to carry on with his studies or cope with the job his professor offers him. There are no answers in the script, which is far more concerned, on the one hand, with the changing face of Serbian life, and on the other hand, with the digital revolution and its products.
Production companies: Collapse Films
Producer: Tatjana Zezelj Gojkovic
Contact: Wide Management (info@widemanagement.com)
Screenplay: Pavle Vuckovic, Jelena Vuksanovic
Cinematography: Dorde Arambasic
Editing: Bojan Kosovic
Production design: Livija Mikic, Bojana Nikolic
Music: Milan Sv. Durdevic
Cast: Sloven Doslo, Jovana Sojilikovic, Milos Pjevac, Nebojsa Milovanovic, Tamara Dragicevic, Jelisaveta Orasanin, Aleksandar Durica, Branka Pujic.