Dir: Jake Schreier. US. 2015. 109mins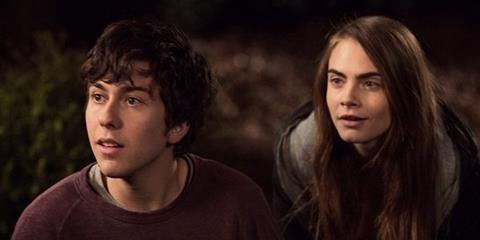 A romantic drama about a teenager consumed by the exquisite melancholy inherent in loving someone just out of reach, Paper Towns, not unlike its protagonist, has worthy ambitions that exceed its grasp. Based on a novel by John Green, the author behind The Fault In Our Stars, this likeable, emotionally precise film has a big heart and a genre-shifting construction that keeps the proceedings from feeling like just another young-adult meander. But despite an agreeably earnest performance from rising star Nat Wolff, Paper Towns covers familiar coming-of-age terrain and suffers from an opaque turn by newcomer Cara Delevingne that's not quite as captivating as the story requires.
Delevingne doesn't have the depth to suggest the stormy seas behind Margo's eyes, nor is she able to hint at the beguiling mixture of bruised vulnerability, tomboy toughness and quick wit that supposedly explain Quentin's helpless devotion to her.
Paper Towns opens July 24 in the States, and 20th Century Fox will push hard to remind audiences of the film's connection to Green. (After all, on a modest budget Fox's Fault brought in more than $307m worldwide last summer.) With no big stars on the marquee, the film benefits from opening at a time when there's no direct competition, making Paper Towns the go-to choice for date-night couple, teen and twentysomething crowds, and fans of the book. But because Paper Towns doesn't have the tear-jerking sentiment of Fault — not to mention that film's easily marketable hook — theatrical grosses may be a bit less gaudy.
As Paper Towns opens, we learn that 18-year-old Quentin (Wolff) has been infatuated with beautiful Margo (Delevingne) since she moved into the house across the street 11 years ago. Fast friends as kids, they have grown apart as they gravitated toward different cliques in high school: She runs with the popular crowd, while he's more of a nerd, hanging with equally dorky buddies Radar (Justice Smith) and Ben (Austin Abrams). But after a night where the two reconnect, Margo goes missing — leaving Quentin convinced that she's left clues behind for him to figure out where she's run off.
Published a few years before The Fault In Our Stars, Paper Towns has been adapted by the same screenwriting team that tackled Fault, Scott Neustadter and Michael H. Weber, who have shown with their work on The Spectacular Now (an adaptation) and (500) Days Of Summer (an original script) that they have a special talent for capturing the poignancy and anxiety of young love.
The specificity of feeling that permeates Paper Towns is one of its strongest attributes, and director Jake Schreier (Robot & Frank) does a fine job underlining the moments in a teenager's life when the world feels emotionally overpowering: driving in the car at night with your secret crush, being at prom with your pals before you all go off to different colleges in the fall. Incorporating wistful pop songs and sometimes slowing down the action to accentuate the preciousness of the situations, Schreier walks a delicate line between the melodramatic and the heartfelt.
Where Fault focused on the love affair between two people battling cancer, Paper Towns wields a more unusual structure. The first act consists mostly of the reunion between Quentin and Margo, as she surprises him out of the blue one night, imploring him to help her get revenge on some classmates who wronged her. But then the film shifts toward becoming a mystery: Quentin knows that she's run away before, always leaving hints behind concerning her whereabouts, but can he crack the code this time? From there, Paper Towns morphs again, evolving into a bittersweet road-trip comedy as Quentin, his pals and their girlfriends (or potential girlfriends) go out to find Margo.
These shifts keep Paper Towns from being too predictable, which is crucial since the story being told is awfully pedestrian at its core. Yet again, we see an awkward, sweet-natured teenage boy realise that adolescence is fading away and that the uncertain adult world stretches out ahead of him, which causes him to bond with his soon-to-depart friends and perhaps even find love. Credit Schreier and his screenwriters for locating the genuine sentiment within a familiar tale, but that doesn't keep Paper Towns from feeling like well-trod turf.
The film's greatest liability is its handling of its central theme. As Quentin explains in the earnest/faux-wise voiceover, Margo is, to him, almost more of an abstract concept than a real person: an idealised, unknowable version of a dream girl that's potent precisely because he hasn't spent any time with her in high school, merely pining for her from a distance. Paper Towns wants to examine both the joy and the agony of that dynamic, exploring how Quentin's idealisation has kept him from really seeing Margo.
That's an intriguing theme — and certainly one that speaks to plenty of adults who recall their unreasonable, unrequited loves from childhood — but in order for it to cut deeply, Margo has to be a legitimately transfixing, mysterious figure. Unfortunately, Delevingne, a former model whose first major film role was in 2012's Anna Karenina, isn't quite up to the task. She possesses a bewitching beauty and lends Margo a slightly inscrutable air, but as written the character never lives up to the awe that Quentin shows her. Plus, Paper Towns hints that she's a somewhat dark, extreme personality who's willing to run away on multiple occasions and vandalise property to get vengeance on those who hurt her. But Delevingne doesn't have the depth to suggest the stormy seas behind Margo's eyes, nor is she able to hint at the beguiling mixture of bruised vulnerability, tomboy toughness and quick wit that supposedly explain Quentin's helpless devotion to her.
These complaints are more than nit-picks, however, given that Paper Towns turns into a cross-country search for Margo in its final act, Quentin's undying loyalty convincing him that she's waiting for him to find her. The plot surprises that occur are dependant on our ability to sense the ways in which she can torment and delight him — and that realisation never quite happens, although Wolff's casual charm goes a long way toward softening Delevingne's one-dimensional performance.
As for the supporting cast, they fight to keep their characters from just being high-school types, with Halston Sage navigating her character's pretty-girl-with-a-brain clichés nicely. Abrams overdoes Ben's big-talking geek, but Smith shines as the only guy in the group with a girlfriend, the young actor's natural charisma self-evident.
But the film's real breakthrough will probably belong to Wolff. Playing side roles in films like The Fault In Our Stars and Stuck In Love, he gets to showcase his unpretentious, openhearted demeanour winningly in Paper Towns. We may not fully understand Quentin's obsession with Margo, but Wolff keeps this potentially sad-sack character grounded and sympathetic.
Production companies: Fox 2000 Pictures, Temple Hill Entertainment
Worldwide distribution: 20th Century Fox, www.foxmovies.com
Producers: Wyck Godfrey, Marty Bowen
Executive producers: John Green, Isaac Klausner, Nan Morales, Scott Neustadter, Michael H. Weber
Screenplay: Scott Neustadter & Michael H. Weber, based upon the book by John Green
Cinematography: David Lanzenberg
Production design: Chris Spellman
Editors: Jacob Craycroft, Jennifer Lame
Music: Ryan Lott
Website: www.papertownsmovie.com
Main Cast: Nat Wolff, Cara Delevingne, Halston Sage, Austin Abrams, Justice Smith, Jaz Sinclair, Cara Buono