Mounia Meddour's impressive debut feature about a free-spirited student is set in Algeria in the 1990s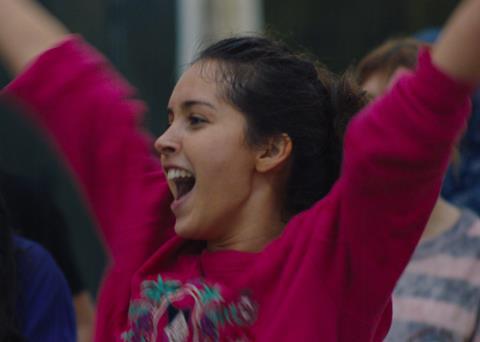 Dir: Mounia Meddour. France/Algeria/Belgium/Qatar. 2019. 105mins.
Anger and pride simmer and crackle through the feature debut of Algerian director Mounia Meddour. They illuminate and energise what might otherwise have been a dutiful story about a student in an Algiers girls' university hall of residence in the 1990s who is determined to put on a fashion show as an act of defiance against the rising Islamist tide. The emotions are there in every claustrophobic camera angle, in thriller-tinged scenes that show female self-expression being denied and muffled both by enemies and so-called friends. And they flame up in Lyna Khoudri's incendiary performance as the film's heroine, a baby-faced good-time girl who gradually turns into a feminist warrior.
The film's most rewarding strand is the inventive, pointed way in which clothes and textiles are used as metaphors both for female constraints and female defiance
French-speaking territories should embrace a feature that is in part about Franco-Algerian identity, but Papicha will break out into other arthouse markets too, driven by its dramatic sinew and the engagement sparked by its sisterly solidarity. There's plenty of warmth and humour here too, alongside the darker notes.
Walls and transformations – and the way the two go hand in hand – are a running theme, established in a breathless opening scene. College best friends Nedjma, a.k.a Papicha (Khouri) and Wassila (Shirine Boutella) are seen using wirecutters to escape for the night from the brutalist concrete womens' residence of Algiers University, where they both study French language and culture. In a waiting taxi, they slip into sheer dresses, apply make-up and hit a downtown disco, where Nedjma's hidden talent is revealed: she's a dress designer and seamstress, taking orders in the club toilets from girls who can't buy the 'decadent' clothes they want in any city store. But dark clouds are already looming: the car radio brings news of terrorist attacks, and balaclava-clad soldiers at a checkpoint seem on a dangerously short fuse.
Two well-dressed boys the girlfriends meet at the disco serve to underline the lack of any alternative to the support network of female friends, mothers and sisters where free spirits like Nedjma can simply be themselves. Even Westernised 'nice guys' like her love interest Mehdi (Yasin Houicha) turn out to subtly coercive, aiding and abetting the black-robed Muslim sisters who barge into Nedjma's French lecture to protest against foreign influence, of hijab-promoting posters with the message "Sister, your image is precious to us – take care of it, or we will". Strangers box in, harass and threaten the defiantly unveiled, lipstick-wearing Nedjma whenever she leaves home or university, which turn out to be less than safe havens.
Papicha doesn't get hung up about the fact that its heroine is a middle-class girl with plenty of spare cash. What counts is her fury at the way a country she loves is being hijacked by bigots. Close hand-held camerawork, much of it dwelling in shallow focus on women's bodies and faces, drives our sympathy as well as suggesting how little room for manoeuvre these aspiring female graduates have. But the film's most rewarding strand is the inventive, pointed way in which clothes and textiles are used as metaphors both for female constraints and female defiance. The sight of Nedjma with pins sticking out of her mouth, transforming a 'haik' (the traditional Maghrebi women's robe) into a seductive ball dress, is perhaps this feisty, unapologetic film's single most telling image.
Production companies: The Ink Connection, High Sea Production, Tayda Film
International sales: Jour2Fete, contact@jour2fete.com
Producers: Xavier Gens, Gregoire Gensollen
Screenplay: Mounia Meddour, with Fadette Drouard
Production design: Chloe Cambournac
Editing: Damien Keyeux
Cinematography: Leo Lefevre
Music: Rob
Main cast: Lyna Khoudri, 
Shirine Boutella Amira Hilda Douaouda, Zahra Doumandji, Yasin Houicha, Nadia Kaci, 
Meryem Medjkane