A twist-laden black comedy in 'home invasion' mode from Bong Joon Ho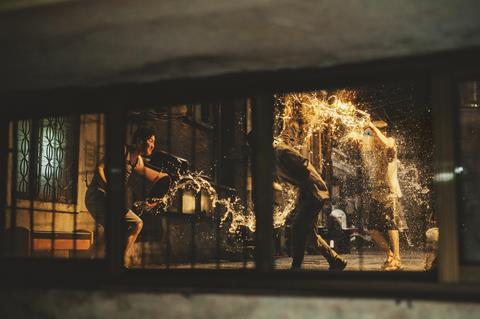 Dir. Bong Joon Ho. South Korea. 2019. 131mins
In his recent films, genre-twisting South Korean director Bong Joon Ho has ventured into international cinema in epic style, first with futuristic train drama Snowpiercer, then with effects-heavy Netflix eco-oddity Okja. If those two films divided critics and perplexed many of Bong's long-standing admirers, he looks set to achieve rousing acclaim for Parasite, a vigorous and tightly controlled comedy that sees him back on top form, with a story that's both rigorously achieved and very specifically Korean.
Export prospects are robust, as are remake possibilities
Essentially a twist-laden black comedy in 'home invasion' mode, with a rich streak of scabrous social satire, Parasite is a malign delight from start to finish, with a Machiavellian sense of mischief and a cinematic brio that shows Bong revelling in his Hitchcockian control of somewhat Buñuelian material. Export prospects are robust, as are remake possibilities — you can just imagine the fun a suitably malevolent director could have relocating this story to Beverly Hills.
The story begins in a rundown working-class city district where Ki-taek (Song Kang Ho, a Bong regular since 2003's Memories of Murder) is the unemployed paterfamilias of a family living in glum poverty in a cockroach-ridden basement flat. Discouraged and indolent, he, his wife Chung-Sook (Chang Hyae Jin) and their two adult children occasionally make a half-hearted stab at earning a living by folding pizza boxes, but prospects are bleak.
That is, until son Ki-Woo (Choi Woo Shik) is offered a gig by his student friend Min. He suggests that Ki-Woo stand in for him as tutor to the girl he loves — Da-hye (Jung Ziso), the daughter of super-rich tech entrepreneur Park (Lee Sun Kyun) — mainly because he feels she'll be safe with him. Visiting the girl's outrageously opulent modernist house, Ki-Woo is approved for the job by her neurotic and gullible mother Yeon-kyo (Cho Yeo Jeong). Ki-Woo realises that there's a place in the household for his sister Ki-jung (Park So Dam), whose canny ruthlessness mobilises the family, and the clan find new resourcefulness and energy when it comes to ensuring that they all get to reap the benefits of the luxury life.
What happens next in the ingenious, unpredictable narrative takes in an aggressively rainy night in the slums; an outrageous climax at a preposterously lavish garden party; and multiple surprises involving assorted characters as well as the house itself. Supposedly the work of a legendary modernist architect, the building — with its vast spaces and gleaming surfaces — is magnificently created here by production designer Lee Ha Jun.
Bong's boldest shot is to make a film in which all the characters are brazenly unsympathetic, beginning with Ki-woo, who's only too ready to steal his friend's beloved, through to Da-hye's spoilt kid brother Da-song (Jung Hyeon Jun), whose obsession with Native Americans is wildly indulged by his parents, specially imported tomahawks and all.
But the all-out self-serving nastiness of everyone is underpinned by a caustic take on South Korea's haves and have nots, with the actions of Ki-taek's family perhaps not justified, but certainly motivated by the economic realities of a world in which the wealthy don't just disdain the poor but treat them as filth —in this story literally recoiling from what they consider their unsavoury smell. In other words, they consider the poor as cockroach-like subterraneans, a premise that the film unpacks in bold and surprising visual terms. A cast on top character form throws itself into a series of increasingly outrageous and mean-spirited situations with spot-on comic timing, perfectly tuned to Bong's own.
Production companies: CJ Entertainment, Barunson E&A
International sales: CJ Entertainment filmsales@cj.net
Producers: Kwak Sin Ae, Moon Yang Kwon
Screenplay: Bong Joon Ho, Han Jin Won
Cinematography: Hong Kyung Pyo
Editor: Yang Jinmo
Production design: Lee Ha Jun
Music: Jung Jae Il
Main cast: Song Kang Ho, Lee Sun Kyun, Cho Yeo Jeong, Choi Woo Shik, Park So Dam