Jacques Audiard reinvents his own cinema with this fresh story of lovers inter-twined in today's Paris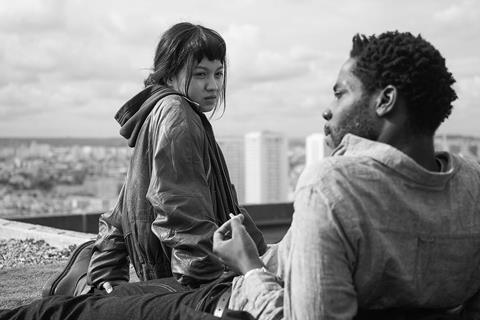 Dir. Jacques Audiard. France. 2021. 106 mins.
Stories of young love in Paris have long been two a sou in French cinema. But the genre is always up for reinvention, and Jacques Audiard rises to the occasion triumphantly in Cannes competition title Paris 13th District – exuberantly reinventing his own cinema in the process.
If the title Sex And The City weren't already taken, it would fit this film perfectly
A story about four young people looking for love, or eluding it, in a contemporary, multi-ethnic, digitally connected metropolis, the film is Audiard's first since 2012 Rust And Bone to adapt a predominantly female perspective – with the director benefitting from script collaboration by two leading French writer-directors, Céline Sciamma and Léa Mysius. Adapted from three stories by US graphic novelist Adrian Tomine, the narrative translates beautifully to a Parisian context, and four terrific leads – a mix of newcomers and familiar faces, the best known being Noémie Merlant – will give this fresh and, dare one say, 'relatable', film broad international appeal, especially for a younger audience than Audiard may have connected with previously.
Audiard previously melded single stories into a cogent whole in Rust And Bone, inspired by Canadian writer Craig Davidson, and here he works with three pieces by Tomine, a specialist in everyday intimacies and frustrations. The setting is the 13th arrondissement in south-east Paris: the French title is Les Olympiades, after the area's residential towers. The film follows the interconnected travails and amours of three characters – with a fourth stepping unexpectedly into the mix.
Terrific newcomer Lucie Zhang plays Emilie, a young woman from a Taiwanese family who lives in the flat owned by her elderly grandmother. Working as a telesales operative - a soulless gig at which she's a polished professional – Emilie is a free spirit in her love life, practised at dating-app hook-ups and wary of attachment. That is, until she meets young Black literature graduate Camille (Makita Samba), who applies to be her lodger and quickly becomes her lover. As convincingly steamy love sessions suggest, they seem made for each other, but stability doesn't seem to be in the mix for now.
The third character is Nora (Merlant), studying law at the Sorbonne – serious-minded, solitary, without the confidence to fit in with her somewhat younger and none too friendly co-students. At a party, she decides to live it up in a blonde wig – and as a result, is mistaken for cam girl 'Amber Sweet' (Jehnny Beth), leading to humiliation that poisons her life at the university. Later, Amber will prove an unlikely conduit to Nora's liberation, but meanwhile, the stories connect when Nora gets a job at the estate agency where Camille, taking a break from academia, is now working.
If the title Sex And The City weren't already taken, it would fit this film perfectly. Paris is more than just a setting here, but absolutely defines the way that the characters live and connect, the rhythms and pressures of their existence. Apart from a brief colour sequence – a glaring flash of Amber online – the film is shot in vibrantly harsh black and white by Paul Guilhaume, whose previous work includes Mysius's Ava. His profile will be boosted by his virtuoso work here, which turns skyscapes, Metro passages and functional apartments alike into a panorama that is a vivid addition to the 'city symphony' genre.
Going deeper than before into a set of female character studies – although he has strong from since 2001's Read My Lips - Audiard scripts in tandem with Mysius (who has also co-written with Arnaud Desplechin) and with Sciamma, whose own star status as the director of Girlhood and Portrait Of A Lady On Fire makes this film very much readable as part of her own auteur cycle – with one character's trajectory in particular marking the film as very much bearing the Sciamma signature.
A key theme is the problem of alienation in a digital age when website hook-ups may be easy to find but love is trickier, partly because traditional conceptions of love have come to seem, if not archaic, then at least démodé. The film depicts the dissatisfactions that today's amorous economy entails, but in a non-judgmental way that emerges from the characters' personalities and negotiations with life. They are all trying to find their own selves in a world of borrowed identities, eroded empathy and online bullying, and Audiard's young cast measure up terrifically.
Makita Samba is laid-back, urbane and warmly sympathetic, although Camille shows his flaws when he's loftily dismissive towards his teenage sister (a very winning Camille Léon-Fucien), an aspiring stand-up comic. Savages singer turned solo artist Jehnny Beth – recently seen in Catherine Corsini's An Impossible Love – has played critically with modern sexual identity in her music, and here pushes those themes further, unpicking the heavily-tattooed, spikily-packaged persona of Amber, whose real self emerges surprisingly through the filter of the laptop screen. Merlant too, currently going from strength to strength as an actor and now director, is terrific as the complex, troubled Nora.
But for many viewers, the standout will be Zhang, who brings witty, breezy exuberance as well as vulnerability to Emilie, who knows the city is hers, but doesn't always know how best to live in it. Her strongest scenes have a vividness and emotional energy that connect the film with the Nouvelle Vague tradition of youth movies, but with a knowingness – and just a touch of hipster cynicism - that's totally 2021.
Production companies: Page 114, France 2 Cinema
International sales: Playtime, info@playtime.group
Producer: Valerie Schermann
Screenplay: Céline Sciamma, Léa Mysius, Jacques Audiard
Based on stories by Adrian Tomine
Cinematography: Paul Guilhaume
Editor: Juliette Welfling
Production design: Virginie Montel
Music: Rone
Main cast: Lucie Zhang, Makita Samba, Noémie Merlant, Jehnny Beth