Dir: Danielle Arbid. Fr. 2015. 119mins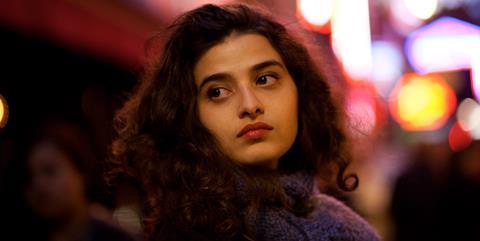 Utterly bittersweet, sexy in places and brutal in others, Danielle Arbid's Parisienne (Peur de rien) is both educational and entertaining as it follows an 18-year-old woman who arrives in Paris from Beirut in 1993 and tries to fit in.
Arbid does very well indeed with good actors, a fluid camera and an abiding affection for her heroine's formative experiences
The Lebanon-born, France-based writer-director's semi-autobiographical tale is anchored by splendid newcomer Manal Issa, whose administrative and romantic travails as budding student Lina ring true. Granted, it's only a movie, but the world might be a slightly better place if Marine Le Pen, Donald Trump and anyone who shares their noxious ideas about immigrants took time out to watch this modest but affecting personal odyssey laced with hope and humour.
After its Toronto premiere, this appealing venture is on view in Les Arcs, Dubai, Palm Springs and then Lincoln Center and MoMA where distributors should definitely make a detour.
Few refugees are as physically lovely as Issa, but any foreigner contemplating the labyrinth of seeking legal permission to stay in France will find this a perversely funny primer on Gallic idiosyncrasies as well as a love letter to why jumping through so many hoops might be worthwhile.
Lina arrives in a Paris suburb to stay with her aunt and uncle while she attempts to qualify for the official documents that will permit her to enroll in a French university. But when her uncle tries to force himself on her, she announces she's heading to the capital on her own. It's a move as foolish as it is necessary.
In her daunting search for housing, Lina is befriended by an adorably sincere Royalist whose unlikely boyfriend is a skinhead. An under-the-table job abruptly turns sour.
Lina doesn't have a burning desire to pursue any particular field of study, but she wanders in to Mme Gagnebin's (the effortlessly stupendous Dominique Blanc) art history course. Any viewer who isn't allergic to 20th century art will want to fight for a spot in that classroom, too.
The first assignment is to write down a list of what's "ugly." Lina writes out one frank, telling sentence: "So far, I find everything ugly."
Wealthy married man Jean-Marc (Paul Hamy) spots Lina and seduces her in the way we expect a well-heeled cad to seduce a lovely newcomer to his fair city (pricey victuals, ravishment on office surfaces). But as it's the late 20th century this won't be her downfall — just a stepping stone to additional sexual experience with other suitors. These include a flakey-musician-cum-drug dealer and the boisterously irreverent editor of a student newspaper, Rafael (Vincent Lacoste).
The too-rarely seen Elina Lowensohn has a late-arriving role as an immigrant hoping her residence card will be renewed. What she says and the way she says it convey all the "yearning to breathe free" emotions mentioned on the base of the Statue of Liberty. Arbid doesn't need a giant metal woman holding a torch to make her points; she does very well indeed with good actors, a fluid camera and an abiding affection for her heroine's formative experiences.
Issa seems poised to contend for Golshifteh Farahani-style roles if other directors know how to utilize her sultry doe-eyed beauty and sassy core.
Production companies: Les Films Pelléas, Quick Motion, Orjouane Productions, Jouror Films
International sales: Films Boutique
Producers: David Thion, Philippe Martin
Screenplay: Danielle Arbd, Julie Peyr
Cinematography: Hélène Louvart
Editor: Mathilde Muyard
Production design: Charlotte De Cadeville
Main cast: Manal Issa, Paul Hamy, Vincent Lacoste, Damien Chapelle, Dominique Blanc, India Hair, Elina Lowensohn