Dir/scr Geremy Jasper. US, 2027, 108 mins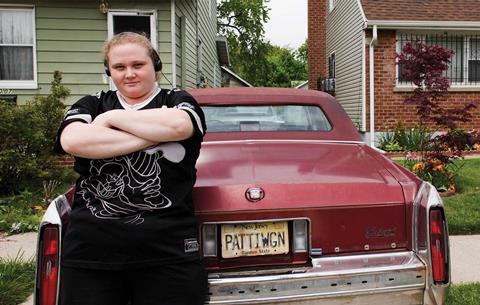 In the energetic, sparky Patti Cake$, an overweight white New Jersey rapper struggles to escape her dead-end life and fabulously blowsy, boozy, scene-stealing mother (played by Bridget Everett). Luminous plus-size actress Danielle Macdonald in the title role will draw plentiful media attention and support for Patti Cake$, and certainly the soundtrack bristles – this may be 2017's Sing Steet (which also world premiered at Sundance).
Director Geremy Jasper sets out his stall from the opening fantasy sequence
Picked up by Fox Searchlight after a bidding war in Park City, this is a full-flavoured film - director Geremy Jasper opts for ultra-tight framing and riotous colours, seemingly influenced by New Jersey's strip-club and late-night dive palette. This could be too strong a taste for international audiences to easily digest, although mid-level US success is all but assured. While it breaks no new narrative ground, Patti Cake$ cloaks the classic trajectory in a sprinkling of fresh fairy dust – a white rap ("act your race," snarls a character), plus-sized heroine, Bruce Springsteen's backstreets, and a failed cabaret singer mother (also overweight) who falls off the bar in an orange jumpsuit which has to be seen to be conceived.
Australian actress Danielle Mcdonald plays Patricia Dombrowski: she calls herself Killer P and Patti Cake$, but is derided as a "white Precious" and "Dumbo" in the resolutely working-class North Jersey neighbourhood where she lives with mum Barb and ailing Nana (an unrecognisable and enjoyable Cathy Moriarty). Debut director Geremy Jasper has said Patti is part-modelled on his own life, and there's a real empathy on display here for her internal and external struggles, a gift which Mcdonald makes the most of in her own debut.
There's the weight, of course, but Patti has to face down her own crippling self-confidence issues. She may start the movie with the anthem "mylifesfuckinawesome", daydreaming about her idol rap artist O-Z (Sahr Ngaujah), but Patti needs to muster every ounce of bravery during the course of this 108-minute take on 8 Mile. With her family facing ruinous medical bills for Nana's treatment and Barb in a nightly dance with alcoholism, it falls to Patti to support the Dombrowski clan with a series of catering and bar-work jobs at Bar Mitzvahs and local dives.
She's an enormously talented poetess and rap artist, though, working with her best friend and tireless supporter Hareesh (Siddharth Dhananjay). Encountering the reclusive anarchist guitarist and producer Basterd (Mamoudou Athie) late one night, they set up – with Nana – a band called PBnJ and secure a launch gig at a local, depressing, neon lit strip bar called Cheetas. Pattie finds the courage to hand out their retro CD demo, but facing up to the mike is another challenge she may not be able to meet.
Director Geremy Jasper sets out his stall from the opening fantasy sequence with O-Z, lit in jade neon green; you're instantly aware that he's going to make this film an interesting visual ride. In fact Patti and Hareesh look at Manhattan like some sort of Emerald City from the hood of their car, plotting the Yellow Brick Road that might take them there. The soundtrack for Patti Cake$ is, as might be expected, rousing throughout, retro ballads crashing into hip hop bangers.
Production company:Department of Motion Pictures
International sales: WME Global/CAA
Producers: Michael Gottwald, Noah Stahl, Rodrigo Teixeira, Dan Janvey, Chris Columbus, Daniela Taplin Lundberg
Executive producers: Lourenco Sant'Anna, Sophie Mas, Eleanor Columbus, Josh Penn, Jonathan Bronfman, Lon Molnar, Fernando Fraiha, Bill Benenson
Cinematography: Federico Cesca
Production design: Meredith Lippincott
Editor: Brad Turner
Music: Geremy Jasper, Jason Binnick
Main cast: Danielle Macdonald, Siddharth Dhananjay, Bridget Everett, Mamoudou Athie, Cathy Moriarty, Sahr Ngaujah, McCaul Lombardi, Waas Stevens, MC Lyte