New Zealand's competitive chicken breeders fear fowl play in this highly-entertaining Hot Docs title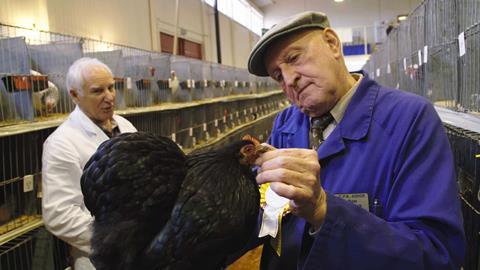 Dir/scr. Slavko Martinov. New Zealand. 2017. 88 mins
There's fowl play afoot at the Christchurch Poultry, Bantam and Pigeon Club as it gets ready to celebrate its 150th anniversary. Will elderly chicken-fancier chairman Doug step down in favour of genial new broom Mark? Feathers fly across the South Island in the run-up to the National Show as director Slavko Martinov assembles his craggy cast of characters, some of whom have been champion chicken breeders for half a century, while others, like 12 year-old Rhys, are getting hatched on a lifetime obsession.
In this world, you're either a champion or a pot-roast.
In the wake of 2016's Tickled, there's an inbuilt audience for the quirky Kiwi doc but Pecking Oder is a mainstream proposition, a feathered, real-life tribute to Best In Show. This is an affectionate crowdpleaser which should feather the nest for international festival programmers, coming home to roost in specialised play and plump terrestrial TV buys in the English-speaking marketplace. Rural audiences are, after all, greatly under-served, and chicken breeding has recently become a middle-class pursuit, a combination which could spell success for this small - but well-formed – doc.
Martinov frames his film as a classic countdown-to-the-big-show, complete with title cards offering a succession of puns ("the Eggs-factor," etc). There's no doubt that competitive chicken-breeding in New Zealand is a highly-eccentric pursuit: a Bagpipe-led procession across the streets of sleepy Oamaru with owners carrying their fowl (and one large Pekin' Duck) is a highlight, as is the sight of Doug nonchalantly eating KFC at an event. In this world, you're either a champion or a pot-roast.
Martinov's characters admit that they've succumbed to an addiction. It's all taken very seriously, as any hobby should be: breeding the perfect bird is an elusive, magnificent obsession. And, why not? These chickens are indisputably cute: after a good sand bath, they happily sit in the kitchen sink being soaped before they're wrapped in kitchen towel and blow-dried by hand. They're fed a premium diet of crushed hazlenuts for the chance of a $3 prize prize at a county fair. "The cost is horrendous," sighs toothless bachelor Brian, who is over-run by his poultry and readily admits to being "too tied up with chooks to find another woman". And if they don't make the grade? "They just disappear, don't they?" says affable Mark.
When he's not counting down to the big day, Martinov attempts to track the skulduggery amongst the elders at the venerable club. "There are lots of people around who don't like being beaten," warns the elderly Doug after repeated, failed attempts to unseat him from the chair of the Christchurch association, while a temporary treasurer cautions to be vigilant against potential sabotage. There's a "power vacuum" and the much-maligned pigeon fanciers may be mounting a coup. Passions are inflamed, but these are – mostly – elderly men and women who live in a small place and have all known each other for a long time. Good sense will prevail.
Martiov documents the 2015 National Show (or international, due to Australian judges who, controversially, may or may not be au fait with Ian Selby's definitive'New Zealand Poultry Standards" book). Our heroes come back again and again: they're quick to congratulate the winner (the National Show will see 450-500 bantams compete), but also fast to plot a return to the fray next year, addicted to the prospect of breeding the perfect one. ("It's like humans. You have some who breed beautiful children….and some who don't.")
Spending time with these characters is highly enjoyable. To the director and his team's enduring credit, the gentle fun here never comes at the cost of any participant's dignity. They may be very far away - a four-day trek even from the North Island to Oamaru for the show - but while competitive chicken showing in New Zealand may seem pretty niche, the story of human obsession is universal and, in Martinov's hands, very accessible.
Production companies: Vendetta Films, Sabineprogram
International sales: Seville International
Producers: Slavko Martinov, David Brechin-Smith, Mike Kelland
Executive producers: Jill Macnab, Phil Bremner, Steve Gilmore
Cinematography: Mike Kelland
Editors: Mike Kelland
Music: Tom McLeod