Natesh Hegde's ruminative character study follows a man ostracised from his community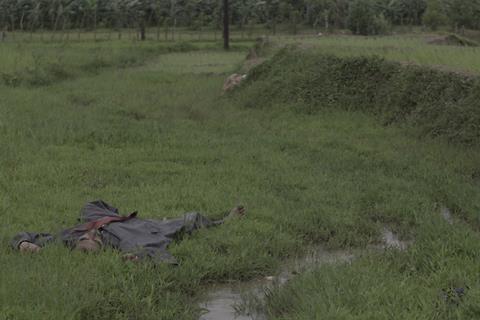 Dir/scr: Natesh Hegde. India. 2021. 108 mins.
After cutting his teeth on several acclaimed shorts, writer-director Natesh Hegde progresses into features with a ruminative character study set in the Western Ghats of Karnataka. Clearly influenced by the humanist cinema of Abbas Kiarostami, this tale of a repairman who is shunned following an apparently unforgivable mistake succinctly illustrates the complexity of social relations and hierarchies in a relatively isolated community. If certain cultural elements may prove perplexing to international audiences, the film's strong sense of place will no doubt hold attention. In addition to his haunting use of landscape, the self-taught Hegde coaxes credibly naturalistic performances from non-professionals, some of whom are family members.
Deliberately paced but hardly sedate, Pedro is a confident feature debut
Having been short listed for the Directors' Fortnight strand of the cancelled 2020 Cannes Film Festival, Pedro instead receives its world premiere in the New Currents section at Busan, where it is notable for being the festival's first Kannada-language title. Aside from attracting interest at further events, such as its upcoming London Film Festival screening, it has potential beyond the festival circuit. As the latest example of the thoughtful independent cinema that is steadily emerging from India, Pedro stands a fair chance of finding a receptive audience through limited theatrical release or a suitable streaming platform.
The eponymous Pedro (Gopal Hegde) is a middle-aged electrician who shares a humble village residence with the family of his brother Bastyava (Nagaraj Hegde). Since his sibling has been kicked out for rowdy behaviour, Pedro has proudly become the man of the house, but this domestic status proves short-lived. Tasked with guarding the farm of a village leader (Ramakrishna Bhat Dundi), Pedro is left distraught when his beloved dog is fatally mauled by a trespassing boar. Craving revenge, he unwisely sets out to kill the marauding animal in the middle of a monsoon, only to shoot one of the leader's cows instead.
A swift fallout follows as villagers who feel Pedro's error has brought shame upon them petition the leader to expel him. Unable to return home and thoroughly unsuited to life in the city, Pedro seeks sanctuary in the forest where he gets a job fixing power lines. Yet the enraged villagers are unwilling to tolerate his presence, even when restricted to the very periphery of the community.
Having been raised in the region, Hegde has crafted an authentic and nonjudgmental study of a community that has no qualms about ostracising individuals who disrupt social equilibrium. From the outset, Pedro's position is seen to be a precarious one. He evinces the curt manner of someone who just wants to ply his trade without distraction, and it becomes apparent that only his technical skills have kept him in the good graces of a community that otherwise regards him as an outsider.
Lead actor Gopal Hegde (the director's father) conveys Pedro's introverted personality through frequently blunt verbal delivery and unkempt appearance ("With that long hair and beard, you look like an owl", chides his employer). Often hinting at unarticulated frustration, it's a lived-in performance that stresses how the protagonist is to some extent the architect of his plight but still engenders a fair measure of sympathy for the solitary man, even when he resorts to violence and theft.
In terms of visual sensibility, Hegde borrows some familiar art-house tropes, such as characters framed against imposing landscape, a recurrent shot of a bus stop located in the middle of nowhere, and conversations filmed through doorways. However, otherwise stellar cinematography by Vikas Urs captures the shifting nature of the surrounding forest under different weather conditions, drawing parallels with the nearby community's capacity for providing a seemingly simple existence removed from urban pressures, yet at times being relentlessly unforgiving.
Several interior scenes are just as striking. A late-night drinking session plays out in an extended take, with a roving camera suggesting increasing inebriation as the boisterous singing of a local song builds to the callous humiliation of a less-than-cheerful barfly. In keeping with the generally detached tone, an assault in a barbershop is shot from the skewed vantage point of a spectator, while a resolution that keeps Pedro off screen while others determine his fate is all the more powerful for it.
Deliberately paced but hardly sedate, Pedro is a confident feature debut, with Hegde's decision to forgo score in favour of Shreyank Nanjappa's subtly enveloping sound design making its regional portrait particularly immersive.
Production company/international sales: Rishab Shetty Films, rishabshetty7@gmail.com
Producer: Rishab Shetty
Editing: Natesh Hegde, Paresh Kamdar
Cinematography: Vikas Urs
Main cast: Gopal Hegde, Ramakrishna Bhat Dundi, Raj B Shetty, Medini Kelamane, Nagaraj Hegde, Sharadha Shet