François Ozon's gender-swap revamp of Fassbinder's Petra von Kant serves ironic homage on Berlin's opening night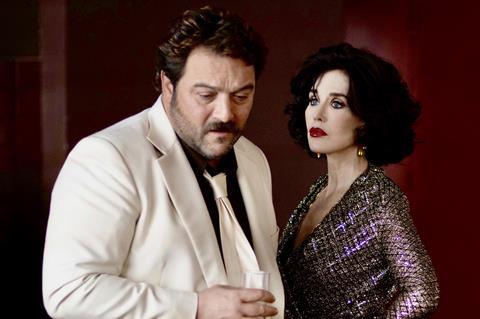 Dir/scr: François Ozon. France/Belgium. 2022. 85 mins.
For his third feature 22 years ago, Water Drops On Burning Rocks, French director François Ozon adapted a play by Rainer Werner Fassbinder. Since then, the super-versatile Ozon has proved a film-maker very different in range from the late German auteur, but Fassbinder's influence has served him well: with 21 features under his belt, Ozon is one of the few contemporary European directors who – allowing for changes in film culture and production conditions - can claim to be remotely as prolific as his hero. Now Ozon goes back to his roots with his own reworking of a Fassbinder classic – 1972's hyper-stylised chamber piece The Bitter Tears of Petra von Kant – and offers a gender-swapped version that serves as an indirect portrait of the troubled maestro himself. Both homage and critique, Peter von Kant astutely gets under the skin of the lesbian-themed original, ekes out new resonances and proves both authentically Fassbinderian and altogether Ozonesque in its ironic sensibilities. Superb performances from a cast across the age spectrum – including a flamboyantly knowing diva turn from Isabelle Adjani – will boost the profile of a film that is hugely cinematic, while honouring the original's deliberately, claustrophobically theatrical register.
Ekes out new resonances and proves both authentically Fassbinderian and altogether Ozonesque in its ironic sensibilities
The date is 1972, and while the locale moves from the original Bremen to Cologne, the setting is still von Kant's luxurious apartment – although fashion designer Petra, originally played by Margit Carstensen, is now film-maker Peter (Denis Ménochet), a bulky, petulant middle-aged man who distinctly resembles Fassbinder himself in physique and temperament. In the first of several acts, Peter, his career seemingly in the doldrums, is tended by his silent, willowy, aggressively put-upon factotum (butler, secretary, cameraman, script editor, the lot) Karl – Stefan Crépon stepping with suitable mystery into the silent role originated by Irm Hermann. Peter is visited by actress and singer Sidonie, his former star and apparently lover, played by Adjani with brittle, kittenish grandeur. She introduces him to her young protegé Amir (Khalil Gharbia) - a character that was previously Karin, and played by Hanna Schygulla. Instantly struck with love and lust, Peter invites the alluring youth back to discuss an acting role – yes, that old ploy – and the two become lovers after an evening in which it's never entirely clear who is seducing whom.
Amir moves in and, as per Peter's promises, becomes a bona fide film star, apparently reviving his mentor's career - as a poster suggests, in a film named (playfully riffing on a Fassbinder title) Death is Hotter Than Love. But Amir proves a capricious, cruel lover, taunting the besotted, perverse Peter with stories of his sex life. The film, true to the original - but streamlined at 40 minutes shorter - later introduces Peter's naïve daughter Gabrielle (Aminthe Audiard) and his mother Rosemarie. She is played by none other than Hanna Schygulla - a casting coup that also signifies an authentic blessing bestowed on the film.
With Ménochet, Adjani and Schygulla alongside three much younger actors, Peter von Kant becomes a resonant, somewhat pitiless contemplation of mortality, the ageing process and vanity, further teasing out themes central to the original. While Schygulla, now 78, has for years happily revealed her ageing process at work on screen, Adjani in her 60s unsettlingly looks in the right light (and DoP Manu Dacosse certainly provides that) as if she could be in her 30s. For the first time, she is in a film that plays overtly and teasingly with that phenomenon – as when Rosemarie tells Sidonie, "You look younger every day." This is a role that allows Adjani to comment ironically on her own image, with Sidonie simperingly declaring, "I'm a star – but I'm also a human being." This version also makes Sidonie much more central – the film even gives her her own culminating twist – while it's Adjani's face that now fills a whole wall of Peter's flat.
Meanwhile, a bewhiskered Ménochet not only has the girth to resemble Fassbinder himself – in his first scene, waking in bed, he resembles a huge, fleshy baby – but also conveys a sometimes frightening and volatile muscularity. His scenes with Amir reveal a lot about Peter's insatiable appetite and desperate need for adoration, and he instils them with a predatory energy tinged with a dash of flirty, self-mocking camp. Gharbia is pitch perfect, playing up the faux-ingénue narcissism and vulnerability, and Amir's interplay with his older lover adds an extra dimension to the original film's contemplation of the way that artists devour their muses - and muses devour them in return.
Briefly glimpsed exteriors provide an extra perspective on Katia Wyszkop's lavish sets, which extend and amplify Kurt Raab's originals, while the music rings some intriguing changes on Fassbinder's choices. We still get the Walker Brothers' moody 'In My Room', but Adjani is now heard on a LP singing 'Each Man Kills the Thing He Loves', Peer Raben's Oscar Wilde treatment, sung by Jeanne Moreau in Fassbinder's Querelle. The addition of Cora Vaucaire's vintage number 'Comme au Théâtre' adds a sharply self-reflexive dimension to the contemplation of life, love and drama – although Peter's somewhat buffoonish drunken dance to it is perhaps the only tonal misstep in this otherwise acutely judged piece.
The use of music, décor and 70s style will tickle Ozon fans, who'll recognise the auteur signature of his pastichey pieces 8 Women and Potiche. Costume designer Pascaline Chavanne opts for realistic-looking '70s styles rather than the outré, painting-inspired confections of the originals, the clothes often interacting expressively with the décor – blood-red walls rhyming with Peter's scarlet shirt. And when he dons a gangsterish white suit and tie, Ménochet's Peter completes an uncanny transfiguration – not an impersonation of Fassbinder, but an embodiment of him, carried off, like the film itself, with a mixture of tenderness, horror and awe.
Production company: FOZ
International sales: Playtime, info@playtime.group
Producer: François Ozon
Screenplay: François Ozon, adapted from The Bitter Tears of Petra von Kant by Rainer Werner Fassbinder
Production design: Katia Wyszkop
Cinematography: Manu Dacosse
Editor: Laure Gardette
Music: Clément Ducol
Main cast: Denis Ménochet, Isabelle Adjani, Khalil Gharbia, Hanna Schygulla