Disney trys to blow new wind into the sailes of this profitable franchise, with limited success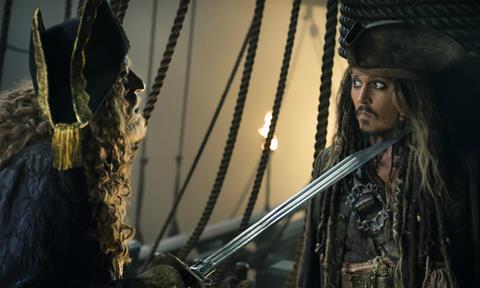 Dirs: Joachim Ronning, Espen Sandberg. US. 2017. 129mins
After 2011's creaky On Stranger Tides, Disney's Pirates Of The Caribbean franchise felt in serious need of rejuvenation. Fifth installment Salazar's Revenge (formerly titled Dead Men Tell No Tales) surrounds series linchpin Johnny Depp with new directors, new romantic leads and a new villain - a CG-enhanced Javier Bardem - and manages to put a bit of wind back in the sails; though not enough to return the franchise to its swashbuckling best.
After going through the motions in On Stranger Tides, Depp still seems to be struggling to recapture Jack Sparrow's twinkle
International audiences provided most of the box office loot for On Stranger Tides, which took $1.05bn worldwide; nearly 77% of which came from outside North America. They will also be the crucial factor when Salazar's Revenge starts its global roll-out this week, with UK and US openings set for the May 26 holiday weekend.
Depp's star power has waned since he last swung a cutlass, so Disney and franchise producer Jerry Bruckheimer will have to hope that this episode's international cast additions can make up the difference.
Billed in its trailer as showing how "the last adventure begins" (a post-credits sequence seems to be a teaser for a likely sixth franchise chapter), the film finds Depp's Captain Jack Sparrow slumming it in Saint Martin with a disgruntled crew and a decrepit ship. Bardem's Captain Salazar is a cursed Spanish pirate-hunter out to get his revenge on Jack.
To protect himself, Jack has to find the legendary Trident of Poseidon, and he reluctantly joins forces in his quest with astronomer Carina (played by Kaya Scodelario) and sailor Henry (Australia's Brenton Thwaites, from Maleficent). Geoffrey Rush returns as Captain Barbossa, with the character this time transforming from bad pirate into good.
Screenwriter Jeff Nathanson (Catch Me If You Can), taking over from series regulars Ted Elliott and Terry Rossio, doesn't make much sense out of the typically (for the franchise) convoluted plot, but does manage to bring out a father-child theme that lends the film a little emotional resonance.
New directors Joachim Ronning and Espen Sandberg, best known for Norway's 2012 foreign language Oscar nominee Kon-Tiki, mostly follow the franchise rulebook in spinning out the jokey (but not terribly sexy) Carina-Henry romance and staging the heavily-choreographed action. Mildly bawdy gags punctuate the piece, making Dead Men feel at times like a Carry On comedy.
Performances have always been a big part of the franchise's appeal, and on this voyage they're a mixed bag. After going through the motions in On Stranger Tides, Depp still seems to be struggling to recapture Jack Sparrow's twinkle — even in a scene with Paul McCartney stepping into the veteran rocker cameo slot filled in the last two episodes by Keith Richards.
Bardem brings the patented menace last displayed in Skyfall to the role of the story's primary villain, projecting through heavy make-up and extensive CG effects. Salazar, his zombie crew and their skeleton ship don't feel particularly original - though the zombie sharks are a nice new touch - but they give the installment a welcome jolt of dark energy.
Orlando Bloom and Keira Knightley, romantic leads from the franchise's original trilogy, only make their entrances in the final minutes. And though the scene serves as a reminder of what's been missing from the franchise's recent installments, it should also prime audiences for another Pirates outing.
Production companies: Walt Disney Pictures, Jerry Bruckheimer Films
Worldwide distribution: Walt Disney Studios Motion Pictures
Producer: Jerry Bruckheimer
Executive producers: Mike Stenson, Chad Oman, Joe Caracciolo Jr, Terry Rossio, Brigham Taylor
Screenplay: Jeff Nathanson
Director of photography: Paul Cameron
Production designer: Nigel Phelps
Costume designer: Penny Rose
Editor: Roger Barton, Leigh Folsom-Boyd
Music: Geoff Zanelli
Main cast: Johnny Depp, Javier Bardem, Brenton Thwaites, Kaya Scodelario, Kevin R McNally, Golshifteh Farahani, David Wenham, Stephen Graham, Geoffrey Rush
Website: http://pirates.disney.com/pirates-of-the-caribbean-dead-men-tell-no-tales