A man becomes addicted to playing the victim in this searing Greek character study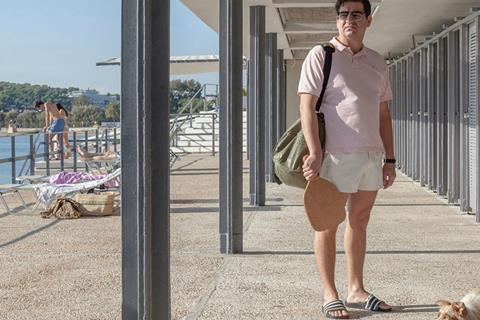 Dir. Babis Makridis. Greece-Poland. 2017. 97mins.
Director Babis Makridis returns to Sundance with his assertively stylised and gleefully savage second feature, a Greek tragicomedy about a man who becomes addicted to sorrow. Pity, which Makridis co-wrote with Yorgos Lanthimos' regular collaborator Efthimis Filippou (Dogtooth, The Lobster), strikes a tonal balance between ruthless and wry, which positions it comfortably alongside the best of Greece's current new wave.
Makridis' debut feature L (2012) premiered at Sundance before enjoying a festival run which Pity should at least match, and will likely surpass. An eye-catching central performance from comedian Yannis Drakopoulos, which combines deadpan, almost Keatonesque absurdity with spikes of utter malevolence, is a considerable asset, as is the tagline-friendly premise. Like Argyris Papadimitropoulos' similarly uncomfortable Suntan, Pity may pose a marketing challenge to distributors hoping to attract an arthouse audience, but will likely benefit from some critical support.
Drakopoulos brings a deliciously lugubrious self-importance to the unnamed man at the heart of the story. A lawyer and the father of one son, he starts every day weeping – great, wrenching gulps of despair – for the wife who currently lies in hospital, comatose following a car accident. A pall of sadness infuses everything, from the pained deliberacy of his movements to the respectfully subdued colour palette of the film.
But it soon becomes clear that the gravitas of grief rather suits him. He waits expectantly by the front door each morning for the orange cake that his sympathetic neighbour bakes for him every day. He milks each exchange with his dry cleaner (Makis Papadimitriou) for the hit of empathy which he has come to crave like a drug. His personal tragedy gives him a newly elevated status; he is automatically awarded the final word in every discussion, particularly those pertaining to suffering. And suffering is all he wants to talk about.
Comedy is of the agonising variety that twists the knife in this already brutal character study. There's a particularly cherishable scene in which the man berates his son for playing upbeat songs on the piano and then sings his own composition. It's a funereal dirge which advocates the mass slaughter of animals and felling of pine trees in memory of his beloved, almost dead spouse.
Such is his addiction to sadness that when his wife (Evi Saoulidou) recovers unexpectedly, he is reluctant to let go of it completely. He invents a breast cancer scare for her, to temper her joyful return into his life. He is drawn to a pair of recently bereaved clients of his law practice, like a vampire feeding on doom and gloom. But with the failure of his initial attempts to jumpstart the pity that he now requires, he feels compelled to take drastic steps.
Makridis employs several bold devices in the service of this scalding character study; the most striking of which is the use of droll intertitles which give an insight into a mind which is happiest being sad. Less arresting but equally effective is the precision of composition and the largely static camera which emphasises the curious formality of this buttoned-up character who finds release in despair. Music, including jarring bursts of choral hysteria, is also well-chosen.
Production company: Neda Film, Faliro House Productions, Madants, Beben Films
International sales: New Europe Film Sales Jan@neweuropefilmsales.com
Producer: Amanda Livanou, Christos V. Konstantakopoulos, Klaudia Śmieja, Beata Rzeźniczek
Cinematography: Konstantinos Koukoulios
Screenwriter: Efthimis Filippou, Babis Makridis
Editor: Yannis Chalkiadakis
Production design: Anna Georgiadou
Main cast: Yannis Drakopoulos, Evi Saoulidou, Nota Tserniafski, Makis Papadimitriou, Georgina Chryskioti, Evdoxia Androulidaki