Dir. Maya Goded. Mexico. 2016. 84mins.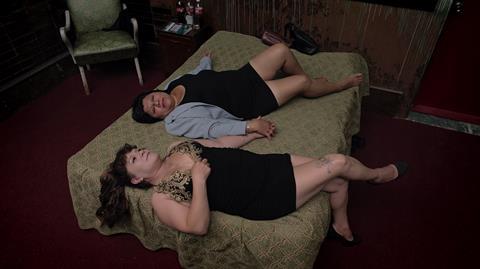 Sixty-eight-year-old prostitute Carmen prays in front of a shrine decorated with pink chintz and fairy lights. "Our lady… I ask you to look out for [the women], to protect them from being attacked." It's a moment which encapsulates several key themes in this powerful, unflinching documentary. Firstly, the ever-present threat of violence that stalks the prostitutes of La Merced in Mexico City. And secondly, the tight-knit, quasi familial bonds between the women which serve as their main protection from the gruelling realities of the toughest lives imaginable.
Goded lets the prostitutes have voices and hopes for the future, things which are routinely denied them by a culture which punishes women for victimhood.
Director Maya Goded tempers the bleak moments – and there are plenty of these as the women recount the horrors that led them to the streets – with hope, humour and love. It's an engrossing and moving portrait of an outcast community which, having been rejected and ignored by the rest of society, serves as its own support system.
The considerable thematic impact of the film is complimented by the quality of the work behind the camera – particularly Goded's photography, sound design from Lena Esquenazi and Valentina Leduc's editing. A healthy festival life, following on from its premiere in the Sundance World Cinema Documentary Competition, seems assured. Theatrical prospects are less certain, however Magnum photographer Goded's name and reputation should generate some interest in this, her directing debut.
With its intimacy and extraordinary access, this is the kind of film which could only be made with a level of trust that a filmmaker has to earn over time. And Goded has certainly put in the time. She has been exploring La Merced and photographing the working women there on and off for twenty-three years. Her vivid depictions of prostitution and poverty evoke the seminal 1981 book Falkland Road: The Prostitutes of Bombay, by Mary Ellen Mark. Both look at female sexuality and strength on the very margins of society.
For her film, Goded follows five key characters aged between fifty and eighty. Carmen, one of Goded's long-term subjects, is a striking woman who takes a maternal interest in some of the younger women in La Merced, in particular a damaged young homeless mother called Lupe. Lety dismissively juggles a octogenarian sugar daddy with her main priority – supporting her daughter through her cancer treatments. Esther and Ángeles have been in a relationship for fourteen years, a private and passionate love that they jealously guard from the life they lead on the streets. And Raquel, the oldest and most vulnerable of the women, yearns for a lover who will share her life and not just her bed.
With so much uncertainty woven into their day-to-day lives, the women have built themselves a protective armour of ritual and superstition. Tarot readers and faith healers guide their future, and perhaps more crucially, help them come to terms with the past. Raquel, who habitually wears a wig that looks like it crawled out of a sewer and died, explains that she sports it on the advice of a fortune teller who said it would protect her from those who wish her ill. She uses her bra as an ad hoc storage system, hauling out an alarming pair of scissors and a bundle of keys which she has carefully wrapped in rags – carrying keys unwrapped can give you cancer, she explains.
Goded's eye for detail is acute. She juxtaposes shots of neatly arranged plush toys on Carmen's pillow with the plaster statuettes in her shrine; she shows us the swollen ankles and bunions as well as the fake nails and preened eyebrows. More importantly, she lets the prostitutes have voices and hopes for the future, things which are routinely denied them by a culture which punishes women for victimhood.
Production company: Monstro Films, Alebrije Producciones, La Sombra del Guayabo
International sales: East Village Entertainment; dianaholtzberg@me.com
Producers: Martha Sosa, Eamon O'Farrill, Monica Lozano
Cinematography: Maya Goded
Editor: Valentina Leduc
Main cast: Carmen Muñoz, Leticia Guzmán, Epifanía Ruiz Lucas, Ángeles Álvarez Llorente, Raquel López, Carlos Pérez Ramírez