Amanda Kramer's genderqueer underworld odyssey opens Rotterdam's second online edition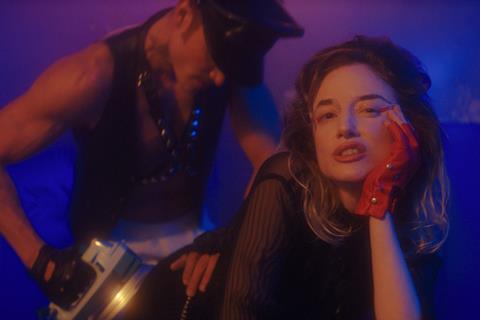 Dir: Amanda Kramer. US. 2022. 95 mins
After a couple of newly-weds witness a murder in a stylised, neon-drenched version of 1950s downtown Manhattan, their fates and sexual identities become entwined with that of a gang of greaser deadbeats. The kitsch mischief of Amanda Kramer's genderqueer underworld odyssey is as lurid as the colour palette – electric blues and hot vaginal pinks abound. It's an unashamedly, and at times stridently, theatrical production and as such might not be to all tastes. But any film which features Demi Moore breathily vamping her way through an appreciation for her dishwasher and which permits Andrea Riseborough to deliver a performance as gloriously OTT as this one has plenty to recommend it.
Evokes the work of mid-era John Waters
The film opens the International Film Festival Rotterdam – it replaced Mijke de Jong's feature Along The Way after the festival's pivot to online – and screens as a part of a showcase of the work of American author, musician and filmmaker Kramer, who ran an underground dance label before channeling her distinctive vision into cinema. There is a puckish provocation to her approach which, along with a preponderance of ratty beehives, winged eyeliner and chisel-cheekboned leather boys, evokes the work of mid-era John Waters. Her playfully camp work is ripe for discovery by art-cinema fans and LGBTQ+ audiences at further festivals.
Riseborough plays Suze, the restless wife of Arthur (Harry Melling), who is undergoing something of a gender-based identity crisis. After witnessing a brutal attack by the Young Gents, a leather-clad band of hoodlums who look like they have escaped from an S&M production of West Side Story, both Suze and Arthur are uncomfortably stirred. Arthur's heart skips when his eyes connect with those of Teddy (Karl Glusman, channeling Johnny Depp's sensitive thug persona from Cry-Baby). And Suze, who has long complained that her husband "refuses to be a man", increasingly adopts the swaggering hair-trigger violence of the biker gang into her own behavioural repertoire.
Other, more peripheral, characters include Suze and Arthur's gaggle of beatnik buddies and Demi Moore's fabulously glam upstairs neighbour whose apartment is a showcase for high-end white goods and whose marriage is somewhat crowded by her tendency to collect lovers. Then there's Dickie, played by non-binary actor Ryan Simkins, a member of the Young Gents gang with a weakness for spoken word poetry and a sensitivity which runs counter to the prevailing machismo. And Billy (Cole Escola), a punter at a gay bar, offers waspish insights into the state of the marriage between Suze and Arthur.
The key question, voiced by Billy, but explored by most of the characters in one way or another, is 'What is a man, anyway?'. Through extravagant choreography – the film plays out like a musical without the songs – and fetish-adjacent costumes, the film plays with the blurring of gender boundaries and sexual preferences. Maleness, the film concludes, is largely a performance, a kind of armour with which to conceal tacit anxieties and the fear of other men. It's a performance that Riseborough's Suze, all bottle-smashing rage and cigarette-chewing sneer, pastiches to a gleefully cartoonish degree.
Production company: Rivulet Films leann@rivuletfilms.com; Silver Bullet Entertainment
International sales: CAA Media Finance filmsales@caa.com
Producers: Rob Paris, Gül Karakiz Bildik, Mike Witherill
Screenplay: Amanda Kramer, Noel David Taylor
Editing: Benjamin Shearn
Cinematography: Patrick Meade Jones
Production design: Bette Adams
Music: Giulio Carmassi, Bryan Scary
Main cast: Andrea Riseborough, Harry Melling, Karl Glusman, Demi Moore, Mary Lynn Rajskub, Ryan Simpkins, Dana Ashbrook