Dir/scr: Yao Huang. China, 2015. 101 mins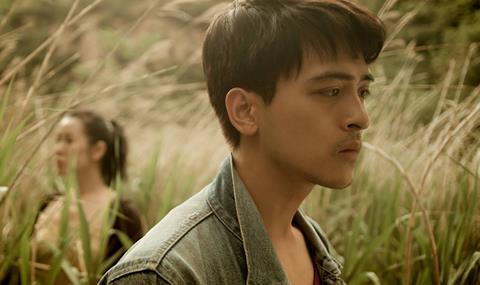 Yao Huang's intriguing debut feature (previously entitled Male Joy, Female Love) languorously explores an intricate circle of love, capturing the agony and the ecstasy of two intertwined relationships that reflect back on each other. There are distinct echoes of the cinema of Wong Kar-Wai and Stanley Kwan in the use of colour filters and the slow-burning sensuality of the storytelling.
Despite the contrivances, there is enough tenderness and longing along the way to ensure that the viewer remains in the mood for love
The second half of the puzzle feels less substantial and doesn't carry quite the same weight as the film's first hour but this still marks an ambitious and highly promising transition into drama for writer/director Yao Huang after a number of award-winning documentaries. An extensive festival life will follow its Sundance world premiere with the possibility of some theatrical sales to distributors willing to champion new talent.
The film begins with Jiang Nin (Daizhen Ying), an impecunious student forced to leave his course and threatened with eviction from his home. Lonely and vulnerable, he heads to a bar where he winds up dancing with older woman Hu Yajie (Nan Yu). It is the beginning of an intense romance that seems to mean more to him than it does to her. She has a past and may merely be on the rebound from a more significant romance whilst he is a blank canvas embarking on his first love. Jiang's anxious ardour is contrasted with her worldweary, dead-eyed detachment.
The film is very believable in capturing a sense of the intoxication that comes with first love when every lingering touch, taste and smell is a source of tingling excitement. Yao Huang and cinematographer Liu Younian favour searching close-ups as we experience the range of emotions that rush across Daizhen Ying's delicate, soulful features. Inevitably, such a heated union has to come crashing back down to earth and the film strays briefly into Fatal Attraction territory as Jiang Nin refuses to accept the cooling of their passion.
In the second part of the film, recent graduate Hu (Yi Sun) arrives in Beijing. Sharing a room with three other girls and seeking employment, she too is isolated and vulnerable and winds up in a bar where she is asked to dance by an older Jiang Nin (Xiaodong Guo). Their relationship replays gestures, conversations and feelings from the previous romance, casting Jiang Nin this time in the role of the one with a complex past. Ghosts from that history intrude on the present, fracturing the time line as Jiang Nin now passes on something of his experience to the next generation.
This second romance feels more rushed in the telling and consequently doesn't invite an equivalent degree of emotional engagement. Perhaps because it does replay so much of what has transpired previously, Yao Huang felt more pressure to cut to the chase, but he sacrifices depth and mood in the process. Yet he does makes clever use of recurring motifs and objects, from a battered music box and an item of jewellery designed in the shape of a butterfly, to a favourite lakeside rendezvous and a sentimental refrain of Auld Lang Syne that recurs on the soundtrack.
The director does have a tendency, though, towards hasty, melodramatic twists that end each tale in unexpected, tear-stained tragedy. Yet despite the contrivances, there is enough tenderness and longing along the way to ensure that the viewer remains in the mood for love.
Production Company/international sales: Beijing Hairun Pictures Co, Ltd. (Victoria Hon 2453065912@qq.com)
Producers: Xiao Hui, Victoria Hon
Cinematography: Liu Younian
Editor: Chan Chiwai
Production designer: Sun Jiajun
Music: Ding Ke
Main cast: Yu Nan, Guo Xiaodong, Yi Sun, Ying Daizhen