Diane Keaton leads this by-the-numbers cheerleader comedy set in a retirement home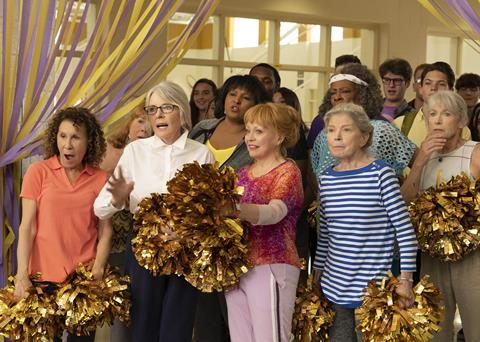 Dir. Zara Hayes. UK/USA. 2019. 91 mins.
Diane Keaton, Jackie Weaver, Pam Grier and Rhea Perlman star in this genial underdog comedy which tells the story of an unlikely group of cheerleaders in a retirement village. But, in attempting to share Bring It On-style hijinks with mature characters and audiences, the film struggles to overcome its conflicting impulses. The feature's heart is in the right place, especially in advocating that age shouldn't be a barrier. But Poms is a by-the-numbers feature which couples its empowering message with routine gags and muddled conflict — including, unsuccessfully, a cross-generational squad battle.
Though poorly served by the material, which leans heavily on archetypes and broad jokes, Poms' cast inspires modest cheers
Those shortcomings aren't likely to deter the film's targeted and lucrative older demographic. Pegged tonally between Calendar Girls and Book Club (sharing a producer with the latter), Poms releases in the US on May 10 as counter-programming to Pokémon Detective Pikachu and the still-rampaging hit Avengers: Endgame, timing which may help its box office fortunes.
In this fictional feature debut of director Zara Hayes (documentary The Legend of Billie Jean King: Battle of the Sexes), Keaton's Martha leads the charge, albeit reluctantly. She has sold off her belongings, decided to foergo cancer treatment and has moved to the Sun Springs community to wait to die. When she is forced to join an activity group, she takes encouragement from her libidinous new neighbour Sheryl (Weaver) to revive her failed adolescent cheerleading dreams. A motley crew of residents enthusiastically joins up, with Grier bringing earthy confidence, Perlman playing the dutiful wife who gets a new lease on life, etc.
As written by Shane Atkinson, Poms doesn't miss an opportunity to stress just how ludicrous its supporting characters find the idea of senior cheerleaders — and while the film proclaims the opposite sentiment overall, it sometimes taps an incredulous attitude for easy gags. The obligatory audition montage skirts the line between laughing with and laughing at the eager women, and too much time is given to nasty high-schoolers sniping and guffawing at their older counterparts. Lessons are learned by characters of all ages, but Poms frequently feels awkward rather than uplifting. The cancer storyline is also under-deveolped, used as dramatic impetus to spark Martha into action, rather than given any real weight.
Though poorly served by the material, which leans heavily on archetypes and broad jokes, Poms' cast inspires modest cheers. Weaver's scene-stealing presence mostly trumps her character's clichés, and there's a quiet poignancy in Keaton's seasoned delivery. (Unsurprisingly, Martha rehearses while wearing tailored trousers, even performing at the climactic competition with a button-down white shirt underneath her sparkly cheerleading uniform.)
Technically, Poms is styled bluntly, although its blue skies, Weaver's bright outfits and the retirement village's sprawling greens aren't quite as vivid as expected. Nor are the glittering pom-poms. Instead, beige has been favoured as a grounding palette. One early sight gag encapsulates how the movie hopes to be perceived, as well as how it ultimately comes across. Keaton's Martha pulls into the Sun Springs parking lot, her regular car standing out in a line of golf carts — and the scene, while striving for laughs, is instantly both ordinary and obvious.
Production companies: Mad As Birds, Rose Pictures
Interntaional sales: Sierra/Affinity
Producers: Andy Evans, Rose Ganguzza, Celyn Jones, Sean Marley, Kelly McCormick, Alex Saks, Ade Shannon
Screenplay: Shane Atkinson
Cinematography: Tim Orr
Editing: Annette Davey
Music: Deborah Lurie
Production design: Celine Diano
Main cast: Diane Keaton, Jackie Weaver, Pam Grier, Rhea Perlman, Celia Weston, Alisha Boe, Charlie Tahan