Dir/scr: Constantin Popescu. Romania. 2010. 163mins.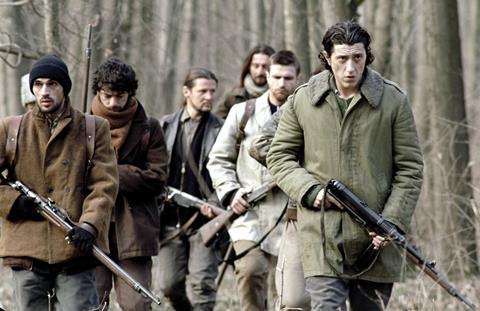 Man cannot life on bread alone, they say, but the incredibly courageous young Romanians who fought in forests and open fields against an increasingly oppressive Communist regime from 1944 until 1957 kept their stamina up with little else. In his debut Portrait Of The Fighter As A Young Man, Constantin Popescu focuses on one of these bands, led by the strong but affable Ion Gavrila Ogoranu (Dita). Shot in a quasi-documentary style to emphasise its veracity, it also has an almost epic format (widescreen) to maximise its hagiography.
Much of the film is beautifully shot and the actors give remarkable performances as members of the anti-Communist resistance
And therein lies one of the film's insurmountable problems: it is far too ideologically loaded. For the most part, the resistance members are presented without flaws, save for occasional doubts and episodes of melancholia. Those who belong to the state security apparatus, however, while in real life hardly angels, are so typecast that they fit into what Soviet director Sergei Eisenstein termed "typage" - instantaneously recognisable caricatures that do not require explanation or depth. Their one-sidedness ends up undermining the actions of the partisans.
In the first part of this nearly three-hour film, which might have some potential in regional markets at perhaps half the length (it will supposedly be cut in time for the Cannes market), Popescu shoots handheld most of the time, but eventually almost drops the technique. He also partially structures the first third with inserts of the state head of security explaining everything from the use of informants as the chief tool for eliminating the opposition to a new negative attitude toward religion—then, once again, his rants, and their formal function, disappear.
Suddenly the camera starts to move back and forth between the young men, in colour, interspersed with black-and-white footage of them being observed on screen by government enforcers. But who shot the latter? It's never explained, it's just there.
What is a constant, unfortunately, is redundancy: shootouts and ambushes over and over again, as if it's a daily game of cops and robbers. After a while, predictability rules: a chance encounter between soldiers and resisters, an occasional betrayal, a small attack. Why make a film, with such uncontrolled directing and editing, so long? What is on the screen are extended tableaux, like an assemblage of outtakes in no particular order, except chronological.
It's a shame, because much of the film is beautifully shot by Liviu Marghidan, and the actors who portray resistance members offer remarkable performances. A true ensemble, they successfully convey a warm, supportive cameraderie. (In real life, all but Ogoranu, who managed to remain a free man until 1976, were executed.)
To sign up for Screen's weekly Reviews Newsletter with all the week's new releases, international openings and full festival reviews delivered free to your mail box every Friday, please click HERE
Production company
Filmex Film Romania
International sales
Coach 14
(34) 93 280 57 52
Producer
Constantin Popescu
Cinematography
Liviu Marghidan
Production design
Gabriel Nechita
Editor
Corina Stavila
Music
Mihai Bogos
Main cast
Constantin Dita
Ionut Caras
Bogdan Dumitrache
Catalin Babliuc
Ion Bechet