Hungary's Oscar submission is an elusive, noirish drama set to entice Hitchcock admirers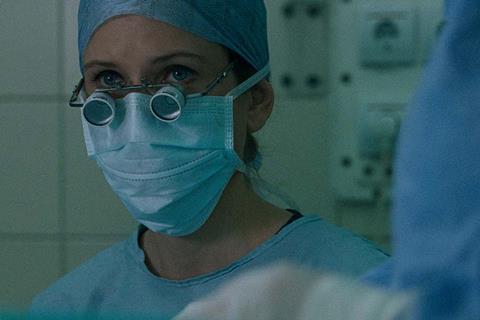 Dir/scr: Lili Horvat. Hungary. 2020. 95 mins
There is something of Charlie Kaufman in the title of Preparations To Be Together For An Unknown Period Of Time. Lili Horvat's striking second feature is a multi-layered rumination on love, fate and the way individuals construct their own sense of reality. Pitched somewhere between the worlds of Hitchcock and Kieslowski, this cerebral, noir-tinged romantic melodrama should intrigue arthouse audiences. Interest will be further piqued by its selection as Hungary's Oscar candidate.
Natasa Stork's cool, restrained performance perfectly captures the sense of an intelligent, rational woman moving closer to the edge of a precipice
The Hitchcockian hook is cast in the film's earliest stages. Marta (Natasa Stork) is a 40 year-old neurosurgeon. Born in Hungary, she has lived in America for twenty years. At a medical conference in New Jersey, she meets and falls for Janos (Viktor Bodo) and decides he is "the one". They don't exchange numbers or contact details but make a date to meet in one month's time at the Liberty Bridge in Budapest. She drops everything and flies there. He doesn't turn up. When she subsequently confronts him at his work place, he claims never to have met her.
The fact that Marta does not retreat in humiliation but decides to stay in Budapest sets the tone for the rest of the film. Preparations becomes an elegant cat and mouse game of tease and provocation that unfolds in brief glimpses, chance meetings, emollient gestures and manufactured coincidences. The sense of a city as a dangerous playground evokes Nicolas Roeg's Don't Look Now (1973), the shadowy Janos starts to feel as elusive as Harry Lime and Marta's infatuation grows to become a form of obsession.
The feverish nature of her emotions is expressed in grainy, textured visuals from cinematographer Robert Maly. Horvat claims to have taken inspiration from American photographer Saul Leiter. Working on 35mm, Maly serves her vision by favouring intense close-ups and framing that suggests a sense of being together but apart. One scene finds Marta and Janos walking down opposite sides of a street, following each other, mirroring each other but never connecting.
Marta's medical expertise is unassailable. Focused and precise at work, she retains a professional interest in what is happening to her. Is her decision to cut all previous attachments and pursue Janos a form of neurological disorder? Is everything that happens a figment of her imagination? The projection of a desire that has no basis in reality? The possibility that she is losing her mind fascinates rather than distrubs her. The Hitchcock of Marnie (1964) or Spellbound (1945) would have had a field day.
Natasa Stork's cool, restrained performance perfectly captures the sense of an intelligent, rational woman moving closer to the edge of a precipice.
The mystery surrounding the slippery ebb and flow of this attachment remains compelling throughout. Initially, the resolution may seem disappointing. In retrospect, its feels entirely appropriate. When the fever breaks and the blood cools then reality cannot help but seem banal.
Production company: Poste Restante
International sales: NFI World Sales klaudia.androsovits@nfi.hu
Producers: Dora Csernatony, Lili Horvat, Peter Miskolczi
Editing: Karoly Szalai
Cinematography: Robert Maly
Prod des: Sandra Sztevanovity
Music: Gabor Keresztes
Main cast: Natasa Stork, Viktor Bodo, Benett Vilmanyi
ends