Dir/scr: Alice Lowe. UK. 2016. 89 mins.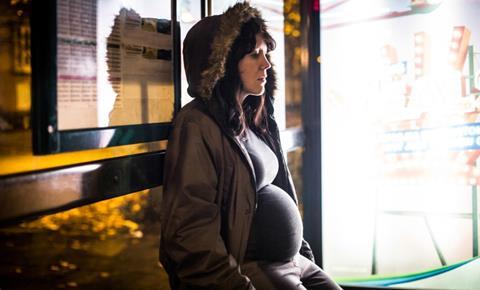 A pregnant woman embarks on a killing spree piloted by her unborn child in Prevenge, which does for mothers-to-be what Ben Wheatley's Sightseers did for tourism in the Lake District, taking the rose-tinted view and spattering it with blood.
At times, Prevenge feels like a woman's waking nightmare about pregnancy experienced as a loss of control over her own bod
Co-written by Lowe, Wheatley's deliciously black rom-com also handed the British TV and live-show comedienne her breakout performance. Here, in her tasty but rambling post-feminist directorial debut, Lowe – who was seven months pregnant while directing and playing the protagonist – proves she can carry a story without a partner in crime. It's the story itself that fails to entirely convince: as with babymaking, the conception is more fun than the delivery, which comes perilously close to turning our knocked-up heroine's kill list into a series of very dark alt-comedy sketches.
This low-budget number is not a straight genre fit by any means, but should nevertheless appeal to gore-tolerant arthouse audiences in territories that get the blackest of black comedy.
More than the gradually revealed backstory that glues the film's slightly random killings together it's Lowe's exploration, in script and performance, of something dangerous but also darkly wonderful in the state of pregnancy, that we take home from this quirky debut.
Dangerous to men, of course, whose castration in the face of the pregnant woman's empowerment is enacted literally in one of the strangest, and edgiest, of the murder missions embarked on by Lowe's enjoyably passive-aggressive character Ruth (it involves a sad, misogynistic 1970s revival DJ called Dan, who in one memorable taxi sequence pukes into his Afro wig). But dangerous also in a more metaphysical sense that impacts on the mother too: at times, Prevenge feels like a woman's waking nightmare about pregnancy experienced as a loss of control over her own body – a Rosemary's Baby filtered though Lowe's edgy Brit-com sensibility.
Enough is revealed in the film's first third to tip us off to the fact that bulging mum-to-be Ruth recently lost her partner, the child's father, in a climbing accident. The reveal is gradual: an impressionistically-shot scene in an exotic pet shop, all shallow-focus close-ups amidst caged iguanas and tarantulas, which opens the bloodletting before we know much about either Ruth or her slimy pet-shop-owner victim.
It soon becomes clear that, guided by her unborn child – who talks in a creepy high-pitched voice halfway between Mickey Mouse and Gollum – Ruth is on a murder spree involving a series of characters that are somehow connected with the death of her partner. In between, we see her snacking on junk food in anonymous hotel rooms while watching (on the telly) the surreal Three Furies sequence from cult 1934 pre-noir Crime Without Passion, which will become a recurring trope. "I have mascara days like that", Ruth mumbles at the screen – one of the weaker of Lowe's attempts to inject some one-liner laughs into the mix.
The Cardiff locations set Ruth's driven quest in a dreary netherworld of soulless business parks, dingy diners and deserted underpasses, shot in sickly night light or by the grey, watery light of day. Another pleasure is the moody, quirky electronic score by Brighton-based duo Toydrum, who also worked on London Fields.
With its almost throwaway ending, Prevenge is best enjoyed for the journey rather than the destination. The checklist nature of this journey is broken up by a series of meetings between Ruth and her obstetrician – played with verve by Jo Hartle. These scenes ground a film that may prove a little too slow and introspective for the splatter fanboys, with its rather auterish dwell on FX brain splatter and throat slitting. They also serve to underline Prevenge's subtext about how mothers might genuinely feel that their babies have launched, to quote Ruth, "a hostile takeover" of their bodies.
Production companies: Western Edge Pictures for The Gennaker Group
Producers: Vaughan Sivell, Will Kane, Jennifer Handorf
International sales: XYZ Films, ICM Partners
Executive producers: Mike Rattenbury, Vaughan Sivell, Will Kane, Franki Goodwin, Mike Shirley, Andrew Thomas
Cinematography: Ryan Eddleston
Editor: Matteo Bini
Production designer: Melanie Light
Music: Toydrum
Main cast: Alice Lowe, Gemma Whelan, Kate Dickie, Jo Hartley, Kayvan Novak, Dan Renton Skinner, Tom Davis, Mike Wozniak