Dir. Burr Steers. UK/US, 2015, 108 mins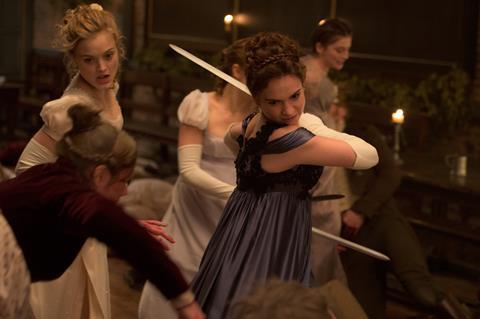 It is a truth universally acknowledged that, in order to survive and thrive, zombies - and zombie films - need brains, brains, brains. Yet Pride And Prejudice And Zombies, the long-gestating adaptation of Seth Grahame-Smith's cultish novel, would appear to be dead from the neck up. That's quite something, given it boasts the combined, considerable charms of Lily James as a ghoul-kicking Elizabeth Bennett and Control's Sam Riley as Colonel Darcy, her zombie-hunting beau.
To say the edit is choppy understates the bumpy ride it delivers in the last half hour
Burr Steers (Igby Goes Down, Charlie St Cloud), the last in a long line of directors attached to this project, loses his way in Regency England, straightjacketed by the rigid structure of Grahame-Smith's by-the-book Jane Austen mash-up. He does deliver what the title promises: there's a lot of Pride And Prejudice, and some unremarkable, low-budget Zombies. But the film is very much less than the sum of its parts.
This may face a critical beheading on global release over the next two weeks, but Pride And Prejudice And Zombies is ultimately a natural home viewing title and business should be decent in that arena – buoyed in the UK (where it goes out through Lionsgate) by James, Riley and other headline-friendly young actors including Jack Huston, Douglas Booth, Matt Smith, Suki Waterhouse and Game of Thrones stalwarts Charles Dance and Lena Headey in cameos. US reception (through Screen Gems) is likely to be tepid at best.
The last adaptation of a Grahame-Smith book, 2012's big-budget flop Abraham Lincoln: Vampire Hunter, might have given a clue. These high-concept historical genre-benders seem to work better on paper; on celluloid, they don't satisfy either audience. PP&Z's best sequences are scene-setting: including the pre-title bout where Colonel Darcy, wearing a black leather dust coat, arrives at Mrs Featherstone's (Dolly Wells) 1800s-era whist game, searching for zombies who may have infiltrated the Hertfordshire safe zone.
The five feisty Bennett sisters, first seen oiling their hand pistols and sharpening the daggers which they wear in their sexy suspender belts, are embarrassed because their parents sent them for zombie-killing martial arts training in China, not the socially-acceptable Japan. Darcy's first proposal to Elizabeth is delivered with a murderous, almost balletic, cut-and-thrust. A quadrille becomes a choreographed decapitation dance. (Fight co-ordinator Maurice Lee impresses.) Matt Smith arrives to show his comic chops as Mr Collins. What could possibly go wrong?
It's hard to point the finger at a single culprit. The source material is numbingly restrictive, forcing the characters to end up in the same place, by the same means, as Austen's multi-stranded novel, only with the occasional undead as a diversion. And 108 minutes is far too long to spend on a sub-par Austen adaptation with unconvincing zombies (there's no real flesh-eating to lighten the load, either, just polite blurry lenses or referenced off-camera action). To say the edit is choppy understates the bumpy ride it delivers in the last half hour. There's a low-budget feel which is increasingly thinly-disguised.
Apart from Matt Smith, who brightens proceedings, and the amiable pairing of James and Riley, Pride And Prejudice And Zombies may slide lifelessly from resumes of a cast and crew who are set for better things. It can't be Austen; Whit Stillman's inspired Love & Friendship, which premiered at Sundance, proved yet again that the lady has cinematic legs - the genre mash-up, however, must surely have one foot in the grave.
Production companies: Cross Creek Pictures, Handsomecharlie Films, MadRiver Pictures, Head Gear Films, Darko Entertainment
International sales: Sierra/Affinity
Producers: Sean McKittrick, Allison Shearmur, Natalie Portman, Annette Savitch, Brian Oliver, Tyler Thompson, Marc Butan.
Executive producers: Sue Baden-Powell, Lauren Selig, Compton Ross, Phil Hunt, Edward H Hamm, Jr, Aleen Keshishian, Nick Meyer, Kimberley Fox
Screenplay: Burr Steers, based on the novels by Seth Grahame-Smith, and Jane Austen
Cinematography: Remi Adefarasin
Editor: Padraic McKinley
Production design: Dave Warren
Music: Fernando Velázquez
Main cast: Lily James, Sam Riley, Lena Headey, Douglas Booth, Matt Smith, Jack Huston, Charles Dance, Bella Heathcote