Dir. Amos Gitai. Israel, France 2015. 153 mins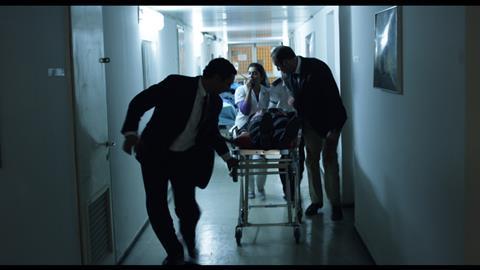 Amos Gitai continues his long-standing project - to represent the political conscience of Israeli cinema - in investigative docu-drama Rabin, The Last Day, which stands as one of his most ambitious and compelling works yet. The film explores the circumstances surrounding the assassination - at a Tel Aviv rally on November 4, 1995 - of Israeli Prime Minister Yitzhak Rabin by a far right student named Yigal Amir (the subject of this year's controversial documentary Beyond The Fear).
The film's slow, deliberate approach makes for a detached air which allows Gitai to show events with distinct clarity
The film is neither a portrait of Rabin, nor an Oliver Stone-style evocation of modern history as high drama. Instead, mixing archive footage with formally staged reconstructions, Gitai attempts a sober and altogether forensic scrutiny of the events - as well as, more indirectly, showing how chances of a peaceful resolution of the Israeli-Palestinian conflict were disastrously derailed by Rabin's killing.
While the film never indulges paranoia, hints that a right-wing conspiracy may at least have aided Amir's murderous act will bolster the film's potential to fuel controversy. The film's length, rigorous approach and lack of concession to mainstream aesthetic will limit export potential to specialised sectors, but its urgency and authoritative command of its material make it a natural for serious festival slots.
The film begins with a journalist (palyed by Yael Abecassis) interviewing former Israeli president Shimon Peres (speaking as himself), Rabin's close ally recalls how Rabin undertook to address a rally to mobilise support for the peace process - in defiance of furious right-wing hostility from those who felt that his support of the Oslo Agreement, and his recognition of the PLO, made him an enemy of Israel.
Gitai then stages - in one of the film's few bravura sequences - the moment of the shooting, and the rushing of the wounded PM to hospital. There are other similarly dramatic scenes interspersed throughout - notably, a showdown between Israeli soldiers and a group of young, hippie-looking Orthodox settlers on the West Bank. We also get scenes involving Amir (Yogev Yefet), both in the period leading up to his act and after, as he faces a police interrogation with dogma, arrogance and insouciance.
There are also unsettling scenes in which far-right Orthodox Jews state their rhetorically super-charged opposition to Rabin. In one, a religious congregation places a Talmudic curse on him (only used once before since the Middle Ages, on Leon Trotsky). In another, a psychologist diagnoses Rabin as schizoid, in somewhat dubious clinical terms.
Much of the film, however, involves the sessions of the Shamgar Commission, set up to determine why security was so mysteriously inadequate at the rally. The commission scenes have the reconstructive tone of verbatim theatre (Gitai and co-writer Marie-José Sanselme had access to the original relevant transcripts, with Rivka Markovitzky Gitai credited on what seems to have been an exhaustive feat of research).
One loose thread which the film encourages us to consider further, is the otherwise unexplained scene involving testimony regarding an Arab-hating espouser of violent action, one Avishai Raviv. Information about him, it turns out, is classified - but the film's press notes point out that he was a General Security Service agent, leading to the conclusion that - while the film doesn't try to sell us on Stone-style conspiracy theory - Rabin's killer may have had influential connections in official circles.
Despite some sober longueurs, the film's slow, deliberate approach, with a stark, almost theatrical staging of the hearing scenes, makes for a detached, quasi-Brechtian approach that allows Gitai to show events with distinct clarity. Some intricately choreographed long takes - Eric Gautier's photography is superb throughout - enhance a project which is both vivid in its evocation of the recent past, and razor-sharp in the light it sheds on the way that religious and nationalistic fanaticism continue to exert a dangerous sway.
Production companies: LGM Cinema, Films du Worso, France 2 Cinema, Orange Studio, Hamon Hafakot, Agav Films
International sales: Indie Sales Company info@indiesales.eu
Producers: Cyril Colbeau-Justin, Jean Baptiste DuPont, Sylvie Pialat, Laurent Truchot, Michael Tapuach, Francesco Di Silvio, Amos Gitai
Screenplay: Amos Gitai, Marie-José Salselme
Cinematography: Eric Gautier
Editors: Yuval Orr, Tahel Sofer, Isabelle Ingold Production design: Miguel Merkin
Music: Amit Poznansky
Main cast: Ischac Hiskiya, Pini Mitelman, Michael Warshaviak, Einat Weizman