Dir. Babak Jalali. US-Iran. 2016. 91mins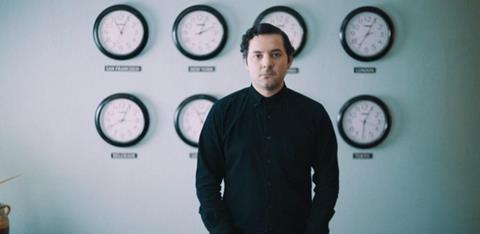 There can't be many films which contain both a portion of dialogue in Assyrian Neo-Aramaic and a cameo appearance by Lars Ulrich, the drummer from Metallica. It's safe to say that the sophomore picture from Iranian director Babak Jalali (Frontier Blues) is the only entry in that particular Venn diagram intersection. But while Ulrich's presence adds curiosity value, it is unlikely to provide much in the way of marketing incentive. The intersection between Metallica fans and the audience for gentle, slow-burning, literary arthouse films about Persian-language radio stations is unlikely to be large.
The plight of the migrant forced to trade status and reputation for a life as a non-entity in a new country is a theme which will resonate within the Iranian diaspora and beyond. However, the uneven structure and a clumsy subplot about wrestling will likely prove an obstacle to a theatrical life beyond niche audiences.
Iranian musician and sometime actor Mohsen Namjoo cuts a striking figure on screen. Deep-set eyes and a wild, wiry halo of greying hair give him an air of weariness and melancholy which works well with the character he plays, acclaimed Iranian author Mr. Royani. Having crafted words for a living, Mr. Royani finds himself an immigrant in America, fumbling around a depleted vocabulary and unable to express his ideas with anything more than a child's inarticulacy. It doesn't sit easily with him. Working as the manager of Pars, a San Francisco-based Persian-language radio station, Mr. Royani's bad humour crackles around him like static.
The film unfolds over the course of a single day. Afghanistan's first rock band, Kabul Dreams, are guests on Pars. Mr. Royani, who dreams of a symbolic healing of political rifts through the power of music, has arranged for Metallica to meet the band and jam with them. His colleagues at the station are more interested in the marketing opportunities afforded by the sudden swell of interest in the station.
Mr. Royani bristles as his aesthetic, erudite programming is interrupted by an advertisement for Baba Jaan Pizza or specialist body hair removal services for Iranian women. As the day wears on, and Metallica fail to show, a lifetime's worth of simmering frustration begin to boil over.
There are similarities with Campbell Scott and Stanley Tucci's Big Night – one man's dreams hang in the balance, held hostage by the whims of celebrities. But Radio Dreams' aimless pacing and the characters' fatalistic attitude to the events means that dramatic tension is lacking.
The episodic structure of the film mirrors the programming of the station. And like the output of Pars, the vignettes are a mixed bunch. A scene in which the station's cleaning lady translates a short story into Assyrian is lovely. A subplot in which the station owner attempts to train a browbeaten station assistant to wrestle, however, is spurious – perhaps included for a comic effect which never materialises.
Ultimately, the most intriguing element of the film is the central character. Prickly, cantankerous and at times thoroughly unsympathetic, by the end of this celebration of doomed underdogs with impossible dreams, audiences may have warmed to Mr. Royani but they probably wouldn't want to work for him.
Production company: Butimar Productions
Contact: info@butimarproductions.org
Producer: Marjaneh Moghimi
Screenplay: Babak Jalali, Aida Ahadiany
Cinematography: Noaz Deshe
Editor: Nico Leunen, Babak Salek
Production design: Laura Lahti
Main cast: Mohsen Namjoo, Lars Ulrich, Sulyman Qardash, Siddique Ahmed, Raby Adib, Mohammad Talani, Boshra Dastournezhad