Dir: Lee Sang-il. Japan, 2016. 142 mins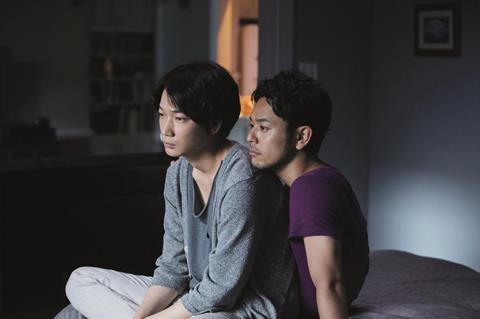 A murder mystery introduces three men, unconnected but for the fact that each could be the perpetrator of a grisly double killing. It's an intriguing premise which encourages the audience to question our own assumptions about the characters and the trust we put in what we are told on screen. That said, the questionable use of sexual violence as a plot device, together with a narrative which might have benefitted from a tighter focus and shorter running time, could be off-putting for some.
Lee gradually peels back the covers on the lives of three mysterious men, each newly arrived in their respective city.
The star power of the always impressive Ken Watanabe, here giving a potent, contained portrait of a parent paralysed with concern over his vulnerable daughter, should boost the film's prospects in Asian markets. Elsewhere, the film's striking lensing and an appealing, melancholy score by Ryuichi Sakamoto should recommend it to the festival circuit. Theatrical prospects may be hampered by the marketing challenges presented by the unfortunate treatment of the female characters.
The opening sequence – the bloody aftermath of the slaying of a husband and wife in their Hachioji home, accompanied by the psychotic whine of what sounds like a symphony of dentist's drills on the score – gives a false impression of the level of violence to expect in the rest of the film. This is not a catalogue of serial slaughters, nor is it a traditional whodunit. The investigating cops disappear from the story for long periods. Instead, Lee (Hula Girls) gradually peels back the covers on the lives of three mysterious men, each newly arrived in their respective city.
In Chiba, Yohei (Watanabe) has just rescued Aiko (Aoi Miyazaki), his runaway daughter, from a life as a sex worker. The shame of her lifestyle has permeated into every corner of his seaside community. So when she starts a relationship with Tashiro (Kenichi Matsuyama), a painfully reserved casual worker whom Yohei employs at the dock, Yohei can't help but wonder what kind of a man he is and whether he is to be trusted.
In the Okinawa islands, winsome teenager Izumi (Suzu Hirose) befriends the good-natured but elusive Tanaka (Mirai Moriyama), a drifter who is squatting in a derelict bungalow on a deserted island. And in Tokyo's gay community, a fleeting encounter in a sex club between Yuma (Satoshi Tsumabuki) and Naoto (Go Ayano) grows into something more. But Naoto is secretive, both about his past and about the way he spends his days. As the publicity around the murder investigation mounts, those close to Tashiro, Tanaka and Naoto start to ask questions.
The most problematic issue with the narrative occurs at the end of an evening in which Izumi and her date Tatsuya (Takara Sakumoto) meet Tanaka by chance and the three share drinks. When Tanaka has left, a drunken Tatsuya wanders off and Izumi is raped by two American servicemen. She is then unceremoniously dumped from the narrative, which focuses on the effect that her rape has on Tatsuya and Tanaka, and their guilt at her ordeal.
In addition, tonal and – particularly – pacing issues make a melodramatic meal out of a conclusion which would have been more effective as a short, sharp shock.
Production company: Toho
International sales: Versatile sales@versatile-films.com
Producer: Genki Kawamura, Shinnosuke Usui
Screenplay: Lee Sang-il
Cinematography: Norimichi Kasamatsu
Editor: Tsuyoshi Imai
Production design: Yuji Tsuzuki, Ayako Sakahara
Original score: Ryuichi Sakamoto
Main cast: Ken Watanabe, Mirai Moriyama, Kenichi Matsuyama, Go Ayano, Suzu Hirose, Aoi Miyazaki, Satoshi Tsumabuki