Benny Chan's final film is an old-school action showdown between Donnie Yen and Nicholas Tse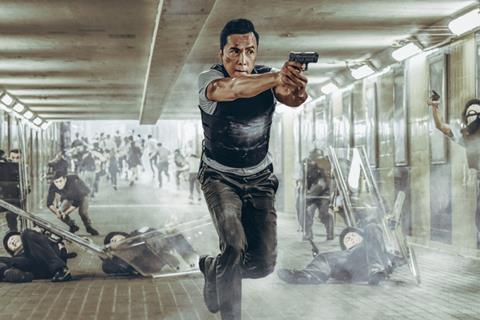 Dir: Benny Chan. Hong Kong. 2021. 126 mins.
An old-school Hong Kong action picture which pits seemingly invincible honest cop Bong (Donnie Yen) against his disgraced former colleague Ngo (an enjoyably evil Nicholas Tse), the final film from the late Benny Chan looks back to the explosive tradition of the 80s and 90s films of directors like Ringo Lam and Johnnie To. With its core themes of honour and loyalty, and a somewhat overlong running time, Raging Fire can get a little bogged down in sentiment. But the barrelling energy of the numerous thrilling action sequences, including a superb climactic fight in a church, will likely compensate for the occasional moments of flagging pace.
The real point of the story is simply to serve as a framework on which to hang a collection of outstanding action sequences
Hong Kong action fans will be drawn to Raging Fire by the presence of veteran martial arts star Donnie Yen (Ip Man) and by the fact this was the last film made by Chan (New Police Story), who succumbed to cancer in August during post-production. Traditionalists will likely be accepting that, both in its style (lots of slow-motion gunfights and neon-lit rain) and in its depiction of the Special Administrative Region (no hints of protest or unrest bleed into the plot), the film harks back to a former era. A hit in China where it has so far grossed more than $200m, the film now screens in Tokyo.
We soon learn that Bong has set up camp on the moral high ground, refusing to budge for anyone, a stance which sees him at odds with some of his less high-minded colleagues, past and present. He also has a vulnerable pregnant wife — a fact which is emphasised so emphatically it's hardly a surprise when she later finds herself roped into a tense set piece involving handcuffs, explosives and a room full of primary school children.
Bong's unassailably righteous stance when asked to withdraw a report implicating the wastrel son of a Hong Kong financial heavyweight leads to his removal from an operation to arrest a drugs gang. But the operation is booby-trapped by a crew of masked men led by Ngo; the body count is high, and the colour palette, dominated by a sulphurous yellow, hints at the bitterness in the air.
Through a slightly unwieldy series of flashbacks, we learn how Ngo went from fresh-faced, rising-star police officer to a ruthless killer with the smile of a predator and a festering grudge where his heart used to be. Yet again, Bong's upright moral stance has made him enemies. Ultimately, however, the film's somewhat generic plotting is by the by. The real point of the story is simply to serve as a framework on which to hang a collection of outstanding action sequences. Standouts include a thunderous shoot-out in a Wan Chai shopping street; a car chase featuring an airborne people carrier; and the superb one-on-one final fight scene which sees the last men standing laying into each other with knives, retractable batons, scaffolding poles, mallets and an eight-foot statue of the Holy Mother.
Production companies: Emperor Film Prod., Tencent Pictures, Super Bullett Pictures
International Sales: Emperor Motion Pictures, enquiry.emp@emperorgroup.com
Producer: Jason Siu
Screenplay: Benny Chan, Ryan Ling, Tim Tong
Cinematography: Fong Yuen Man
Editing: Curran Pang
Music: Nicolas Erréra
Main cast: Donnie Yen, Nicholas Tse, Liu Leung Wai, Qin Lan, Samuel Kwok, Kenny Wong, Deep Ng, Jeanna Ho, Patrick Tam, Angus Yeung, Bruce Tong