This broader remake starring Sam Neill shifts the action to Western Australia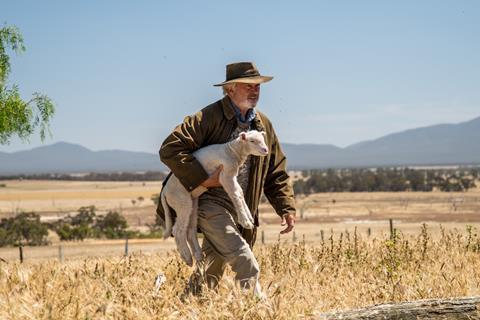 Dir: Jeremy Sims. Australia. 2019. 119mins.
A feud between brothers which has lasted for 40 years lies at the heart of Rams, a likeable, if overly sentimental tale boosted by lived-in performances — especially from Sam Neill as an ageing farmer who can no longer let life pass him by. This remake of Grimur Hakonarson's prize-winning 2015 feature moves the action from Iceland to Australia, but the plot still concerns a devastating illness which ravages the siblings' sheep farms, throwing their insular world into chaos. Director Jeremy Sims allows this simple saga of renewal and survival to go a little broad and self-consciously crowd-pleasing, resulting in a comedy-drama without the original's elemental grace and wisdom. Having already opened in Australia, the picture now arrives several major territories (including US theatres), with Neill's appeal helping raise awareness for a film which should appeal to mature audiences receptive to the film's unhurried tone and melancholy observations about the difficulties of family.
The new Rams sands down some of the oddness of the original
Neill plays Colin, who lives in rural Western Australia, where he runs a successful sheep farm — right next door to his older brother and closest competitor Les (Michael Caton). For reasons left unexplained until later, the two men haven't been on speaking terms in decades, but they're soon both imperilled by Ovine Johne's Disease, a deadly illness that has appeared in Colin's sheep, forcing the government to order their flocks be slaughtered lest the infection spread. These loner brothers are bereft — their sheep aren't just their livelihoods but also their whole lives — but Colin sneakily hides a few in his house, determined to watch over them until this sheep-raising ban lifts.
Sims reunites with Last Cab To Darwin cinematographer Steve Arnold to give us a vision of a remote region where rugged individualists can work close to the land, happily keeping to themselves. Where the 2015 original, which took home the top prize in Un Certain Regard at Cannes, focused on a snowy terrain, the remake boasts an almost Eden-like paradise of sunny days and beautiful greens — although rising temperatures and bushfires are a constant concern.
This wide-open landscape suits Colin, who is not the most social person — although he and local veterinarian Kat (Miranda Richardson) have a warm rapport that suggests there could be a romance if he ever got up the nerve. Neill articulates the shyness of an older man long set in his ways who is more comfortable telling his ewes that he loves them than another human being. We sense that Colin wants to reach out to his brother — the animosity is one-way, with Les despising his sibling — but has resigned himself to the current tense arrangement. When Colin puts his audacious plan into action to save a few of his sheep, Neill conveys the character's desperate need to hold onto a part of himself that's precious — although he harbours guilt that Les lost his whole flock and turned to alcohol to process his grief.
Veteran actor Caton, who starred in Last Cab To Darwin, has the tricker task, playing a drunken, bitter individual who we see only from a distance. Rams tells its story largely from Colin's perspective, and Caton makes it plain why the younger brother ceased trying to reconnect. We'll eventually learn what incited the rift, but Caton's grouchy, closed-off demeanour hints at the long-festering wound that caused Les to shut down.
The remake is about 30 minutes longer than Hakonarson's film as Sims sketches out the characters around these two brothers in order to chronicle how an entire community of farmers is affected by the disease. Unfortunately, outside of Kat, these peripheral figures tend not to be particularly compelling — and in the case of De Vries (Leon Ford), a callous government liaison sent to monitor the flocks' destruction, the performances veer into the cartoonish, which works against the film's unassuming, realistic tone.
The original emphasised the peculiarity of its sparring brothers, illustrating how this feud — and their shared disinterest in human interaction — had left them emotionally hobbled. The new Rams sands down some of that oddness, which makes Colin and Les' stalemate and its eventual resolution not quite as poignant. Instead, Sims keeps the proceedings a little more light and airy, minimising the depth of the men's sense of anguish and regret. It's a shame that extra level of nuance is allowed to go on the lam.
Production company: WBMC
International sales: WestEnd Films, info@westendfilms.com
Producers: Janelle Landers & Aidan O'Bryan
Screenplay: Jules Duncan, based on the film Hrutar by Grimur Hakonarson
Production design: Clayton Jauncey
Editing: Marcus D'Arcy
Cinematography: Steve Arnold
Music: Antony Partos
Main cast: Sam Neill, Michael Caton, Miranda Richardson