DIrs: Choi Wooyoung & Steven Dhoedt. South Korea / Belgium. 2015. 90mins.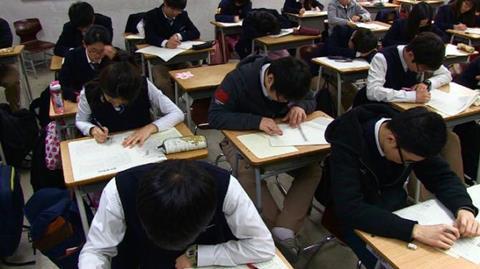 One of the documentaries that is sure to resonate at this year's Busan International Film Festival, Reach For The SKY is as gripping as it is informative as it cleverly explores the Korean education system; more specifically the college scholastic ability test all students take and sometimes re-sit in order to get into the university of their choice – often prestigious schools, which demand incredibly high scores.
Reach for the SKY remains constantly engaging, even after the exam is over and results come out
Following its premiere in Busan, further festival invitations seem assured for this international co-production, while broadcasters in Korea and further afield could also take an interest.
The film focuses on three students: Hye-in, in middle-school; Hyeon-wha, who is retaking the exam to get into the University of Education; and Minjoon, also resitting the exam, and follows the three as they prepare for the test. Ultimately, it follows their success or failure and how that will impact on their aspirations for higher education.
It also sheds light on the impact this exam - called Suneung in Korea – has on society and the importance placed on this test, which students take in November. Gaining acceptance into one of the nation's top three universities - Seoul, Korea and Yonsei otherwise known as the titular SKY – is widely respected in Korea. As a result, many students strive to hit near perfect scores, yet the film reveals that only 0.01% of students are so fortunate. The competition is fierce, forcing students to prepare for years in advance and take extra classes, adversely impacting the time they spend with their families.
The lengths to which students, parents and society go for this exam are clearly in evidence with planes being grounded during the English aural exam, police on standby to escort students to schools if they're running late and students returning home at 11pm at night. This is bound to stir interest and debate.
The documentary also focuses on the role of an author and TV lecturer who teaches students how to pass the English exam. Interestingly, the role of the media is also significant here, with an entire TV channel devoted to education, and news channels providing a continuous stream of coverage on the exam day.
Directors Choi Wooyoung and Steven Dhoedt structure their documentary well, enabling viewers to understand the pressure being placed on students, but also drumming up narrative tension as the so-called 'D-Day' approaches. Reach for the SKY remains constantly engaging, even after the exam is over and results come out, a new set of pressure kicks in as the race to get accepted into a university ensues.
By and large, the film is rather scathing, but Choi and Dheodt are also careful not to be overly pessimistic. Even in the hardest hours just before the exam, there is a strong sense of unity with students cheering on their seniors, and the film's conclusion suggests there is some hope as Hyeon-wha aspires to encourage other students to search for their dreams rather than just studying in order to secure a place at a top-tier university.
Production company/international sales: Boda Media Group, www.bodamediagroup.com
Producers: Sinae Ha, Gert Van Berckelaer
Cinematography: Steven Dhoedt, Wooyoung Choi
Editor: Gert Van Berckelaer
Music: Regina Lok Yan To
Main Cast: Hyunha Hwang, Minjun Kim, Hyein Jung, Kihoon Kim