Adil & Bilall's family drama about Jihad radicalisation hits close to home for the Belgian-Moroccan duo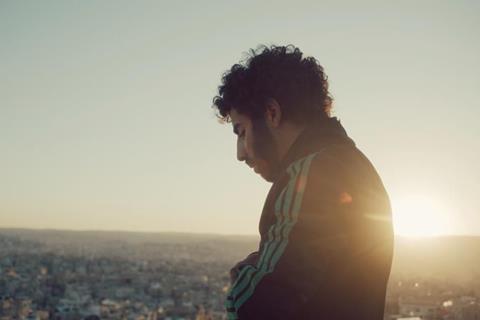 Dirs: Adil & Bilall. Belgium/Luxembourg/France. 2022. 135 mins.
Raw and enraged, Rebel chronicles one Muslim Belgian family's struggles in the face of rising radicalisation — and a mother's fear she'll lose both of her boys to a Jihad cause they don't fully comprehend. Aboubakr Bensaihi is affecting as the older son, who leaves home to join the fight against Bashar al-Assad in Syria, only to find himself in a desperate situation once he becomes ensnared within the Islamic State. This drama can be heavy-handed, but its stylistic flourishes and deep sense of sorrow underline directors Adil & Bilall's sincerity in telling a story that hits close to home for them.
At its best, Rebel illustrates how well-meaning but ill-informed individuals can impetuously get mixed up in something that seems righteous but ultimately does more harm than good.
Rebel premieres in the midnight section at Cannes, and is the first picture from the filmmaking duo Adil El Arbi and Bilall Fallah since they raised their international profile with Bad Boys For Life. (Next up for them is the HBO Max film Batgirl.) The grim subject matter may make it difficult viewing, but solid reviews could help commercial prospects.
Set around the mid-2010s, Rebel introduces us to Kamal (Bensaihi) and Nassim (Amir El Arbi), close brothers despite a sizeable age difference who live in Molenbeek with their single mother Leila (Lubna Azabal). Angry at the atrocities committed by Assad, the passionate Kamal heads off to Syria to help those in need, offering to be a cameraman to document the nobility of the resistance fighters, not realising how pernicious the Islamic State is before it's too late and he can't escape. Meanwhile back at home — and unaware of what has happened to Kamal, who has been labelled as a terrorist in news reports — Nassim is recruited by local radicals trying to get him to join Isis, insisting that his brother is actually a hero.
Adil & Bilall inject the occasional musical sequence and action set piece into what is, chiefly, a family drama. Rebel is clearly personal for the duo considering that, like Kamal and Nassim, they're Belgians of Moroccan descent, questioning what inspires young men to leave their world behind to embrace Jihad. (In a further indication of their emotional connection to the material, Amir El Arbi is the younger sibling of filmmaker Adil.) As much as Leila tries to stop her children from being seduced by this violent cause, her sons feel compelled to do something about Assad's barbarism.
At its best, Rebel illustrates how well-meaning but ill-informed individuals can impetuously get mixed up in something that seems righteous but ultimately does more harm than good. Kamal's fraught coming-of-age is subtly navigated by Bensaihi, who does a good job conveying his character's loss of idealism — which could eventually lead to the loss of his life. But Adil & Bilall balance nicely between Kamal's more intense storyline and Nassim's quietly growing radicalisation. Amir El Arbi possesses a luminously innocent face that suggests just how naive Nassim is — and how that innocence could easily be corrupted by radicals hoping to prey on his desire to emulate the brother he looks up to.
Although the two sons are the focus of Rebel, Azabal proves to be the picture's emotional centrepiece, with Leila eventually having to take matters into her own hands, risking her life to protect those closest to her. Azabal wears her character's weary anguish starkly, slowly revealing the depths of a mother's love.
The film is probably a bit protracted at 135 minutes, and the final stretches feel a bit too dramatically convenient, leading to a gut-punch resolution that's more manufactured than organically earned. But one appreciates Adil & Bilall's desire to drive their points home, incorporating ambitious musical interludes and wrenching torture scenes to illustrate what is so galling about the lives lost and families destroyed in the name of Jihad. Like young Nassim, the viewer walks away from the experience wiser and a bit shaken.
Production company: Caviar
International sales: Wild Bunch International, edevos@wbinter.eu
Producers: Bert Hamelinck, Dimitri Verbeeck
Screenplay: Adil El Arbi, Jan Van Dyck, Kevin Meul, Bilall Fallah
Production design: Pepijn Van Looy
Editing: Frédéric Thoraval
Cinematography: Robrecht Heyvaert
Music: Hannes De Maeyer with Oum & Bakr
Main cast: Aboubakr Bensaihi, Lubna Azabal, Tara Abboud, Younes Bouab, Amir El Arbi