Quirky documentary which plays back the life of TV's greatest and strangest archivist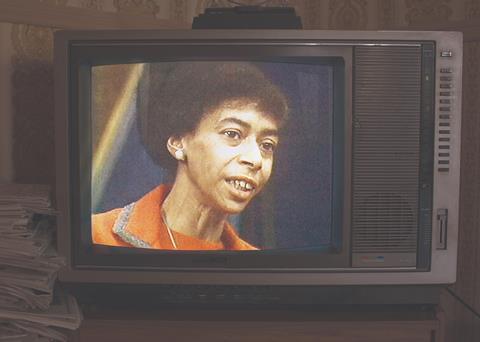 Dir: Matt Wolf. US. 2019. 87 mins.
Marion Stokes was a natural hoarder, her elegant Philadelphia apartment crowded with everything from thousands of books to dozens of single-serve maple syrup packets. But what truly fascinated her was corporate media, particularly the way America television cast, and re-cast, the news of the day into a continuing, consistent narrative. And so, from the Iranian hostage crisis of 1979 to the Sandy Hook school massacre of 2012, she taped it – all of it – on more than 70,000 VHS cassettes. Seven years after her death, Recorder: The Marion Stokes Project, finally hits "Play," to tell that story, and hers.
Up to eight VCRs would be humming in her crowded apartment, 24 hours a day. Extra apartments would be rented just to store the tapes
Premiering at the Tribeca Film Festival, this is a small, carefully crafted film that tries hard to pierce the protective armor of a recluse known to be difficult and domineering. In the end, Stokes still remains slightly unknowable, as she'd undoubtedly prefer. Yet the documentary's deep dive into her extraordinary archives, and the grainy video treasures it unearths, make for fascinating viewing and should find this film a welcome space at specialty houses and on the small screen.
Beginning in Philadelphia's slums and ending on the city's posh Rittenhouse Square, Stokes' rise was singular, even improbable. Put up for adoption as a toddler during the Depression, she grew up to develop a fierce intelligence, becoming a librarian, reading widely and immersing herself in radical politics. The FBI soon put her under surveillance as a Communist threat (something that no doubt fed her later suspicions of the government). Later she moved slightly more to the mainstream, hosting a public-affairs show on local TV.
Her marriage to the show's wealthy co-host – and her prescience in buying Apple at $7 a share – helped fund what would soon become her life's work: making a record of every local news show, cable chatfest, or nightly network broadcast she could find. At times, up to eight VCRs would be humming in her crowded apartment, 24 hours a day. Extra apartments would be rented just to store the tapes.
The sheer magnitude of her collecting – which ended only on the day of her death, when her son and staff turned the last machine off – is staggering. But director Matt Wolf – and the gargantuan editing efforts of Keiko Deguchi – have gone through countless hours of it to find nuggets that evoke some superior smiles (look at those Ron Burgundy anchorman fashions!) along with occasional nostalgia for an era when news seemed driven by facts.
The film also encourages a current, creeping sense of déjà vu. Everything here is there again, in its first 1.0 edition – a young and squirming Jeff Sessions, facing charges he dismissed the NAACP as un-American, or a perky Kellyanne Conway, (still Fitzpatrick), talking enthusiastically, if unconvincingly, about the grand Republican vision. Here are the earliest reports on terrorism – seen strictly as a Third World problem – and breathless features on this new thing, the home computer.
And, in the film's most striking scene, there's a real-time chronicling of 9/11, as the screen divides into four rectangles, each carrying a single network's feed. At first, CNN is the only one to broadcast the horror live. But then, one by one, the other channels slowly wake up, dropping their regularly scheduled programming to clumsily join in, their onscreen talent talking constantly and yet, really, saying nothing. The world of inescapable media coverage is finally really under way and it has not stopped since.
Recorder: The Marion Stokes Story falters only when it tries to get personal. Occasional dramatisations picture Stokes as a dim figure chain-smoking in front of the TV. The silhouette is blurry, deliberately, but the film does nothing to bring her personality more clearly into focus. What was her childhood like? Her education? How did she support herself before her marriage to the wealthy Stokes? And, really, what was her driving urge? What did she think corporate media was trying to hide, and what did she think her own, obsessive archives would one day reveal?
The movie has no answers to those questions. Perhaps even Stokes herself would have trouble putting her motivations into words. But then, she didn't talk much. She liked to watch – and the results of that obsession are preserved now, as part of a massive online collection, and in the flickering images of this film.
Production companies: End Cut and Electric Chinoland in association with C41 Media
US sales: CAA / International Sales: Electric Chinoland
Producers: Kyle Martin, Andrew Kortschak, Walter Kortschak
Editing: Keiko Deguchi
Cinematography: Chris Dapkins, Matt Mitchell
Music: Owel Pallett