A devout father is faced with a dilemma when trying to raise money for his daughter's potentially life-saving treatment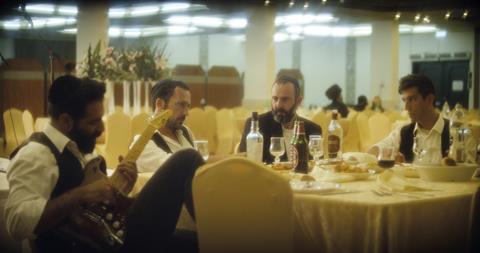 Dir/scr. Joseph Madmony, Boaz Yehonatan Yacov. Israel. 2018. 100mins.
With Redemption (Geula), co-directors Joseph Madmony and Boaz Yehonatan Yacov wade into a battle between religion and rock 'n' roll, though their quietly affecting drama eschews the simplicity of its basic premise. Centred on a widowed single father who is desperate to afford experimental treatment for his cancer-stricken six-year-old daughter, it's an intimate, contemplative look at existential and everyday turmoil, as delicately and movingly anchored by Karlovy Vary best actor winner Moshe Folkenflik.
Thanks to Folkenflik's performance, the many conflicts tearing at Menachem's soul have the texture of truth, pain and confusion
Redemption also picked up the Ecumenical Jury prize in the Czech Republic — where co-director and writer Madmony won best feature back in 2011 with Restoration — and looks set to ride that early festival success to further international berths. After its competition slot at the Jerusalem Film Festival, this emotive, poignant but also probing film should appeal more broadly to the thoughtful art-house market. That co-helmer, -writer and cinematographer Yacov (Red Cow) bathes the film in soft, warm visuals that mirror the protagonist's inner vulnerability should also help.
There's definitely a glow in the air as Menachem (Folkenflik) walks down the street in Redemption's first scene, en route to have his photo taken for the local matchmaker. Tellingly, however, there's no sign of a smile on his face. Between his daughter Geula's (Emily Granin) condition, his daily attempts to juggle her care with his supermarket job, and the lack of funds for a course of medicine that might be her last hope, he has little to be happy about. Even when someone pays him a compliment, his devout religion means he thanks God, rather than savour even the slightest hint of joy for himself.
Quickly, an alternative comes into play. Redemption sets its opening to the sounds of moody Jewish rock, hinting at Menachem's life before his now 15-year stint of Orthodoxy. While it might feel contrived when the former High Beams frontman starts asking the still-gigging Avi (Sivan Shtivi), successful restaurateur Danny (Shahar Even-Tzur) and layabout kiosk owner Gouli (Yonatan Galila) to get their once-popular band back together for a series of weddings that will raise some much-needed cash, Madmony, Yacov and additional scriptwriter Erez Kav El make the scenario work. The many conflicts tearing at Menachem's soul have the texture of truth, pain and confusion, the latter over the best path a loving, dutiful but deeply unhappy man should take.
Crucial is Folkenflik, an actor who wades further into Menachem's melancholy with every passing moment, yet never allows the character to wallow in misery. And, with the real-life musicians that play his band mates, he sells the awkward rapport that lingers when long-term friends reunite unexpectedly.
Production company: Transfax Film Productions
International sales: Transfax Film Productions, sara@transfax.co.il
Producers: Marek Rozenbaum, Michael Rozenbaum, Jonathan Rozenbaum
Screenplay: Joseph Madmony, Boaz Yehonatan Yacov, Erez Kav El, based on a story by Boaz Yehonatan Yacov
Production design: Yoav Sinai
Editing: Ayala Bengad
Cinematography: Boaz Yehonatan Yacov
Music: Assaf Talmudi
Cast: Moshe Folkenflik, Emily Granin, Yonatan Galila, Sivan Shtivi, Shahar Even-Tzur, Avigayil Atara Koevary